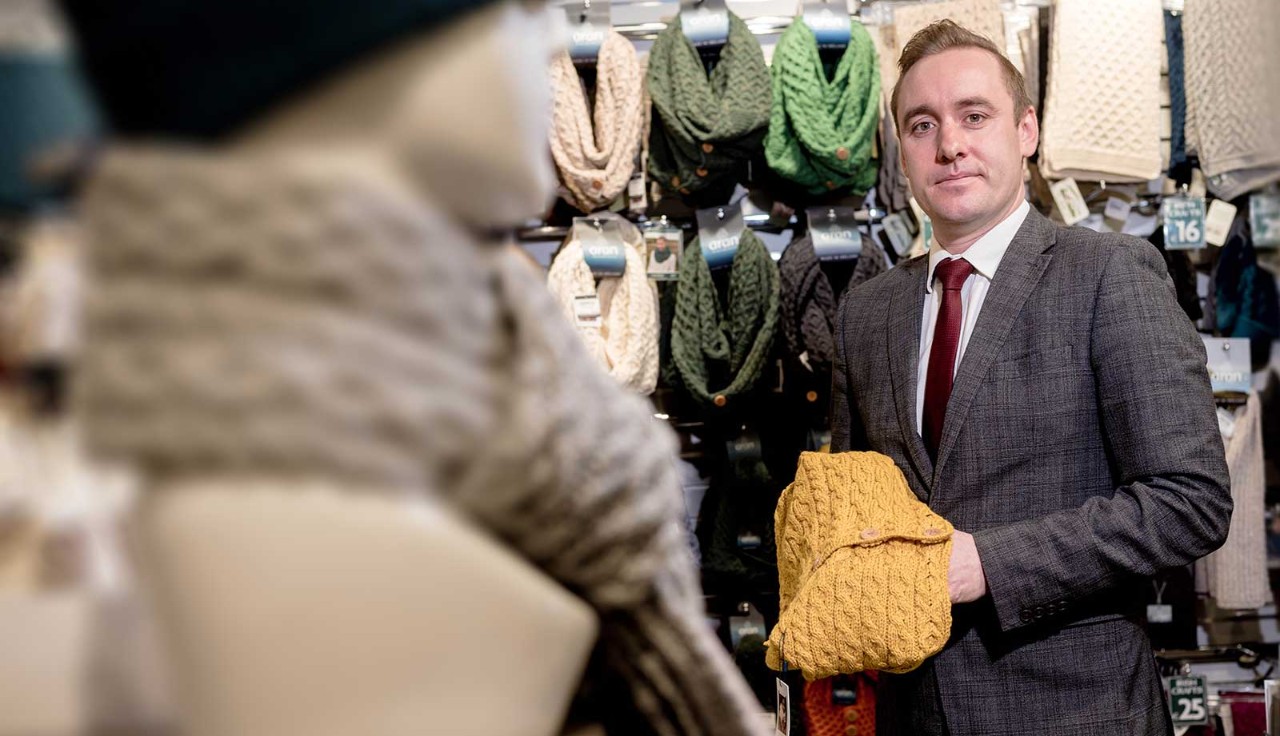 The impact of lockdown and level-five restrictions has been little short of devastating for much of Ireland's retail sector, with many businesses deeply uncertain as to their future.
For a retail chain that was just days from its most lucrative trading period when events in March served to close its doors, it would be easy to imagine Carrolls Irish Gifts as falling among them. Yet conversation with managing director Peter Hyland FCCA quickly dispels any such impressions as he talks with positivity and conviction about the business redoubling on its plans for growth in the year ahead.
A ubiquitous presence in Dublin city centre since the late 1990s, Carrolls Irish Gifts employs around 350 people and boasts 17 stores across the island, including outlets in Belfast, Cork and Kilkenny. The decision to close all shops, as the seriousness of the pandemic became evident, was made in advance of the government decision in March.
When businesses were finally allowed to reopen, the situation could hardly have appeared bleaker as the company confronted the reality of a vanished tourism season.
The next step
'Those first few weeks were certainly a tough time, both personally and professionally,' Hyland reflects. 'To see your business wiped out in a way that's completely out of your control is heartbreaking. But the truth is you don't spend too long thinking like that.
'We allowed a few weeks to wallow and then we started to ask ourselves what we could do next, what was under our control, and how could we manage it for the benefit of the business?'
Business rethink
For those whose view of Carrolls was shaped by its role as a brash exemplar of Dublin's transformation into a tourist destination from the 1990s onwards, it may be a surprise to know that the business has had a number of reboots over its lifetime.
Established by former civil servant Colm Carroll in the early 1980s, initially to sell Easter eggs in Dundrum, Co Dublin, the company then moved into the competitive world of discount retail with the launch of the Bargain King chain.
The move to Irish gifts and the definitive rebrand came in the mid-1990s, when Carroll saw how well souvenirs were selling in some of his city-centre stores.
'It coincided with a number of things happening at the time,' Hyland says. 'There was a spike in tourism in Dublin as a result of the development of Temple Bar and the arrival of Ryanair.
'Colm was also a musician who had travelled the world; he'd seen first hand how Ireland was perceived and the real affection for it.'
Value chain ascendancy
While souvenirs from Ireland have a long lineage, Carrolls would bring a scale, confidence and creativity to the offer that hadn't been seen before, appealing as much to the continental European on an impromptu weekend break as the American visiting on a two-week trip of a lifetime.
'From our point of view, we could stretch the customer to a higher price point once they knew the history and heritage of what they were buying'
CV
2018
Appointed managing director, Carrolls Irish Gifts
2012
Becomes ACCA member
2009
Joins DID Electrical, rising to finance and commercial director
2005
Joins Prem Group, taking on role of trainee accountant
The success of this approach was evidenced by its high visibility in Dublin's key retail precincts, often with multiple shops on the same street. Less visible, certainly to locals, was its gradual move up the value chain. The business always enjoyed strong links with Irish craft producers and Hyland says that, pre-Covid, up to 75% of its stock was being locally sourced.
'There's a role for the cliché when it comes to souvenirs, and we would never be a stickler on that front, but we also saw a trend of people wanting to buy something unique and with a story to tell.
'From our point of view, we could stretch the customer to a higher price point once they knew the history and heritage of what they were buying.'
This move up the value chain culminated in the opening of The Aran Store in 2019. With branches on Suffolk Street and O'Connell Street, these stylish and understated boutique outlets create an environment conducive to higher end gift sales, drawing a whole new clientele and, in doing so, solving the problem, Hyland says, of 'how you sell a €200 knitwear beside lower priced souvenirs'.
Covid challenges
These new outlets would also provide valuable learnings as the company sized up for the unprecedented challenges of 2020. 'Irish people know our stores but for many the view was "you're not for me". Over the years, we had trained domestic customers to think that way.'
Changing that message, so that domestic consumers would view Carrolls as a natural place to buy quality Irish gifts, has been central to a deep strategic rethink under way in the company since March. Prior to the level-five restrictions, it involved reopening a certain number of shops in key city-centre locations, which, in tandem with the refreshed website, have been reformatted to tell this new story to consumers.
Start-up launchpad
While established high-end brands form a central part of the offer, Hyland is particularly proud of the company's ability to act as a launchpad for start-up businesses. 'There are some really great Irish gift brands emerging and we see our new approach as offering the perfect platform to support them,' he says.
The reboot of the company's online presence presents a dual opportunity to grow through e-commerce and to provide a window into the changing nature of the store.
'Online sales have been up significantly this year and we would hope to at least double what we achieved last year,' Hyland says.
As Irish retailers prepare to reopen for the lucrative, if daunting, Christmas season, Carrolls will be among those hoping to benefit from a growing sentiment to 'buy local' at this critical time. Hyland recognises, however, that there are nuances to this goodwill.
'Our business has to play to a certain price point if we are going to make a breakthrough,' he says. 'When people think of shopping locally and buying Irish gifts, they expect them to be more expensive. Our opportunity is to play to a price-conscious customer who wants to buy Irish.'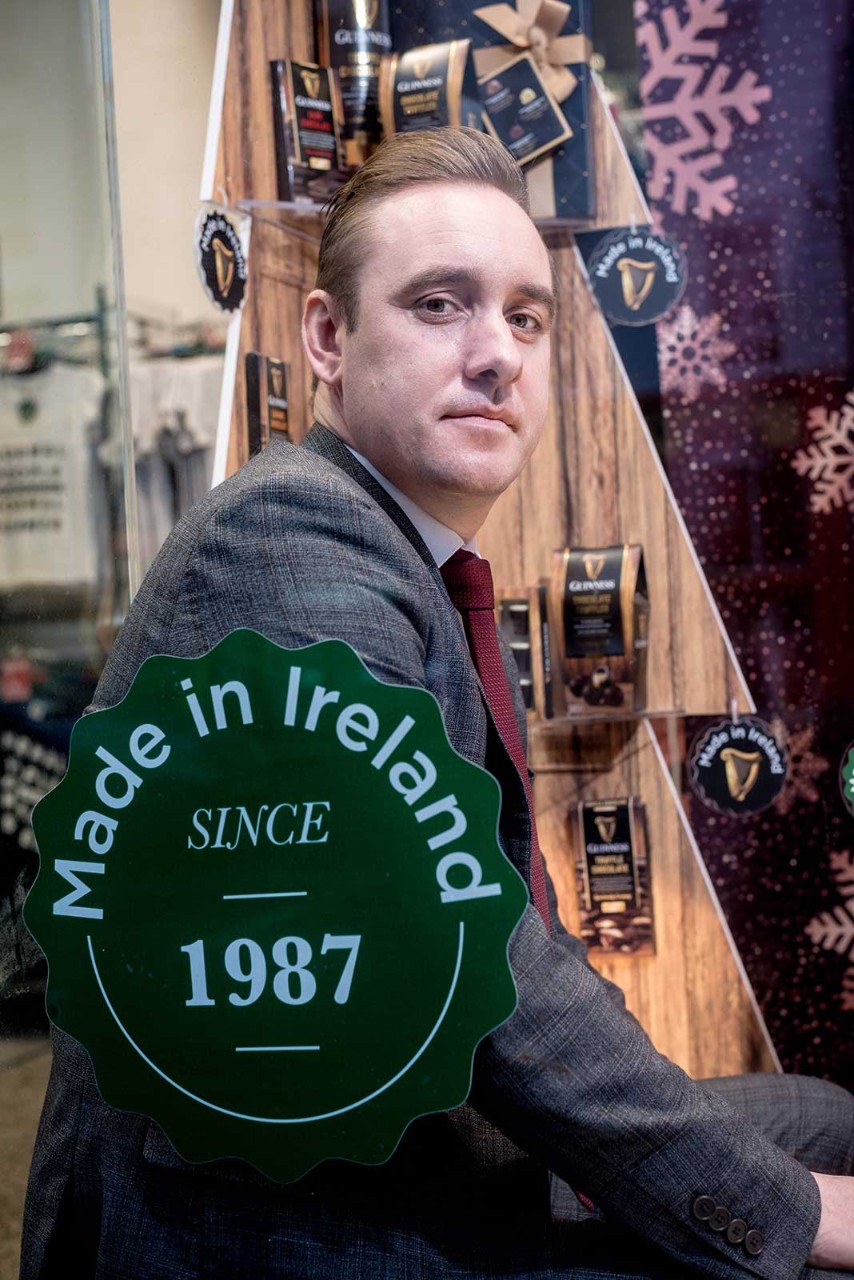 Carrolls Irish Gifts
1982
Colm Carroll opens his first outlet in Dundrum, Co Dublin, selling Easter eggs
1990s
Bargain King opens a number of stores in Dublin city centre
1996
Business refocuses on gifts and souvenirs as the first Carrolls Irish Gifts shop opens
2003
Carrolls Irish Gifts launches online shopping
2019
The Aran Store opens on Suffolk Street and O'Connell Street, Dublin
Vital tools
Taking up the role of managing director in 2018, Hyland says the ACCA Qualification undoubtedly played a key part in bringing him to that point.
'ACCA has helped me in many ways. It gives me the tools to show people financial information in a way that brings them along with me. If people don't understand the "why", they won't go on the journey with you.'
At the relatively young age of 35, he adds that 'being ACCA also means I can stand in front of any external stakeholder, whether it's a bank or a landlord, and get a point across with financial data they will trust. My word counts.'
Long-term strategy
As a challenging year draws to a close, Hyland's optimism remains undimmed. The huge work he and his team have done this year was not simply about firefighting to control a crisis, he says.
'What happened with tourism at the start of the year was outside our control, but it allowed us to focus on what was in our control and that's what we have concentrated on,' he says.
'This is not a Covid play, this is a long-term strategy and we will emerge as a leaner business aiming for a larger market share.