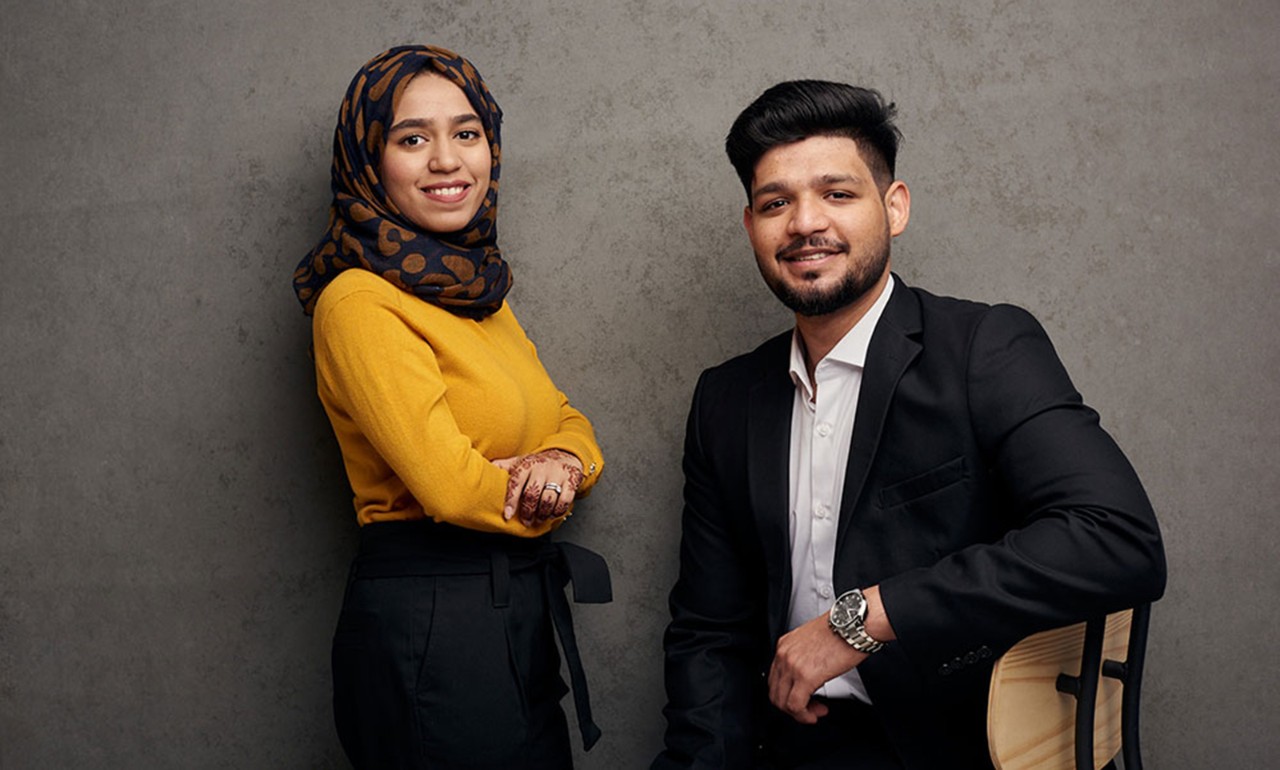 It can be tough to separate work and home when you are married to someone in the same profession. But setting clear boundaries has helped Big Four couple Amina Rafi ACCA, an audit senior at Deloitte Middle East, and Danish Sange ACCA, a manager at PwC Middle East, make the most of their relationship.
The UAE-based couple, both 26, are Indian citizens: Sange was born in India and grew up in the UAE, while Rafi was born in the emirate. Having attended the same Dubai school, it was their ACCA studies at PwC's Academy, also in Dubai, that brought them together again, and a friendly rivalry developed.
'Amina encouraged me to keep up the pace, and we both finished our qualification at the same time. Working towards the same goal brought us closer and actually helped us to excel and progress faster,' says Sange.
Straight to ACCA
Sange began studying for the ACCA Qualification straight after leaving school in 2012, then undertook the University of London's master's degree in professional accountancy, which is open to ACCA students and offers exemptions to affiliates and members.
Rafi, too, began her ACCA journey straight from school, choosing it over other options because of its international exposure. Like Sange, she also went on to complete the University of London's master's, which she did while working at Deloitte.
More time together
Since March, Dubai has imposed a wide range of lockdown rules and guidance in response to the Covid-19 pandemic, so when the couple married in August, it was with a small wedding ceremony at home, followed by a closed family gathering and a staycation honeymoon within the UAE.
As they settled into married life, the couple began not just living together but working from home together. Inevitably, this has meant spending considerably more time in each other's company and has demanded some careful coordination to maintain professional privacy: they share a table, but step out to another room to take phone calls.
Naturally, because of firm confidentiality agreements, they do not explicitly discuss client details and work. 'We have set strict boundaries on involvement with each other's professional lives,' Rafi points out.
'It benefits me to have a partner who regularly updates me on market developments and trends'
Learning by watching
However, being part of the same profession does have its benefits, helping them to understand the demands of their respective jobs. They have also learnt from watching each other operate.
'I've seen Danish work at home; he always does his homework about clients before meeting them,' Rafi says. 'He is in a client-facing position, so he needs to be prepared for any questions.'
Proactive and sceptical
Likewise, having spent two-and-a-half years in PwC's audit team before moving to advisory, Sange understands the pressures that Rafi faces.
'As an auditor, your key requirement is to question everything and be sceptical,' he says. 'I've observed Amina working, especially during the Covid-19 period, and watched her take the lead on client conversations to understand what's going on. In this profession, you have to be both proactive and sceptical.'
The couple believe that their outlooks and jobs complement each other. 'I'm so much into the technical books and busy with my day-to-day routine, that sometimes I miss out on what's happening in the live industry. It benefits me to have a partner who regularly updates me on market developments and trends,' Rafi admits, adding that Sange also keeps her updated on changes to IFRS Standards.
Bigger picture
Sange adds that exchanging views with Rafi gives him a valuable second perspective, helping him compile a bigger picture for clients.
'Because Amina is sceptical about everything, if I mention a scenario, she will often ask a question that I hadn't thought of,' he says. 'That keeps me on my toes.'
In addition, he admits that, while one of his abilities is looking to the long term and formulating 10-year plans, he is less in touch with bookkeeping rules, which is where Rafi's auditing strength and currency comes in handy.
Personal space
'We created a space between us that we can get into for a while and move out of quickly,' Sange explains. 'This allows us to support each other without getting too close.
'We each have our own issues, but if you bring those to the table all the time, it interferes with personal space and can become negative.'
Work-life balance
Both feel they have achieved a comfortable work-life balance. Outside working hours, Sange enjoys cycling, playing football and going to the gym, while Rafi prefers to cook or relax at home watching a movie.
While they have no immediate plans to have children, the widespread move to working from home has indicated that managing parenthood may be easier than they had thought.
'My firm is flexible, and supports a healthy work-life balance,' says Rafi. 'As long as the work gets done and quality is maintained, we are able to work flexibly to fit in with other commitments. I will probably continue my career after having children because I love my job.'
Looking ahead, Sange wants to use his experience and ACCA training to go as far as he can in his profession. For now, however, his focus is on acquiring more experience and upgrading his skills, especially in digital technology – key in the pro-tech UAE.
'You'll be left out if you're behind with technology. I used to see my seniors work on Excel without using a mouse, and I was in awe,' he says. 'Today, I can work on Excel with my eyes closed. '
With that attitude and a growth mindset, everything is possible – whether the partnership be professional or personal. And one thing's for sure: as accountancy moves into exciting and unknown territory, Rafi and Sange are well placed to move forward in step.