I am a risk management and banking expert with 15 years of experience in risk management, compliance, accounting, audit and banking. I began my career in Tropical Bank back in 2004, then moved to Barclays as a management information analyst and later operational risk manager.
Six years later I joined DFCU Bank as acting head of risk and compliance, and finally Ecobank, where I work as a chief risk officer.
While I was still in senior secondary school, my late sister told me about ACCA. She said it was the best international course one can study to become respected globally. This stuck in my mind.
My mother also had a great influence on my career. She told me that impossibilities are only imaginary, and purposeful people can overcome every challenge in life if they take the decision to do so.
I chose to work in the corporate world because I felt I could have a positive effect on many lives through working in a bank. Ecobank is currently the biggest African bank, and I know that we have positively impacted many lives, which gives me great satisfaction.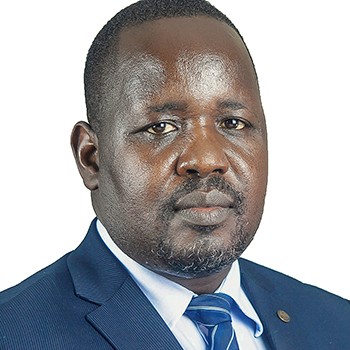 I feel that students from humble backgrounds should be taught well and helped to pass ACCA to improve their lives
I stepped out of my comfort zone when I took on the role of acting head of risk and compliance at DFCU Bank. I had little management experience, but I believed in myself and was later headhunted for my current role at Ecobank.
If I had law-making powers, I'd impose a sentence of life imprisonment on those who practise corruption in public office. They deserve nothing less. While enriching themselves, they deprive ordinary citizens of the basics of life, such as medicines, education and good infrastructure.
Covid-19 hasn't impacted on my office greatly. We activated our business continuity plan promptly and set up home-working systems. However, as a risk manager I can see that some of our customers are suffering from the effects of the pandemic, particularly through job losses in businesses like tourism and the transport industry.
I enjoy advising my colleagues, management and the board of directors about the negative and positive effects of risk management. Strong risk management gives our stakeholders confidence to deal with us. My greatest achievement has been managing risk in Ecobank for four years without incurring an operational loss. I have to say this is almost unprecedented.
I would have been a lawyer if I wasn't an accountant. I like the passion lawyers bring to their work and the confidence they project.
I lecture on ACCA taxation and financial reporting modules. It is a way of giving back to society, which I find fulfilling. I struggled financially to study for the ACCA Qualification, so I feel that students from humble backgrounds should be taught well and helped to pass ACCA to improve their lives.
On the personal side, I enjoy doing church work. It is an opportunity to support less privileged members of the community. I'm also a keen supporter of Liverpool FC. And of course I love to spend time with my little daughter!