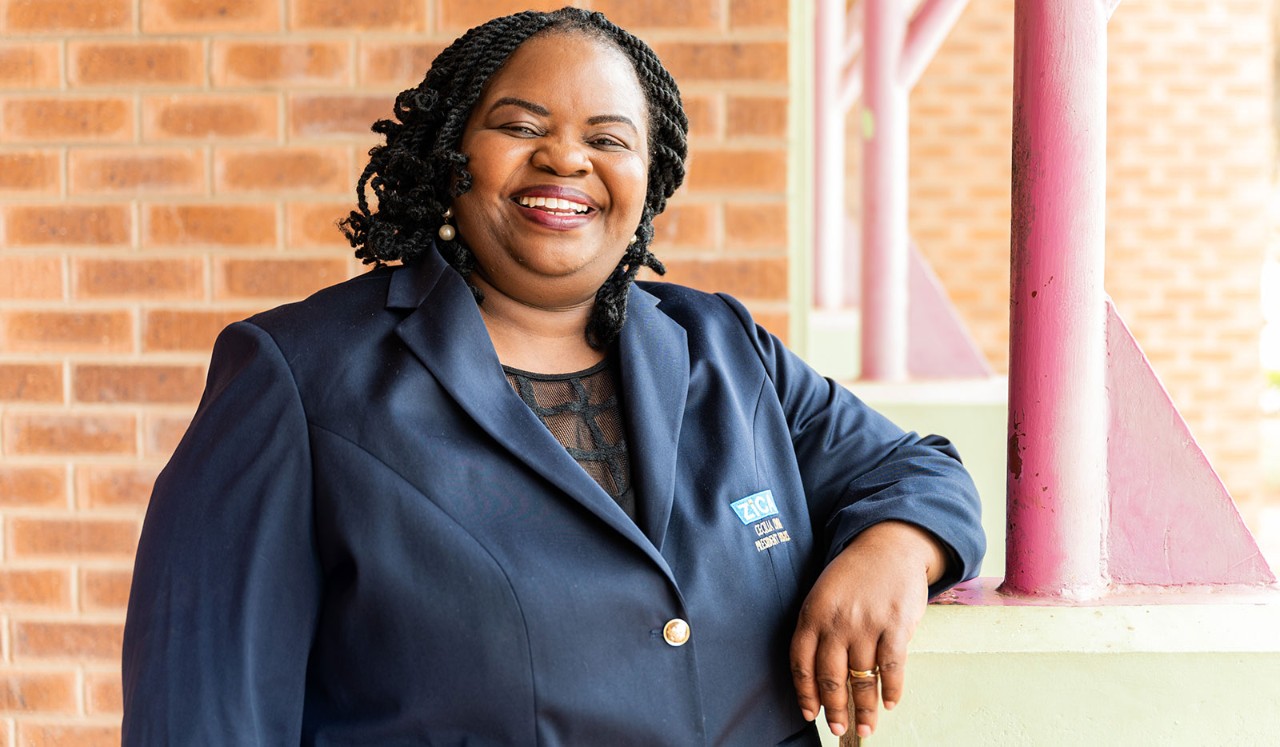 Cecilia Zimba FCCA, recently appointed the first ever female president of the Zambia Institute of Chartered Accountants (ZICA), is clear about her intentions for her three-year term: to engage with her fellow professionals and encourage them to build both the accountancy sector and the country's economy.
Zimba is no stranger to ZICA, having previously served on its council. In 2017, after stepping aside for a period, she was elected vice president – again, the first woman to fill the position. Now having reached the pinnacle, she sees plenty of opportunities for accountants to stand up and be counted, and so show their relevance.
Nation savers
With public finances under unprecedented pressure, Zimba would like accountants to be seen as the go-to advisers for help in controlling the impact of the Covid-19 pandemic at government level.
'Professional accountants can play a part in saving the country if they are engaged at the planning stage,' she says. 'They can give advice to government on how best to balance investment in social services and infrastructure development, so that the debt contracted can be matched with cashflows expected to derive from economic activities.
'In addition, the terms of the loans for these projects need careful review. As accountants, we can use our skills to help prevent the contraction of unsustainable debt.'
There are also many opportunities for professional accountants to help individual businesses to cope with and recover from the impact of Covid-19, Zimba says. These range from renegotiating contract terms and conditions through to encouraging flexible working, assessing operational risks and restructuring supply chains.
'We need to be innovative and ensure we play our part in driving businesses forward in this Covid-19 era'
CV
2020
President, Zambia Institute of Chartered Accountants
2018
Board member, Zambia Revenue Authority and Zambia Industrial Commercial Bank
2017
Vice president, Zambia Institute of Chartered Accountants
2015
Non executive director, state-owned power company ZESCO
2010
CFO, Izwe Loans, later also finance and governance consultant
2007
Finance and administration manager, Ericsson Zambia
1999
Finance manager, Zamnet Communication Systems
1990
Joined Zambia National Insurance Brokers as a management accountant; later finance and administration manager
'Accountants are co-pilots in running businesses and organisations,' she says. 'Therefore, we should ensure there is resilience and continuity.
'We need to be innovative and ensure we play our part in driving businesses forward in this Covid-19 era,' she says.
'We need to demonstrate our relevance by making recommendations on how businesses can be made sustainable and grow. Embracing and investing in technology will be key.'
Think outside the box
Zimba is concerned about the high levels of unemployment in Zambia, where local accountancy graduates holding professional qualifications are often unable to find appropriate jobs. She believes they need to think outside the box.
'You don't have to wait to get employed; there are other opportunities out there,' she says. 'For example, you could set up a small tax practice. There is a lot of ignorance about the laws governing businesses, such as tax regulations.'
She is also giving a lot of thought to how to engage young accountants. 'They are so vibrant and innovative,' she says.
'We could create hubs where we try to help them take a fresh look at what is possible. It's about changing the mindset.'
Collaborative approach
In achieving such goals, Zimba sees value in working with other bodies and recognises ACCA's extensive resources. 'There are a number of areas where ZICA and ACCA can continue to collaborate,' she says. For example, she would like to see ACCA providing training for public sector employees in preparation for the adoption of International Public Sector Accounting Standards (IPSAS).
She notes that the two bodies share a common need to ensure that the accountants they train are high-quality professionals and well-equipped for their roles. 'Ours is such a noble profession,' she says, 'but if we see a proliferation of unqualified "accountants" whose quality of work is under par, the profession's reputation will suffer.'
Having gained her ACCA Qualification in 1999, Zimba says that it has been a huge support for her career. 'ACCA in Zambia is a brand that everybody wants to be associated with,' she says.
'In terms of quality, the ACCA Qualification is a premium qualification. If I say I am a chartered accountant, a fellow of ACCA, that lifts my profile. The brand has certainly worked for me.'
Portfolio career
Zimba began working in finance straight out of secondary school as an accounts clerk in the local government. Having gained her first diploma in accounting, she moved into the insurance industry, and later also worked for a Zambian internet service provider and for information and communication technology giant Ericsson. Then after a spell at Izwe Loans, she set up her own management consultancy business.
She now operates a portfolio career, working as a self-employed consultant and holding board positions with the Zambia Industrial Commercial Bank, the Zambia Revenue Authority and Prospero, a UK aid funded development company.
'As an accountant, I give advice to boards to help organisations continue to achieve their objectives and prepare for the risks they are exposed to,' Zimba says.
These are interesting times to be on such boards, with the banking and financial sector, for example, seeing a rising number of non-performing loans due to Covid-19.
Zambia Institute of Chartered Accountants
Established in 1982, ZICA is the regulator of the accountancy profession in Zambia. All practising accountants must be registered with the body, which has around 7,000 members. ZICA began offering accountancy qualifications in the mid-1990s and runs a range of programmes.

The nation also faces tax mobilisation challenges. Tax revenues are likely to fall, but demand for public spending keeps on growing. This reflects Zambia's growing population, demands on the health sector and all the other challenges the country faces, including climate change, energy needs and national debt. There is much to do.
'I will need to draw on everything ACCA ever taught me and everything I have learnt over the years in order to help find solutions to these challenges,' Zimba says.
Empowering women
Zimba is keen to encourage other women to develop successful professional accounting careers. 'We also have plans to promote financial literacy among our female parliamentarians and to run programmes that will help them interpret financial information, such as the budgets and public accounts that are presented to them,' she says.
Zimba admits that she is humbled by her election to ZICA's presidency. 'I feel greatly honoured,' she says.
'Given that ZICA's membership is largely male, my appointment was an endorsement from my male counterparts, and it demonstrates that the people are progressive. They are not looking at your gender; they are looking at what you are able to deliver. That really warms my heart.'