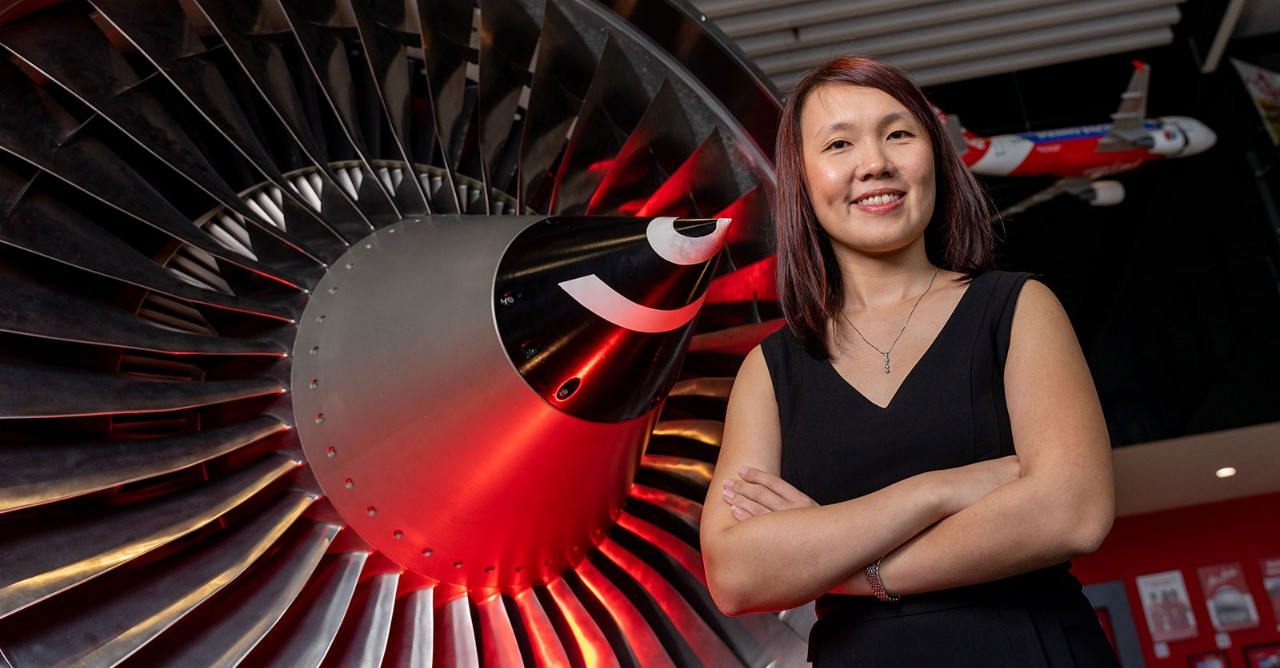 AirAsia CFO Sim Siew Shan is not one who will shirk from a problem; on the contrary, she thrives on challenges and sees these as opportunities to offer insight and play a role in improving and growing an organisation.
'That's been my personality. I am a fixer,' she says. With more than 17 years of experience in the audit and commercial fields, Sim believes that accountants are not mere bean counters but key business partners in an organisation.
Difficult time
The Covid-19 pandemic has had a devastating impact on the airline industry worldwide as travel restrictions have been imposed and movement curtailed. Despite an easing of restrictions in recent months, fears of further waves have led to localised lockdowns and a drop in flight bookings.
Sim acknowledges that it has been a difficult time for the industry. 'The impact on the industry has been severe, right down to the closure of borders,' she says. 'Most of the ASEAN countries have erred on the side of caution as, for once, the health experts rather than the economists are making the decisions. The focus for most industries is to survive through the current year.'
Sim points out that AirAsia has benefited from the increase in domestic tourism:  'We mainly operate in countries where there is much to explore in domestic destinations, and this indirectly can help spur the economy through local spending.'
While current conditions are tough, though, Sim has confidence in the future.
'The airline industry will recover because economies and trade need to recover,' she says, adding that AirAsia was ahead of the curve in adapting to the 'new normal' through its focus on self-check in and self-bag drop, which help to maintain social distancing.
The airline industry will recover because economies and trade need to recover
Facing the future
An exciting recent initiative is the development of AirAsia's Fast Airport Clearance Experience System (Faces) – the first facial recognition boarding system in Malaysia. 'This will reduce human contact even further,' says Sim.
AirAsia used the industry slowdown to focus on its logistics arm Teleport, which launched Freightchain, the world's first digital air cargo network to run on blockchain, back in April. The agile software platform allows shippers and freight forwarders to find available cargo network connections owned by airlines for their supply chain needs.
The airline has ambitious plans for its Santan restaurant franchise brand – restaurants offering inflight food on the ground – with more Santan stores set to open in Malaysia by early 2022. Also launched recently are two innovative e-commerce platforms set up as a stategic partnership with the Ministery of Agriculture and Food to support local food outlets and farmers: Ourfood enables restaurants to provide home delivery services, while Ourfarm connects farmers directly with businesses.
At a time of economic crisis for many, AirAsia's philanthropic arm has ramped up its activities, too. For example, a partnership with social enterprise Batik Boutique has helped provide a livelihood for women from low-income backgrounds by producing personal protective equipment for frontline workers.
Moving fast
The timing of Sim's entry into AirAsia could not have been more opportune; the world's leading low-cost airline had just begun its journey to become a regional travel technology company and to that end streamlining and consolidation of business processes were a priority.
And so Sim hit the ground running. Her role as group financial controller in 2018 included working with the respective countries where AirAsia has a presence to align policies, procedures and practices to ensure a consistent and efficient approach for finance, in line with the group's 'One AirAsia' motto. 'The group CFO, based in Thailand, had already begun addressing the process of centralising and streamlining the finance operations,' she says, adding that this included implementing a more sophisticated enterprise resource planning (ERP) system to cope with the group's extensive structure.
The project to deploy Oracle ERP Cloud was one of Sim's first assignments and she completed ahead of schedule.
'Normally a system implementation of this size takes a good 12 to 18 months; we set a target of 12 months and we completed the first rollout at eight months,' she says, attributing the expedient rollout to the top management's quick decision-making.
We move fast and rectify issues that crop up along the way. There will be issues but this will be the case even if you sit and do nothing
AirAsia
AirAsia is a leading travel and financial platform company in Asia Pacific, providing air transport, travel and lifestyle services, as well as financial services. AirAsia started as a low-cost carrier with operations in Malaysia, Indonesia, Thailand, the Philippines, India and Japan, and has carried more than 600 million passengers to more than 150 destinations in its network across Asia, Australia, the Middle East and the US.
More recently, the airline has embarked on an expansion of its services to include hotels, holidays, activities and online shopping on its travel and lifestyle platform airasia.com. It has also introduced an integrated cargo and logistics platform, Teleport, and offers digital financial services via its money app, BigPay.
AirAsia has been named Skytrax World's Best Low-Cost Airline 11 years in a row from 2009 to 2019 and World Travel Awards World's Leading Low-Cost Airline for seven consecutive years from 2013 to 2019.
This, she adds, is testament to the culture at the organisation, which operates on the ethos of daring to fail.
'We move fast and rectify issues that crop up along the way. There will be issues but this will be the case even if you sit and do nothing,' she says, conceding that although there may be those who will be uncomfortable about such an approach, this is where risk management comes in.
Promoted to her current role in November 2019, Sim's responsibilities encompass the breadth of finance operations for Malaysia, which make up a significant chunk of AirAsia's business. Scrutinising costs and budgets, and, where necessary, challenging them are uppermost in her mind these days, more so as AirAsia looks to maintain its position as a low-cost carrier.
The job, she says, has been both exciting and exhausting. 'There are no set hours, really,' she says, 'but that suits my personality because I am someone who will do what's required to get things done.'
Although Sim believes that the finance function in the aviation industry is no different to that of other sectors, it is important to understand the industry. 'Many in finance sit in the office, rather than walk the grounds to get an insight into the workings of the company and industry,' she says.
Walk the talk
Soon after she became CFO, one of the first things she requested was a pass so that she could access the airport grounds, located beside the company's corporate base.
'By walking the grounds, you then gain an understanding of the challenges faced by the operations team, and appreciate why certain expenses are necessary,' Sim says.
At the same time, Sim has also had to navigate the relationship between finance and other departments – for example, marketing. 'It's a love-hate relationship between the department that likes to spend money and the department that controls the cash,' she quips. 'We have to remind them that it's not a case of spending first and asking later but the reverse.'
Keep it in the family
Sim, who comes from a family of accountants – her parents, sister and brother are all ACCA qualified (see AB, February 2017). With her parents running their own practice, Sim & Teo, in Melaka, it was perhaps inevitable that Sim first decided to become an accountant when she was just nine years old. 'It was natural for me to like finance,' she says.
She started her career in audit at EY and after a decade made the switch to the corporate sector – a decision she made because her children were young and her husband's role as a private equity fund manager involved a great deal of travel. 'We made the decision as a family,' she says.
Sim took a similar approach when considering whether to take on her current role. 'Before I took on this job I had a talk with my children, who were then 10 and eight years old. I explained that this job would take me away from home, probably for a week every other month, and that they had to be able to manage their schedule, do their homework, get themselves in bed on time,' she says, adding that as a result her daughter has become more independent.
Her own leadership style is one of inclusion and support. 'Leadership is the ability to get everyone to follow your lead to accomplish that singular vision. How do you do that? What you can do is explain how important everyone's role is.' Sim likens the importance of every member of the team to the mechanics of a clock: 'If a tiny screw in a clock goes missing then that clock won't work.

She adds: 'I am proud of the fact that I have trained people who are now financial controllers and CFOs in their own right.'
Sim is clear that the time will come when she is ready to seek out a new direction.
'I don't intend to continue working like this, helming a C-suite position, until I am 60,' she says. 'I want to make room for the next generation, I want to vacate my seat for the next in line.' But until that time comes, her eyes are firmly on the mission at hand.
CV
Sim Siew Shan was appointed CFO at AirAsia in November 2019. Prior to that she was the group financial controller for AirAsia Group, a role she took up when she joined the airline in August 2018.
She was the head of finance in KLCC Group from 2014, overseeing the entire spectrum of financial-related activities.
Sim began her finance career in 2001 as an auditor with EY. In 2012 she moved into the commercial sector as vice president – finance at Destination Resorts and Hotels, a subsidiary of the Malaysian government's Khazanah wealth fund, which was a new startup tasked with building a range of resorts, hotels and golf courses.