The finance profession has an important role to play in helping society navigate the post-pandemic normal and ensuring Hong Kong taps into the opportunities that lay ahead. That was the message for accounting and finance professionals during a virtual conference to mark the 70th anniversary of ACCA Hong Kong.
Entitled Power ahead the next decade, the conference was held virtually on 18 September as attendees discussed future trends and how the accounting profession can prepare for the challenges ahead.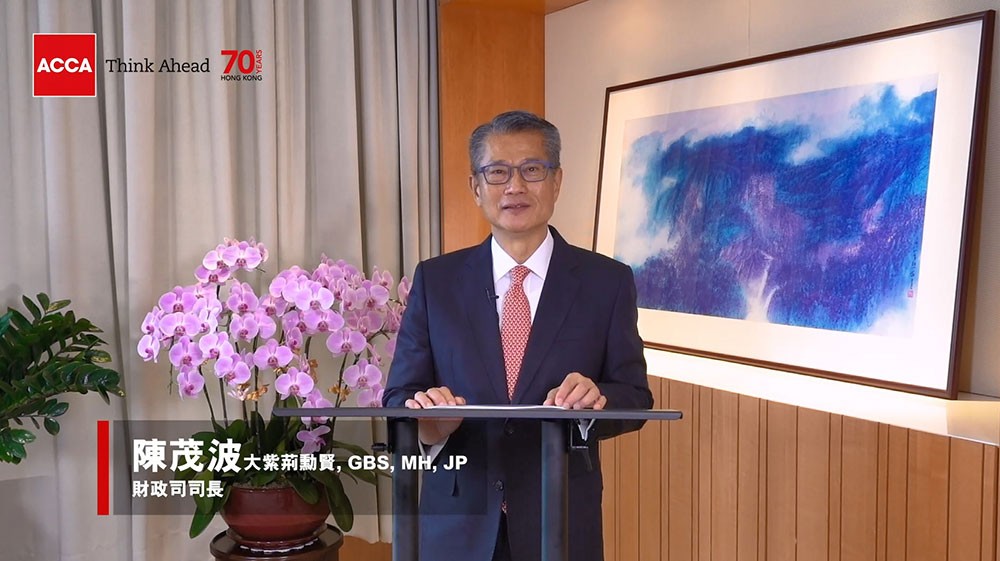 Hong Kong Financial Secretary Paul Chan FCCA
Growing power

In his speech, guest of honour Hong Kong Financial Secretary Paul Chan FCCA, said that the success of the accountancy profession will very much depend on the success of the economy it serves.
'We first need to understand the geopolitical and macroeconomic landscape, then to identify Hong Kong's position as well as our strengths and limitations to find a footing,' Chan said. 'The external factors have brought challenges and uncertainty, but the rise of China and Asia represent opportunities for Hong Kong.'
While acknowledging that the multilateral trading system has come under challenge, generating volatility in the global financial market, Chan struck a positive note in pointing out that the world's economic centre of gravity is moving east. China has accounted for more than a third of global economic growth over the past five years, while other emerging economies in Asia have contributed a quarter.
In the wave of tech innovation, we must forge ahead or we will lag behind
'Asia will see rapid growth,' Chan added. 'Together with developed economies such as Japan, South Korea and Hong Kong, Asia will represent a bigger pie in the global economy. We foresee "Made in Asia, Consumed in Asia" in the future.'
Fundamental change
Chan pointed out that the pandemic has not only triggered recessions around the world but also accelerated the digital transformation of all parts of life, leading to fundamental changes. Telecoms, artificial intelligence and big data have cultivated new cross-sector and cross-border industries and a shared economy, all of which challenge traditional business models. Technological progress has facilitated new and cost-effective concepts, products and services.
The Guangdong-Hong Kong-Macau Greater Bay Area (GBA), should also generate new opportunities in financial services and innovation, Chan believes. He said GBA's robust growth and enormous scale will provide a new platform for Hong Kong's professional and value-added services.
Green finance and fintech are another two areas that Hong Kong will continue to support. There are now more than 600 fintech startups in Hong Kong, and regulators have issued eight virtual banking licences and four virtual insurer licences.
Advance – or retreat
'In the wave of tech innovation, we must forge ahead or we will lag behind,' Chan said. 'In every crisis lies opportunity. If we can move along with the trend and expand our role and position under the new circumstances, we can add value to the accounting profession through embracing innovation.'
Previous ACCA Hong Kong chairman Kenneth Wong
In his opening address to the conference, then ACCA Hong Kong chairman Kenneth Wong pointed out: 'Since ACCA Hong Kong's establishment in 1950, we have been growing along with Hong Kong on its journey to becoming the world's financial centre.' He wrapped up the event by declaring: 'We shall strive together to create a more powerful decade.'
We'll be focusing on the topics discussed during the panel sessions in our coverage of ACCA Hong Kong's 70th anniversary conference in a forthcoming short series of articles