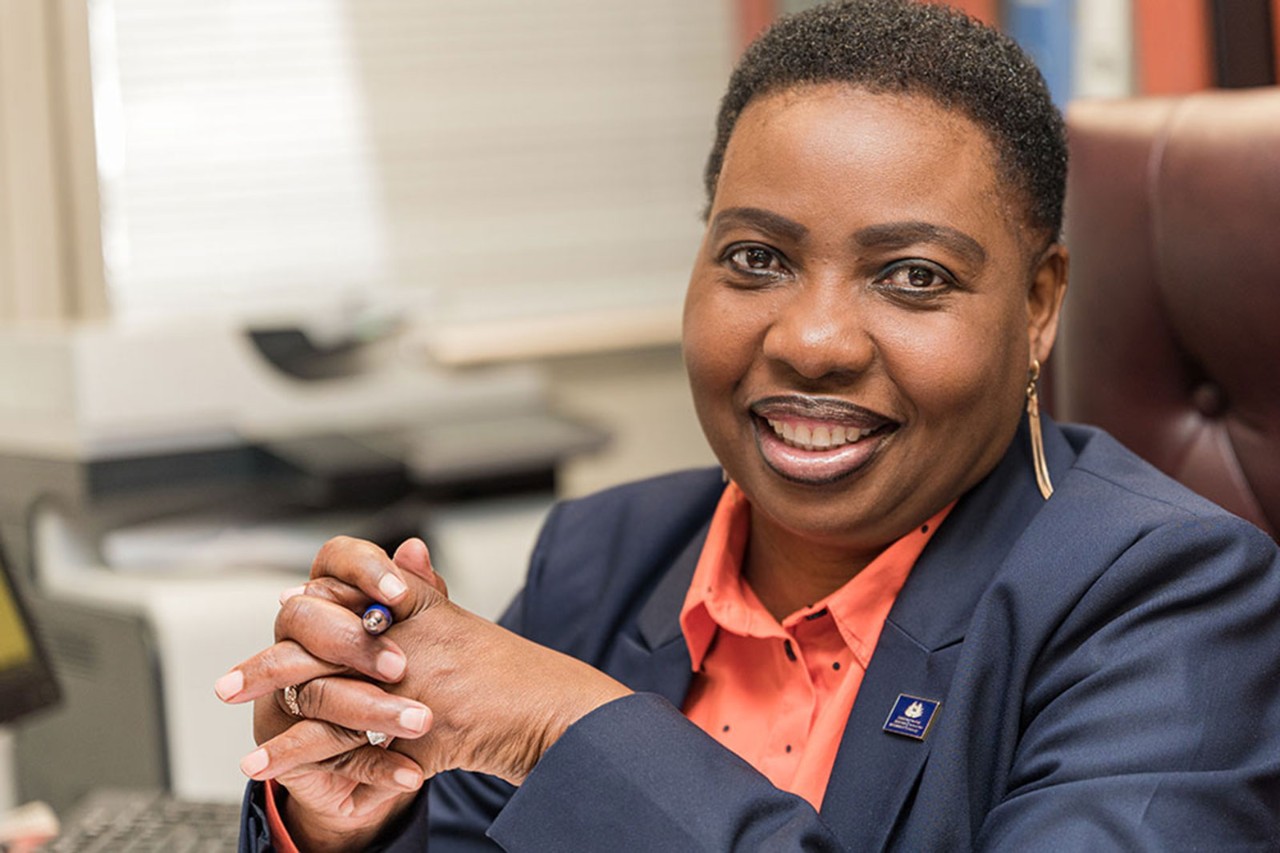 Brigitte Nangoyi Muyenga FCCA, commissioner finance at the Zambia Revenue Authority (ZRA), is in no doubt about the importance of her role.
'The ZRA drives the economy of Zambia,' she says. 'One of my main responsibilities is to make sure all the revenues collected the previous day hit the central bank on time, so the Ministry of Finance has access to them the following day.' Not even an international emergency like Covid-19 can get in the way of that.
Zambia, like every country, has suffered as a result of the pandemic, and the ZRA knows it will be grappling with the consequences for some time to come. 'We have had to waive import duties and VAT on PPE equipment, and have suspended penalties and interest on late tax payments for this tax period,' says Muyenga.'So it has had an impact on revenue collection.'
Tips
'Time management is very important. I plan very carefully. I start the day an hour earlier than most people, and I clear my in-tray at the end of every day.'
'If you want to be the captain of the ship you have to be able to influence others and manage different personalities.'
Losing out
Covid-19 has come at a time when Zambia was beginning to see light at the end of the tunnel in its long journey towards tax reform. The landlocked country, economically poor but mineral-rich, has had to fight hard to get a fair share of the spoils of its natural bounty.
Minerals account for around 70% of exports. However, there is a strongly held and undeniable view that the country's natural wealth has not been converted into economic benefit for its people. Reasons have included tax avoidance and evasion, and 'overly generous' tax incentives provided to multinational operators by successive governments.
'We depend on minerals and are blessed with many different types,' says Muyenga. 'But there are a lot of transfer pricing issues, in particular around interest on loans paid by parent companies.'
Taxing times
Zambia has repeatedly sought to improve its mining revenues through the tax system over the years, with mixed results.
A 2014 hike in royalties (paid by mining companies for the right to extract minerals) was scrapped within months. It foundered on the opposition of the mining companies (who are significant local employers), a fall in international copper prices, and a warning from the International Monetary Fund that lower global commodity prices, combined with the planned tax measures, would hit government revenues too hard. A 2019 proposal to replace VAT with a non-refundable sales tax was also abandoned.
However, international cooperation in the form of the Organisation for Economic Co-operation and Development's tax base erosion and profit shifting project, along with growing pressure on multinationals to pay their 'fair share' of tax, has generated helpful momentum for Zambia to beef up its tax compliance requirements.
If you work here, you face the global economy. I am as good as in charge of Zambia's revenue.
CV
2013
Commissioner finance, Zambia Revenue Authority
2012
Director finance, Zambia Revenue Authority
2006
Assistant director finance, Zambia Revenue Authority
2001
Director of finance, Lusaka City Council
1997
Group internal auditor, Lusaka City Council
In 2019, the Ministry of Finance announced new transfer pricing measures, including the removal of some exemptions from withholding tax, and a requirement for multinationals to document all related party transactions. The ZRA was also given authority to request sales agreements and third-party invoices relating to the sale of minerals.
In a separate move, in 2020 the Supreme Court of Zambia fined Mopani Copper Mines, a subsidiary of Glencore, US$13m for violating the country's arm's length standards on transfer pricing in a case brought by the ZRA. Mopani Mines said it would appeal the decision.
'We are not sitting back,' says Muyenga. 'We are following OECD guidelines and subscribe to a lot of treaties with other revenue authorities and customs organisations in order to share information, so we can check what was declared here against what was received elsewhere. That helps us. But transfer pricing is a challenge.'
Career vision
Muyenga, an impressively committed and energetic woman, has reached the top of the profession against considerable odds. A mother and grandmother, she has been a widow for more than 20 years.
As a child she had planned a career in the army but her family objected, so she turned to accountancy, qualifying with ACCA in 2001. 'I looked at ACCA and saw it was the qualification for me. I wanted something globally recognised and which I could feel proud of,' she says. She also has an MBA from Herriot Watt University in the UK and is pursuing a PhD with the University of Lusaka.
Muyenga set her sights on working for the ZRA while working as an auditor for Lusaka City Council, where she was the youngest qualified accountant and its first female finance director. 'It was my ambition to join the ZRA because if you work here, you face the global economy. I am as good as in charge of Zambia's revenue.'
It is a demanding role, not least due to the huge ongoing project to move from a paper-based system to an electronic system for tax administration and tax payments. Even though 90% of the population now use a mobile phone it still requires a huge cultural change effort by the ZRA.
'The idea is to entice people to use the e-payment platform so they don't have to come into our offices to pay their taxes,' says Muyenga.
'The problem is that if they come into the office, the receipt is physical evidence that they have paid. Some people are not comfortable with e-payment yet, so it's a major change management project for us.'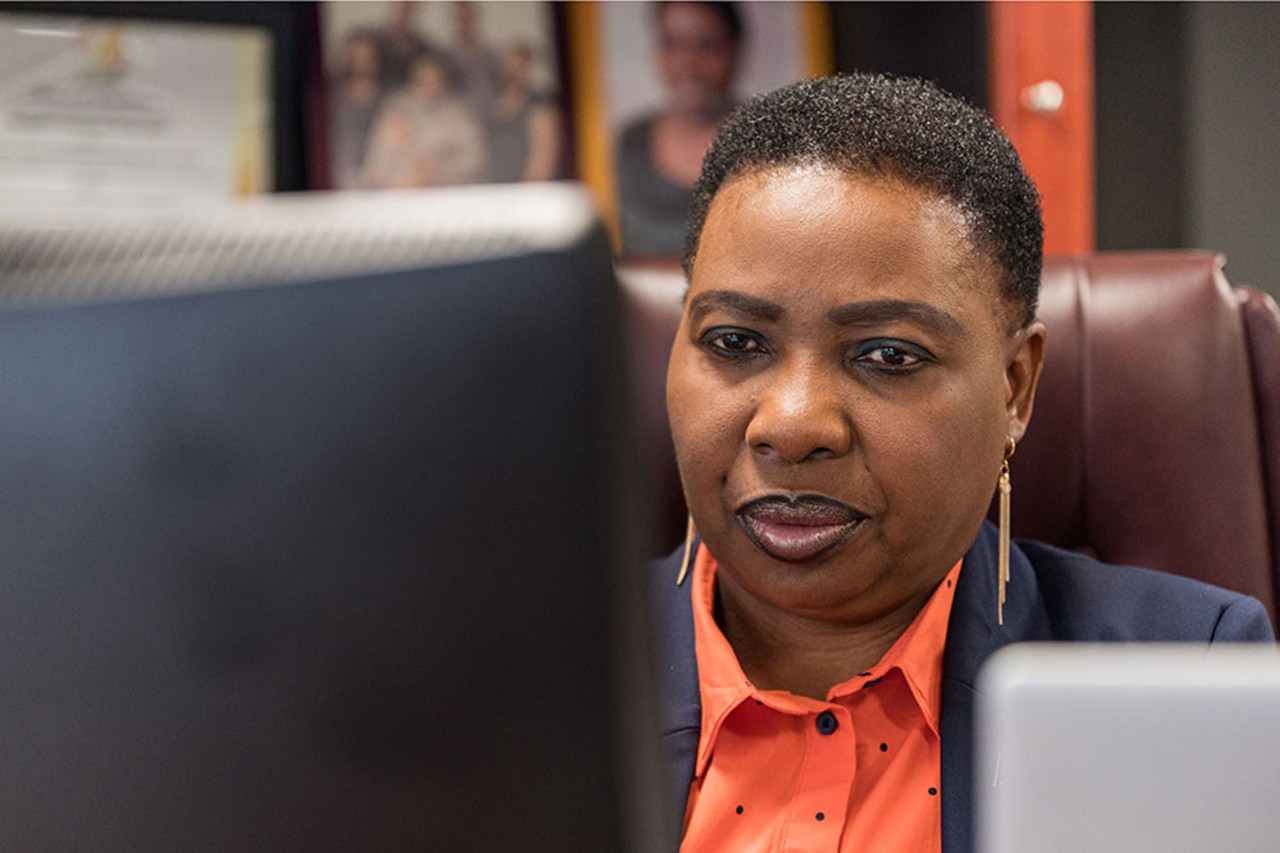 Basics
17.9 million
Population of Zambia
17.6 years
Median age
US$23.06bn
GDP (2019)
42.8bn kwacha (US$2.21bn)
Government revenue and grants, 2019
Speedier turnaround
Despite the challenges, use of the e-payment system has steadily grown. In 2017, 98% of tax returns were filed electronically, and 70% of tax payments in 2019 were made electronically. The average time taken to file and process tax returns has fallen from around 15 days to one.
'I hope that by next year, 95% of taxpayers will have migrated to the e-platform or will pay their taxes using their mobile phones,' Muyenga says.
The ZRA has also been rolling out electronic fiscal devices to small and medium-sized businesses. The equipment captures invoicing processes and issues VAT receipts at the point of sale, transferring data to the ZRA in real time.
'It's all about data,' Muyenga says. 'No-one wants to pay taxes, but if you have an e-platform it makes it much easier for us to analyse avoidance and follow up those who haven't paid. E-services have brought sanity to the system.'
Sharing knowledge
Muyenga's days are typically long and hectic, but she believes strongly in lending her expertise and knowledge elsewhere when she can.
She serves as a non-executive director to a number of organisations, including the Development Bank of Zambia, PACRA and Marsh Zambia and has a long involvement with the profession in Zambia. She sat on the ACCA Zambia committee between 2001 and 2005, and served as a council member of the Zambia Institute of Chartered Accountants between 2005 and 2011.
She was chair of the ACCA Zambia Network panel in 2011 and 2012, and in 2019 became the first ACCA member from Zambia to be elected to the ACCA's Council. 'I am a very organised person and I know how to manage my time,' she says.
She is clearly where she wants and planned to be. 'What I would say to young accountants is that you should have a vision and make sure you work towards it. If you are going to meet your vision you have to be disciplined. Getting to where I am and achieving my dream has taken time and commitment.'
It is more than a personal ambition, though. 'There used to be very few women in the profession here in Zambia but recently more and more are picking up the ACCA banner. When young women training as accountants hear about me and where I have got to, and that I am an ACCA member and advocate, it's very motivating for them. I want to be an inspiration for that girl child who decides she wants to be the next commissioner finance of the ZRA.'