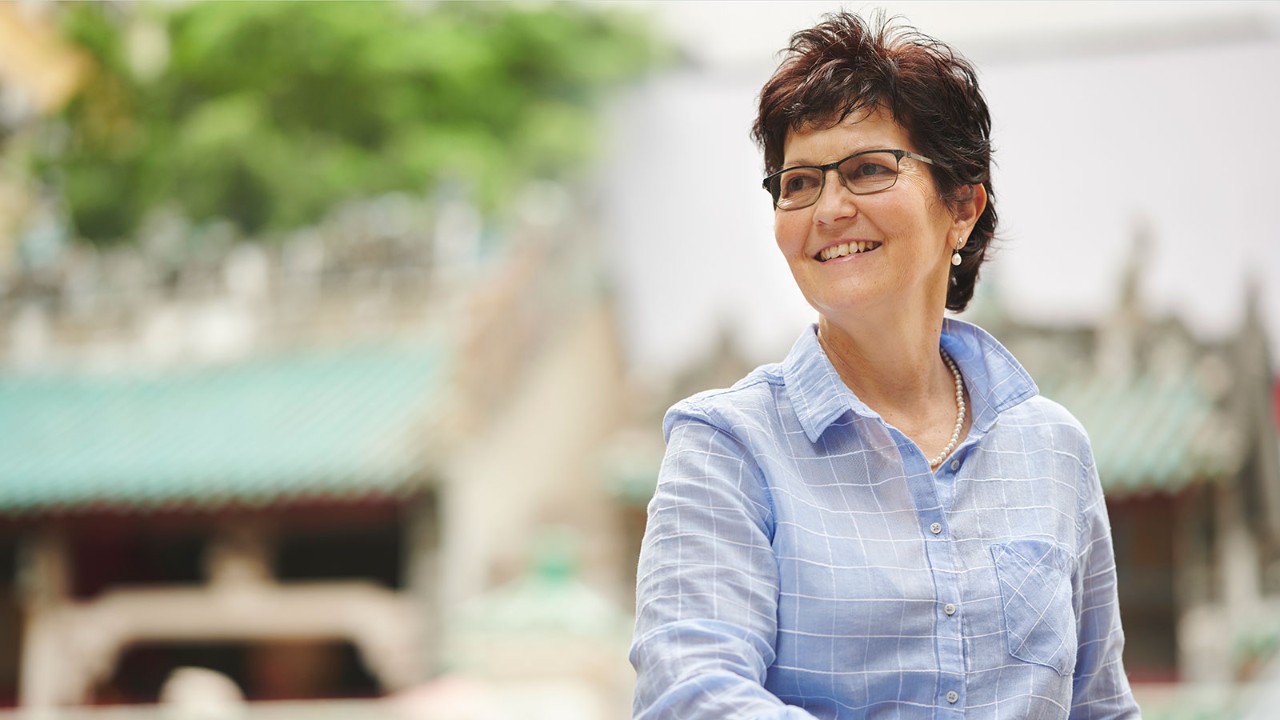 Every September, Hong Kong-based Gayle Meeson ACCA shaves her head to raise vital funds for research into childhood cancers. Joined by up to 130 supporters and shave volunteers, the fundraising event held in the Cayman Islands typically raises around US$300,000.
The annual Big Shave in Cricket Square attracts TV coverage, donor pledges and a silent auction, while also providing the newly shaved Meeson with a visible conversation opener. As she puts it, 'this gives me an opportunity to talk about childhood cancers'.
'Childhood cancer is not the same as adult cancer; the treatment is more gruelling than I ever thought possible'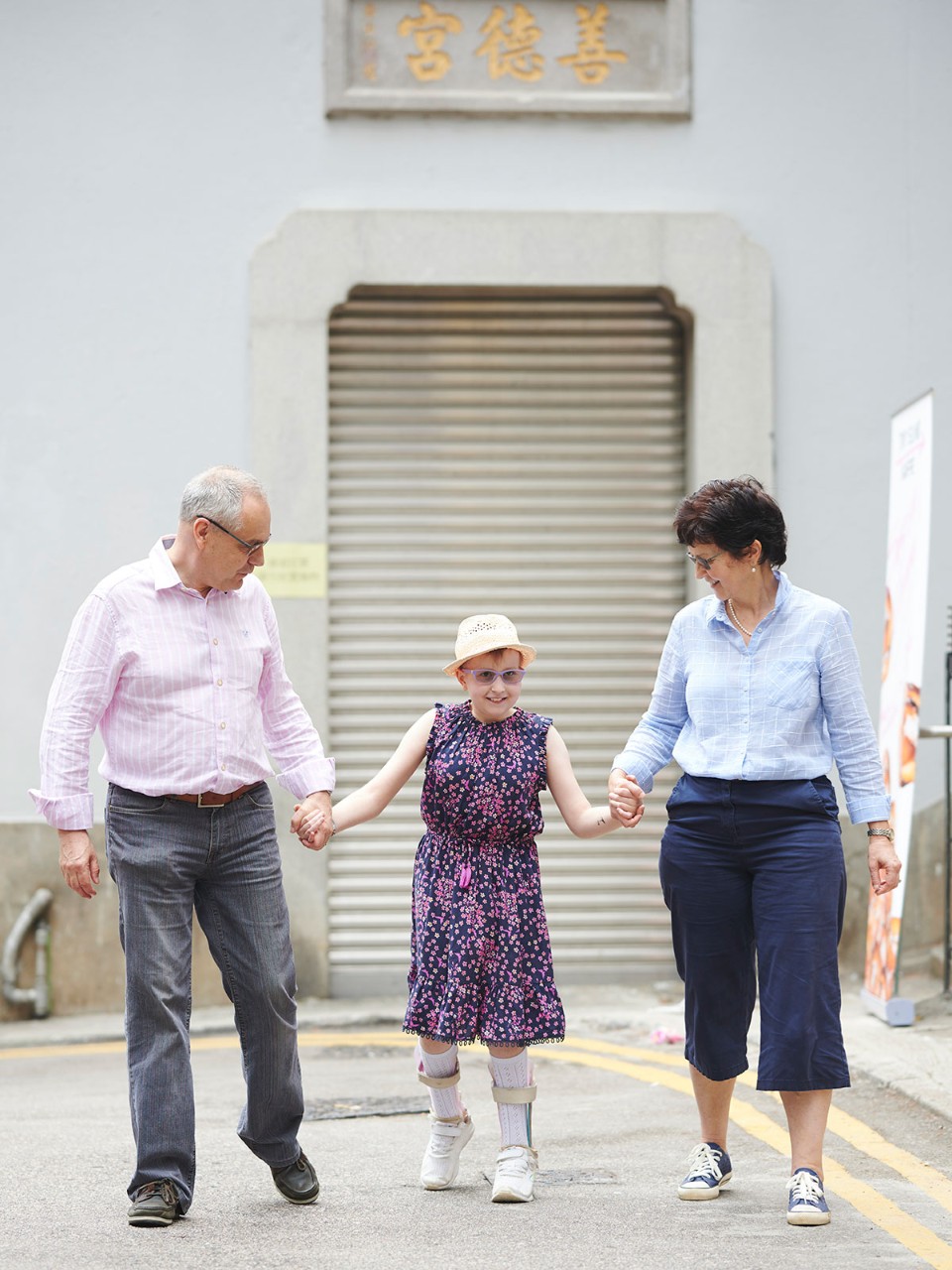 September is childhood cancer awareness month and while the Big Shave is the main event and biggest fundraiser, the islanders also host smaller-scale appeals. Successes include shave events in high schools and dress-down days in primary schools, along with lemonade stands and bake sales on street corners, some of which are organised and run by children.
For Meeson, her motivation as a fundraiser is clear: 'I want to inspire people to care – to find their passion, do something, be the change, make a difference,' she says.
The cause is one close to Meeson's heart: daughter, Hannah, is a brain cancer survivor.

Brutal treatment
At the age of four, Hannah was diagnosed with an aggressive form of cancer when the family were living in the Cayman Islands. She was flown by air ambulance to a children's hospital in Miami, US for urgent surgery, which caused paralysis on her left side.
Hannah was then transferred to Houston, where she underwent a brutal treatment regime of six weeks of daily radiation followed by six months of heavy-duty chemotherapy. During this time, Hannah had to be tube fed and was under almost continuous sedation.
'Childhood cancer is not the same as adult cancer,' explains Meeson, a Zimbabwe-born civil engineer turned accountant who shuttles between her current and former homes of Hong Kong and the Caribbean. 'The treatment is more gruelling than I ever thought possible.'
Impossible odds
While the treatment was initially successful, with one cycle of chemotherapy to go, a scan revealed the devastating news that the cancer had returned.
At this point, the only option on offer was a cocktail of three experimental chemotherapy drugs that had been clinically trialled on 66 children in Europe, none of whom survived. The odds seemed impossible, but Meeson and her husband, Nigel, realised that they had no choice.
A milestone was reached 660 days on from that initial diagnosis when a scan showed no sign of cancer. The treatment had taken its toll, though, leaving Hannah with some visual impairment and hearing loss, and requiring assistance to walk.
While Hannah was being treated, Meeson had been appalled to learn of the underfunding into childhood cancer research.
'Around the world, most countries allocate less than 4% of their cancer research budget to childhood cancers, while the pharmaceutical industry funds about 60% of adult cancer research and virtually nothing for childhood cancers,' she says.
The result, Meeson adds, is that children are often treated with chemotherapy drugs designed for adults.
'Imagine buying clothes for a baby,' she says. 'You wouldn't buy adult jeans and cut them down.'
Work experience
That Meeson, a native of Zimbabwe, has become such a successful fundraiser should come as no surprise.
Having graduated as a civil engineer in South Africa in the 1980s, Meeson started her career working in public infrastructure in the townships outside Durban. The country was still in the grip of the Apartheid regime and escalating tensions led her to move to the UK.
From there, she ran her own small business wintering as a ski chalet host in Meribel, France, and providing catering at the renowned Britten-Pears School for Advanced Musical Studies in England during the summer.
Business potential
A chance conversation with one of her ski chalet clients, who was an ACCA member, changed the course of her career.
'He saw in me business potential and said: "Why don't you study to become an accountant?'" Meeson recalls.
The client, who became her mentor, was IT and operations director for a company in Jersey, in the Channel Islands.  'He offered me a job in management accounting with funding for my evening classes and exams,' she says.
Meeson stayed with the firm, progressing up the ranks. After marrying, she and her husband settled in the Cayman Islands and, following Hannah's tumultuous journey to recovery, the family relocated to Hong Kong.
Fresh start
While Meeson's husband accepted a role in the legal profession, the impetus for the move to Asia was to provide Hannah with as many exciting opportunities and life experiences as possible – from exploring the region to joining the Girl Guides.
A fresh start in Hong Kong also allowed Meeson – still on a career hiatus – to embark on her own pathway: to raise awareness and funding for research into all childhood cancers.
'I want to inspire people to care – to find their passion, do something, be the change, make a difference'
In 2013, the family set up Hannah's Heroes – a hero fund via childhood cancer research charity St Baldrick's Foundation.
Meeson believes that her ACCA Qualification has provided her with the vital skills she has required in her new career as a fundraiser and advocate – on both the technical and soft sides.
'Without ACCA, I wouldn't have this business acumen and the global outlook to take on something of this scale,' she says. 'It's an amazing qualification.'
Pandemic challenges
Like many non-profit organisations across the globe, Hannah's Heroes has found it challenging to raise funds during the pandemic. 'The team decided to focus on encouraging thousands of supporters to choose a charity they felt passionate about, giving help and support where it was needed most as the crisis unfolded,' explains Meeson.
For those who chose to support Hannah's Heroes, many events moved online or became solo endeavours - some registered to shave remotely directing their supporters to their fundraising page while others chose to do a sponsored run. 'Despite the pandemic, the satellite events that occurred throughout the year raised US$88K for research,' says Meeson. 'That's US$88K more than nothing!'

This year's Big Shave will return on 24 September in the Cayman Islands and after the success of last year's remote shaves, teams and individuals - wherever they choose to shave - are encouraged to register and start collecting donations to honour Hannah and support research into childhood cancers.
UK adventure
Meeson remarks that as her husband retires from the legal profession, the family are returning to the UK, heralding a new and exciting adventure for her daughter. Her role as an advocate and educator for childhood cancer research will continue, regardless of where the family are based, because there are visible results to the work she does.
Ultimately, says Meeson, 'you can't fail if you're raising money for research. Every dollar raised is a measure of success.'
Hannah's Heroes
Hannah's Heroes, which raises money for US non-profit organisation St Baldrick's Foundation, has raised a total of US$2,541,005 since 2013. Cumulatively, St Baldrick's has provided US$306m in grants and is the largest private funder of childhood cancer research in the world.