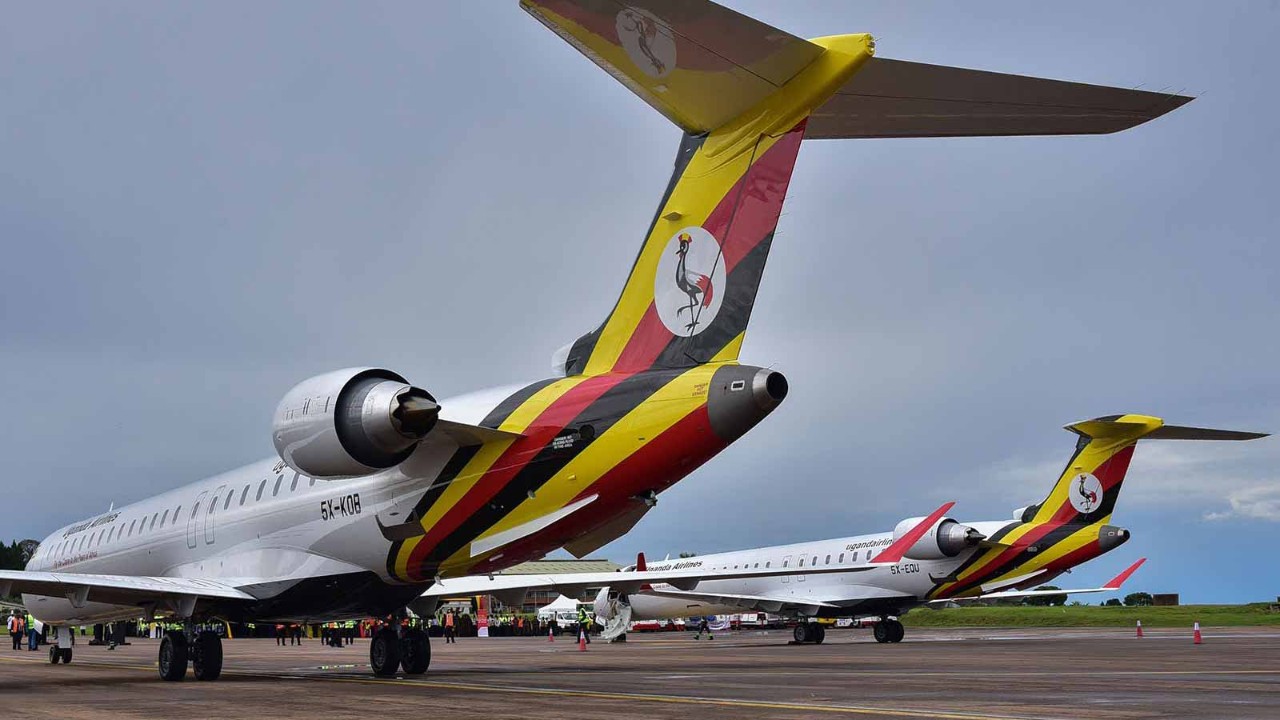 These interviews were carried out before international travel restrictions were re-imposed following the emergence of the Omicron Covid-19 variant (see box below for additional comment).
Back in 2019, the International Air Transport Association predicted that Africa was set to become one of the fastest-growing aviation regions in the world over the next 20 years, expanding at a rate of 5% a year. Then came the global pandemic.
Travel restrictions grounded passenger flights overnight and expansion plans were left in the air. Africa was no exception.
But now, airlines are reopening their routes and slowly building passenger numbers, though many remain cautious, especially as the return of tourists – so important to the sector – has been slow to build.
'Our strategy is to build up the organisation while preparing for a rebound after Covid'
Fortuitous timing
Paul Turacayisenga ACCA joined Uganda Airlines (UR) as finance director in July 2019, just as the national flag carrier was relaunching after an 18-year hiatus. This could have been possibly the worst time to start up an airline, given the arrival of Covid-19 just months later. But ironically, Turacayisenga believes the timing turned out to be fortuitous. He argues that UR is more agile than other, longer-standing airlines with higher cost structures. 'Hence, as we get out of the pandemic, UR will be swifter to expand routes, build partnerships and offer the right product at the right price to the market,' he says.
From its launch in August 2019 up to March 2020, the airline was operating eight routes, reaching the midway point in its initial growth plan. But then Ugandan airspace was closed and the fleet was grounded. Fortunately, the airline was fully backed by the Ugandan government, with a capital structure in place that was always designed to allow it to operate for three years before being required to make a profit. Hence the airline was not subject to financing fixed costs, which would have been a burden during the period of low revenue and no profit.
Turacayisenga and his team used the enforced downtime to complete the ongoing setup, enhancing the back-office systems and controls, while at the same time seeking to preserve cash where possible – for example, by deferring recruitment and capital projects. 'We seized the lockdown opportunity to implement our passenger service system solution – Amadeus – which enhances the customer experience and lifts the distribution of UR products globally,' he says. An ERP system was also implemented during this period which delivered stronger financial control and governance.
'Covid is here to stay, but now we won't be sitting ducks'
Time to rethink
The airline's biggest expense is its staff cost; it does not lease any aircraft and has no debts, Turacayisenga explains. 'This period has given us time to rethink. In a nutshell, our strategy has been one of financial resilience and to build up the organisation in the commercial, governance and operation areas while preparing for a rebound after Covid.'
According to Turacayisenga, many of the qualitative measures taken are now bearing fruit. 'We have an improved front-office system, which is on a par with the major competitors in the region,' he says. 'This gives Uganda Airlines a strong presence at all sale points. We have improved back-office systems enabling better financial management and cash collections.'
He adds that not only does the airline operate its own six aircraft, it has also partnered with other carriers for beyond traffic and network extension.
Going 'glocal'
'We have better market intelligence and partners in all countries where we operate and thus have a "glocal" – a combination of global and local – approach,' Turacayisenga says.
Routes are now beginning to open – including, crucially, the one to Johannesburg in South Africa – and Entebbe airport, the airline's hub, was reported in October to be operating at 54% capacity of where it was pre-pandemic for all airlines, according to the Uganda Civil Aviation Authority.
'When we relaunched operations, no one knew what would happen. Would people want to fly again? But based on the last 12 months, I have hope,' Turacayisenga says. 'Vaccinations will increase numbers, and in my opinion, if we get back to 2019 numbers, I am optimistic that the predicted 5% annual growth in air travel traffic in Africa for the next 20 years will be realised.'
Omicron threat?
Since speaking with the airline FDs, the Omicron Covid-19 variant has emerged in South Africa, with a number of governments placing travel restrictions on flights into and out of the country. But Peter Kgomotso, finance director at Air Botswana, says that the majority of tourists who come to Botswana by air do so through Frankfurt airport. 'With Germany allowing tourists to come to southern Africa, the impact of Omicron is not expected to be sustained,' he says.
'Bookings this year have improved significantly compared to 2020,' he adds. 'Perhaps a positive from Covid-19 has been the continued development of the domestic market, particularly to tourist areas such as Maun and Kasane, which have seen significantly improved load factors in the process.'
Government cushion
Peter Kgomotso, finance director at Air Botswana, paints a similar picture. Established in 1972, the airline is 100% government owned, which gave it a cushion when the pandemic hit.
'We had always relied on the tourists and business travellers from Johannesburg and Cape Town, so we lost 70% of our passengers overnight, and could only fly domestic routes,' he says.
The airline was already going through a period of restructuring, so it continued to look at those roles that were no longer required, while benchmarking itself against other African and European airlines, aiming for 70 employees per aircraft. 'When we started operations again in July 2020 our costs were as lean as possible, so in some ways the shutdown was a positive for us,' Kgomotso says.
By November, flights to South Africa had recommenced. 'Covid is here to stay, but now we won't be sitting ducks,' Kgomotso says.
One market
The current push from the African Airlines Association (AFRAA) for all Africa Union member countries to sign up to the Single African Air Transport Market, which will liberalise the African airspace for African carriers, is one way to achieve market expansion.
Cargo is also increasingly important for the airlines; where once flying goods around the continent seemed to be an expensive option, the increasing costs of sea containers now make it more attractive.
Fuel crisis
The cost of aviation fuel, however, has added a further complication to airline finances (see box). According to IATA, at the beginning of November the price per barrel of jet fuel was US$96.1, up 70% since the beginning of the year. Meanwhile, supply has remained tight since an increase in OPEC+ production has been slow to materialise.
Fuel is the biggest single cost for the airlines. The very large carriers are able to hedge against rising fuel costs, but this can be prohibitively expensive for smaller national airlines.
Kgomotso says that because the fuel pump price is cheaper in South Africa than in Botswana due to exchange gains benefits, it makes sense to refuel as often as possible in South Africa and employ what is known as tankering. 'Domestic pump prices are more expensive in the northern part of the country than in the southern part due to proximity to fuel depots. Therefore, fuel tankering is preferred when flying from the south to the north as a way of lowering fuel costs,' he says.
Turacayisenga, however, notes that the African Airlines Association can collectively tender for fuel, which will then be supplied to a number of airlines at a fixed margin.
It is also possible that as demand increases due to reduced flying restrictions, so the supply taps might be loosened, driving prices back down.
Environmental innovation
Environmental concerns are also high on FDs' agendas – which is why the single market is such an important initiative. An open market in Africa will lead to lower airfares, which will actually shorten journeys.
Kgomotso points out that currently it can often be cheaper to fly via Europe to reach certain parts of Africa rather than flying direct. That said, there is no escaping the need to reduce carbon emissions, which is driving innovation in the industry and investment in environmentally-friendly equipment.
However, despite these challenges, both Kgomotso and Turacayisenga are optimistic about the future. Both see their airlines as 'economic enablers' and believe that governments throughout Africa recognise the importance of the airline industry in their economic growth plans.
A national airline, therefore, is much more than a symbol of prosperity – it is seen as one way to help growth take off.