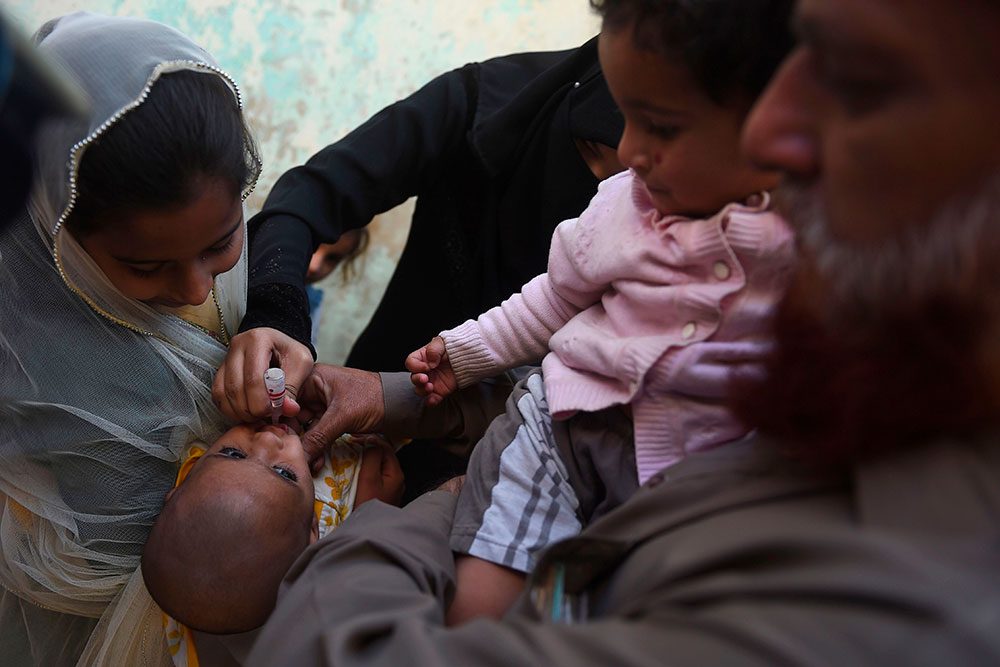 A health worker administers vaccine drops to a child during a polio vaccination campaign in Karachi
The Covid-19 pandemic has proven an extra challenge for not-for-profit and non-governmental organisations (NGOs), many of which work to improve life for the most vulnerable in some of the world's most volatile areas.
Maintaining business as usual can be a challenge at the best of times for such organisations. For the country accountant of a non-profit, whose task is to ensure a broad spectrum of the organisation's financial (and therefore operational) services remain unaffected, the Covid pandemic has been uniquely disruptive.
Nevertheless, there are still many good reasons to work for a non-profit, says Waseem Khan ACCA, a Pakistan-based country accountant for Médecins Sans Frontières (MSF). He points to 'a calm and enjoyable work environment, and inner satisfaction from working to support vulnerable communities as well as being part of a diversified international team and interacting with people from many cultures'.
The role
Much like a corporate head office accountant with oversight of finance teams at locations throughout a country, the not-for-profit country accountant handles accounting tasks at country headquarters and provides ongoing support to project accountants in the field. The big departure from a similar corporate role is that the NGO end goal has less to do with profit and more to do with ensuring unbroken service provision in challenging environments.

The NGO end goal has less to do with profit and more to do with ensuring unbroken service provision in challenging environments
The core of the role covers a broad set of accounting areas. They include invoice and payment management, daily bookkeeping, monthly closing, tax compliance, audit and bank management; depending on the size and scope of the organisation, there may be more or less to do. You must also have the ability to perform cost analysis, to identify and report risks and problems, to assure strict compliance and to explain procedures to seniors and juniors.
You may also manage and support project accountants in the field, which can mean travelling to volatile areas to meet teams, assess performance and risk, and drive improvements. Looking up the chain of command, the country accountant will frequently report to finance seniors, such as country finance managers and coordinators.

Key skills

As would be expected from such a broad role, it's vital to be technically proficient and competent with relevant finance and accounting tools. Expertise in Excel is a given, but skills with tools such as QuickBooks and other cloud-based accounting and IT systems are also valuable.

Depending on the country accountant's location and the organisation's home country, you will likely need a broad understanding of local and international accounting standards, including US GAAP and IFRS Standards, as well as regulations relevant to your organisation.

The soft skills required by the role are rigorousness and being detail- and results-oriented. A commitment to excellence, good organisational skills, self-motivation and a strong sense of personal integrity are also important. Excellent communication skills and the capacity to work in multidisciplinary international teams are key.

The role may also require the flexibility and adaptability to work in remote areas with marginalised communities. You may need to work long hours in cases of emergency and extra days to meet project needs.

Getting in and getting on
The ACCA Qualification and a degree will be preferred by hiring managers. However, experience will also play a big part in selection. Khan, for example, built up his experience in the corporate sector as well as with other development organisations before joining MSF.

Opportunities for progression include moving up to finance and accountancy manager, which would then lead to finance coordinator (country finance head). Given the global scope of many NGOs, there is the opportunity to work overseas and to move beyond a country focus and into senior finance and board level roles with global oversight, as well as into non-executive director or consulting roles.