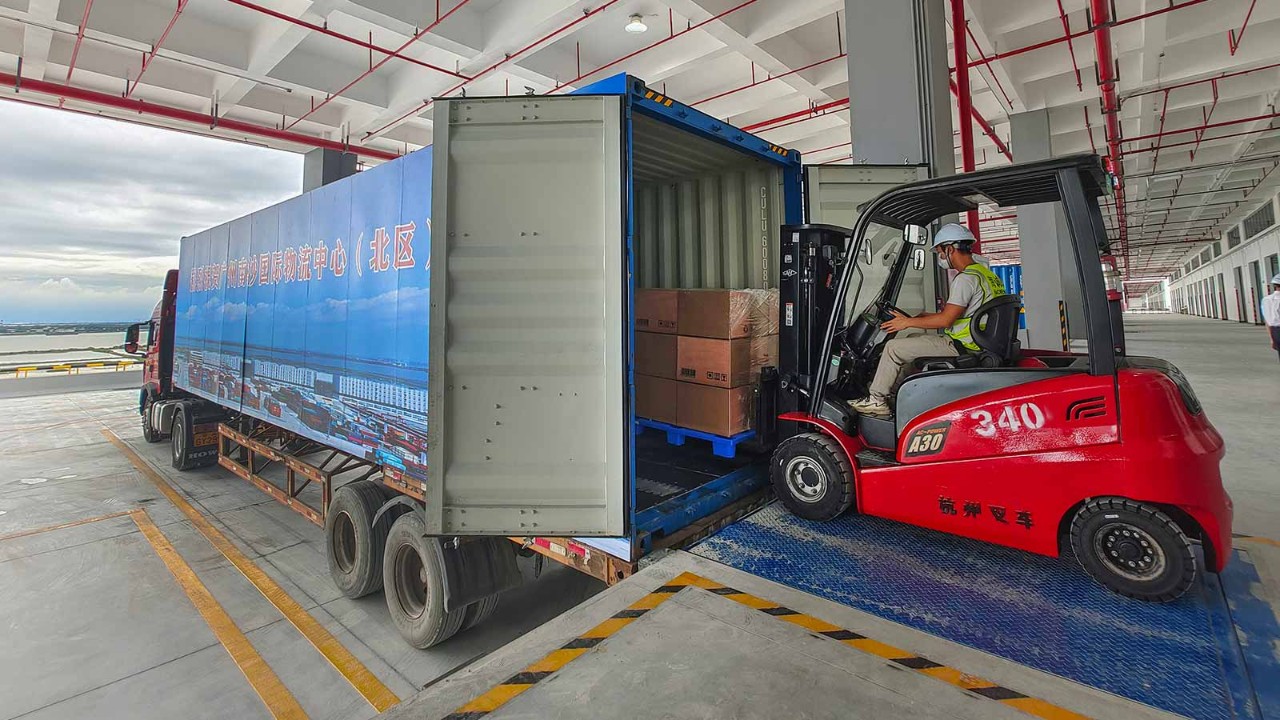 Supply chains are always evolving, but Covid-19 has brought about an unprecedented developmental spurt.
'The China-US trade dispute was a precursor, but today the key disruptor is the virus, the small bug that infected the total supply chain,' says Professor Mark Goh, research director at National University of Singapore's The Logistics Institute – Asia Pacific.
Lockdowns meant people were forced to shop online, which has affected the supply chain in two ways, says Goh: firstly, by uncertainty in demand because it can come from anywhere and anytime; and, secondly, delivery has to be made in a smarter way to the final consumption point, rather than to a shop.
This has spurred a shift in manufacturing's tectonic plates, with companies seeking technologically advanced production hubs closer to their customers, making them more agile, responsive and capable of faster delivery, a trend PwC has coined 'glocalisation', a process already underway in Europe, the Americas and Asia.
Trade liberalisation
Asia can no longer be viewed as a production hub focused on once wealthier external markets. It's a major consumer base in its own right, with a rapidly expanding middle class demanding more and better consumer and lifestyle goods.
This is underscored by greater regional trade liberalisation, as is expected via the Regional Comprehensive Economic Partnership (RCEP) of 15 APAC countries – the world's largest trade pact covering a market of 2.2 billion people and US$26.2 trillion of global output, or about 30% of the world's population and its output.
'If you have full end-to-end visibility, imagine what value finance can add'
Digital supply chain in action
Real-time end-to-end visibility: live status of suppliers, manufacturers, transportation carriers, third-party logistics and stock levels.

Alerts and exception management with machine learning suggestions.
Live partner/stakeholder collaboration and issue resolution.
Machine learning surfaces recommended actions, weighing impacts and prioritisation with what-if scenarios.
Digital supply chain control towers, such as Blue Yonder's Luminate, provide end-to-end visibility across all supply nodes. For example, if a ship is delayed in the Suez Canal, the impact to distribution will be automatically calculated and a recommendation made as to how to move inventory to compensate.
Additionally, companies are increasingly adopting China plus one or even plus two strategies. 'They are looking at South-East Asia for manufacturing, predominantly Thailand, Vietnam and, to a lesser extent, Malaysia and Indonesia,' says Malcolm Shroff FCCA, CFO at Sydney-based sports nutrition and supplements company Essence Group.
'What you'll see is twofold: companies de-risking from China and domestic production picking up,' he says. 'We're looking at expanding our manufacturing capabilities in nutraceuticals domestically, so we're getting a grant of around A$2.2-2.5m from the Australian government, almost 50% of our CAPEX expansion of around A$4.5m.
Shroff is also seeking alternative suppliers in South-East Asia, but sees large-scale supply diversification away from China and capacity increases elsewhere to be a 'good' decade in the making. 'You won't get the sort of cost China's economies of scale offer in other countries, even in India, whose manufacturing capacity is another three-to-four years away minimum.'
Digital supply chains
At the core of supply responses to the pandemic, to glocalisation and to supply chain evolution more broadly is technology adoption, with Asia an outlier and, according to Goh, already on the cusp of a digital supply chain.
Terence Foo and Takaaki Fuchu, Deloitte South-East Asia supply chain and network operations leader, and Japanese client leader, respectively, agree: 'There is a clear and certain shift from the traditional linear supply chain towards a more network-connected type due to digital technology being leveraged.
'We are at the beginning of this reshaping and the first movers to transform digitally will stand to reap the benefits of the 'digital supply network' as they move forward in their journey from automation to real-time end-to-end visibility, to ecosystem connectivity, to value optimisation, to predictive insights and, finally, to autonomous supply chains. We call this the "Dawn of Autonomous Supply Chain".'
In PwC's Connected and autonomous supply chain ecosystems 2025 report, the firm identified 10% of the 1,600 companies surveyed as digital champions, 40% as innovators and the remaining 50% as followers.
'The role of the CFO is moving away from being a steward and a cost tzar to more of a strategist and catalyst'
Within this, Asia has leapfrogged North America and Europe when it comes to supply chain digitalisation, driven largely by tremendous growth, says Marc Philipp, consumer and industrial products leader at PwC South-East Asia Consulting.
'Clients see steady 4-5% growth in Europe, which is easy to plan and manufacture for, but with Indonesia growing 24-25%, if you get your forecast wrong you're stuffed. So businesses are coming to the conclusion that the global playbooks no longer work in Asia and they need to leverage technology.'
Hard decisions
From a supply chain transformation perspective, there is a distinct opportunity for CFOs. 'The role of the CFO is moving away from being a steward and a cost tzar to more of a strategist and catalyst,' says Philipp.
'You have demand, supply and production all now in a circular real-time data movement. Who facilitates the process? It's an opportunity for finance and CFOs, because there are hard decisions to be made.'
Philipp sees CFOs as intermediaries in the entire ongoing cycle of the planning process and as the backbone of integrated business planning, increasingly involved in 'what if' scenario planning and moving away from only doing accounting and cost reviews.
Strategic advisers are asking the following: what is the value of moving production sites; should we go to China plus two strategy; what happens if we move suppliers closer; how do you connect sales with demand, supply and production plans; and how do you connect this with the 12, 24, 36-month financial plans?
'All of this requires significant business cases and financial input,' he says. 'That's where the role of finance is important and the finance community wants to step into this collaborative, strategist, catalyst role.'
He also believes technology will bring greater fluidity between departments, allowing finance to shine brighter still. 'With supply chain digitalisation, you look at visibility and traceability, you connect all of your suppliers, you have full visibility from suppliers to production to distributor to wholesaler to customer (often the point-of-sale).
'If you have full end-to-end visibility, imagine what value finance can add. You move from sequential — you only see what you have in your box and you move left or right — to a circle of data flowing all the time, and then you really can add significant value.
'Now you understand the 7% cost reduction and 8-9% revenue uplift [from digitalising supply chains] — it becomes real because you can react so quickly.'