The large accountancy firms in Africa were facing recruitment and retention challenges even before the pandemic. But now, as the economies of the continent emerge from the Covid-19 crisis, these challenges have become even more taxing.
Last month, two senior practitioners, from Tanzania and Zambia, met to discuss how their firms have adapted their recruitment processes to ensure that they have the right people in the right place at the right time.
Andrew Chibuye FCCA (pictured here), PwC's senior partner for Zambia, sees finding the right people as the number one challenge. There are, he says, a high number of potential candidates in the market at the moment, with often up to 2,000 applicants competing for a handful of positions in his firm. 'But whittling them down to the right candidates that are a good fit with the organisation and have the right qualifications can be a challenge,' he says. 'And the process can be lengthy and costly.'

'We need people who are technologically savvy, and alive to the trends that are shaping the world'
He adds that there are challenges around finding people with the right skills. 'We don't just need people who are accountants; we need people who are technologically savvy, and alive to the trends that are happening and shaping the world.'

Chibuye is also concerned that a move to a firm such as his matches the career aspirations of candidates. 'How do we motivate them? What is the right mix of reward and recognition and their ambitions?' he asks. 'Few will have an ambition to work in the same place for 20 years, some not even three years, but from our perspective we need some stability and consistency in our teams.'
Diverse generations
Picking up on the generational aspects of recruitment, Alex Njombe FCCA (pictured here), senior partner at KPMG Tanzania, recognises that his firm is working with diverse generations, whose different demands need to be balanced. 'We need to accommodate the various preferences of these groups – baby boomers, generations X and Y, and millennials,' he says. 'This gives us a challenge not merely for selection, but also retention as we recognise that new recruits want to progress quickly.'
The pandemic has made this more complicated – remote working has made integrating new starters a challenge, especially at graduate level, as it is not so easy for them to learn from those with more experience and progress when everyone is working away from the office. 'This is a very pertinent issue,' says Chibuye. 'If you think about it, we invest a lot in new graduates, in terms of induction and the way we work, starting from the day that they walk in through the door. The interruptions caused by the pandemic have given us a challenge in how we support them, how we bring them on board and inculcate the culture from day one.'
Wider networks
KPMG, PwC and other accountancy firms that are members of global organisations have, however, been able to draw on support from their wider networks and share experiences. 'That is the benefit of being in a network,' says Njombe. 'We had been doing this in the past anyway, but having access to these resources in recent months has been particularly helpful.'
Chibuye agrees. He says that the power of the networks lies in the digital tools to which his firm has access, some of which allowed his staff to work in many different geographies. 'The tools have allowed us to work efficiently in this way,' he says.
But this does raise some interesting questions. As Chibuye says, if someone is working from home in Lusaka, they might as well be working from home in Johannesburg. 'We have experienced staff members not just working remotely from home but from totally different geographies on ongoing assignments. Both clients and professionals have been affected in equal measure, which means that clients are less concerned about where our staff are sitting,' he says.
'It has allowed for flexibility in terms of where we work and how we work, and this gives us opportunities to develop the team and bring in people who might not have been able to work with us in the past. The whole world is working in a similar way, facilitated by the power of collaboration.'
Reimagine education
Education remains a pertinent area. Njombe raises a concern that students are not always prepared for the jobs market. 'This has been the case in the past, with a disconnect between what is available and what is expected, but that is now even more evident,' he says, acknowledging that it is a worldwide problem. 'There is an urgent need to reimagine the way in which education is delivered. Some of the traditional methods are no longer sustainable because of the qualities and skills that we now need. For students to be job-ready in the new reality, there has to be a shift in the budget that we allocate, and a move in the mindset of some of the organisations so that they can get it right.'
Chibuye acknowledges that the pandemic has brought disruption to training and exam programmes, 'but at the same time there has been quite a bit of agility and adaptability in the process'.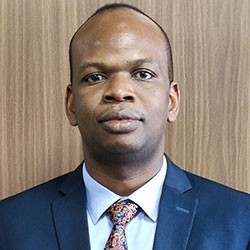 'If someone is ambitious and has the right attitude and focus, we can give them opportunity'
Looking at the requirements for the future, both Chibuye and Njombe believe that digital and data analysis skills will be in highest demand. 'Artificial intelligence skills are likely to be a source of competitive advantage but also a necessity, because that is the direction our clients are moving in,' says Chibuye.
Digital skills will be needed in audit and areas such as risk and cybersecurity. In tax, Chibuye says that while there is the need for new recruits to be digitally astute, they must also possess a greater understanding of the global landscape, with transfer pricing seen as a significant emerging issue. 'If you think about the equity of the international tax system and the focus that multinational companies are receiving, there is a big push for people skilled not just in understanding local taxation but the global system as well,' he says.
Njombe adds that as a service provider his firm is continually revising its capabilities and responding to how expectations are transforming, such as the increasing use of forward-looking capabilities in the audit process. 'Our people must be adaptive and dynamic,' he says.
But, as Chibuye says, 'when we talk about tech, we need people who understand the outcome, to get to the right answer. This will require specialisation and staff with a depth of experience.'
Future focus
Looking to the future, both agree that the long-term success of their organisations depends on getting the recruitment and retention process right. 'We need to keep our people engaged and look at our purpose,' says Chibuye. 'Where are we making a difference? If someone is ambitious and has the right attitude and focus, we can give them the opportunity, we can give them variety.'
Both Chibuye and Njombe recognise that if they are to win the war for talent much will depend on their firms' leadership. 'Our brand is our promise,' says Njombe. 'Leaders have to work harder and be more resilient. We need to keep in touch with and coach our people.'
Chibuye adds: 'It is important that leadership is attuned and can provide the right levels of inspiration. There is a blue sky of possi