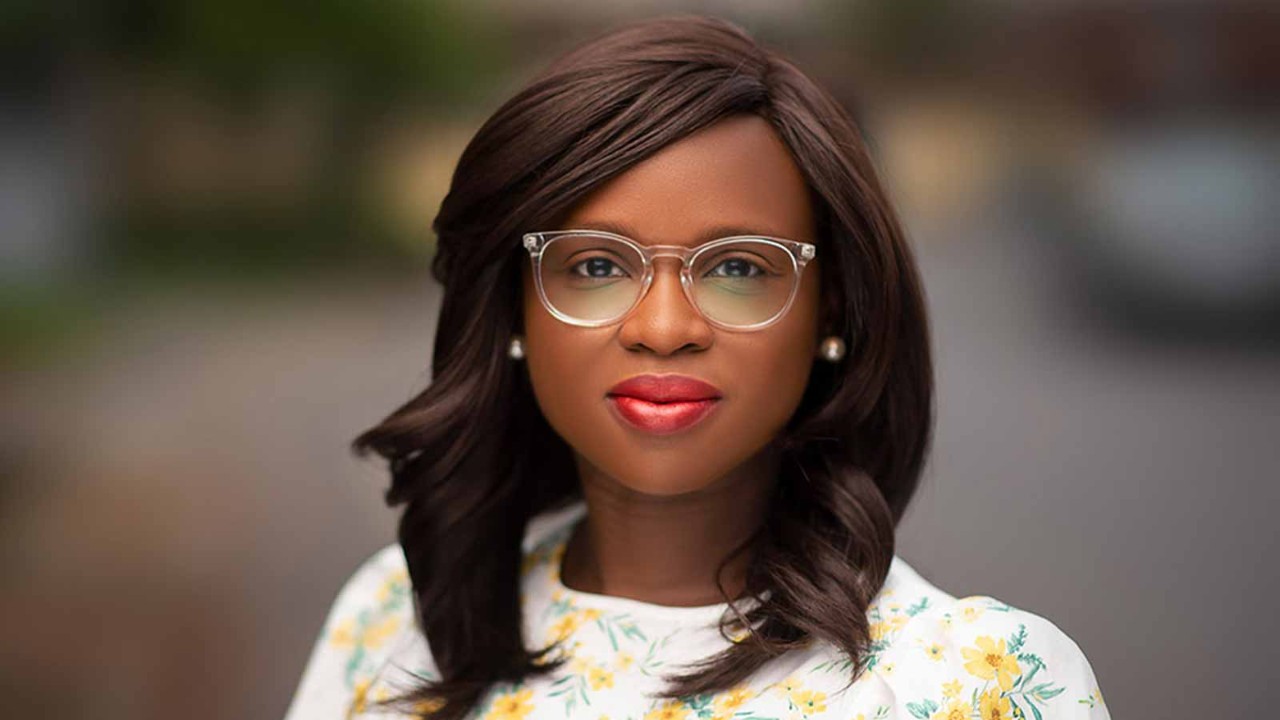 'An unconventional accountant' is how Titilayo Obasanya FCCA describes herself. It's an apt description for someone whose career to date has combined entrepreneurship, business advisory work and recording music – not to mention publishing three books along the way. Given the extent of her activities, she is clearly not short of energy.
Born and brought up in Nigeria, Obasanya has close connections with the UK, which she describes as her 'second home'. She moved there in 2005 to study for the ACCA Qualification, completing a degree in applied accounting from Oxford Brookes University. Since her return to Nigeria she has maintained the link as a startup mentor for the University of Surrey Student Enterprise programme – a role she also fulfils with German artificial intelligence startup generator Disruptors.
'A culture of open innovation and co-creation would go a long way towards transforming Nigeria'
CV
2020
Director of startups, Semicolon, UK and Nigeria (until May 2021), mentor, University of Surrey Enterprise Programme (UK) and Disruptors (Germany)
2019
Business analyst (incubation), Co-creation Hub, Nigeria
2018
Interim CEO, tech logistics startup Velocity, Nigeria
2017–present
Founder, Startup Desk, Nigeria

2014
Business manager, School of Estate, Nigeria
2012
Self-employed small business consultant, Nigeria
2009
Accounting roles, Christian Action Housing Association (UK) and Helios Towers (Nigeria)
While she juggles many commitments, Obasanya's main focus was, until recently, as director of startups for social enterprise and technology training provider Semicolon. In this role, she was responsible for supporting budding Nigerian entrepreneurs to turn a spark of an idea into a 'minimum viable product'.
Hope in the future
'I love the world of startups,' she explains. 'Working with young people, trying to give them hope in the future and a means of taking care of themselves and their families, is exciting and fulfilling.'
Nigeria has an alarmingly high unemployment rate, hitting 33.3% by the last quarter of 2020. As a result, organisations like Semicolon fulfil an important function in an economy that desperately needs skilled people who can drive growth and create jobs and opportunities for others.
The country also has a fast-growing startup scene – the commercial capital, Lagos, has been described as 'Africa's Silicon Valley'. Obasanya passionately believes startups do have the potential to transform the Nigerian economy, provided they get the support of a collaborative ecosystem, including the government, private sector and universities. 'A culture of open innovation and co-creation among all stakeholders would go a long way towards transforming not just Lagos, but the whole of Nigeria, into an African Silicon Valley,' she says.
Bursting with ideas
While at Semicolon, Obasanya continued to oversee Startup Desk, the social enterprise that she launched back in 2017. The idea for the business came to her after she moved back to Nigeria and wanted to establish herself in business. 'I looked online for an information platform on how to start a business, but I found none,' she says. 'I had to rely on family, friends and hearsay, and I realised that the information could be distorted.'
In 2016, Obasanya entered the idea for Startup Desk into the British Council's Creative Enterprise Challenge and was one of 10 concepts awarded a 500,000 naira grant, then worth around US$1,500. Originally launched as a consultancy the business has since evolved into more of a social enterprise, creating pathways for entrepreneurship and employment for university students.
Creative passions
Despite being busy with her startup work, Obasanya still finds time to indulge her creative passions. A contemporary gospel singer, she recorded her first EP back in 2003 and followed up with a single in 2015. She is inspired, she says, by the example of Carla Harris, a senior executive at US bank Morgan Stanley who is herself an accomplished gospel singer. 'Music is therapeutic,' she comments.
Obasanya also has three books under her belt. Tales of a Dressmaker, a children's book, is approved by the Lagos State Ministry of Education as a recommended text for secondary school students. It tells the story of a grandmother who uses the art of dressmaking to share life lessons with her granddaughter. Last year, she published a motivational story for young adults called The Girl My Father Never Wanted. Her third book, Prisoner of Guilt, published in May this year to coincide with Mental Health Awareness Week, explores a young man's quest for mental and emotional freedom.
'If you're passionate about an activity, you enjoy it. If you're not, it becomes hard work'
Tips
'Have a healthy dose of curiosity and lean into your creative side often.'
'There is no one path to achieving your dreams – ACCA can be a stepping stone.'
'Entrepreneurship is tough. Expect to win but don't be disappointed if things don't happen within your timeline.'
'Stay agile and be ready to pivot your business model, especially in emerging markets.'
'Be prepared to learn the basics of entrepreneurship and startups (especially if you want to become a tech founder).'
As for how she manages to fit so many different jobs, interests and responsibilities into her life, she says: 'I learned early in life to prioritise and use time management tools – and I don't commit if I cannot give 100%.'
'It's easy when you are doing things that you love. If you're passionate about an activity, you enjoy it. If you're not, it becomes hard work.'
Head start 
Despite no longer practising an an accountant, Obasanya says the business skills she acquired through her ACCA Qualification have been vital to her work with entrepreneurs.
'ACCA is a different kind of professional accounting exam,' she explains. 'It gives you pathways to be who you want to be and pursue the career that you want to pursue. I like to introduce myself as a non-practising ACCA – and proudly so!'
She has some practical advice for any other ACCA member looking to combine business with creative pursuits. 'If you don't want to follow the traditional path, but are unsure whether to pursue your creativity, just make room for your passion,' she says. 'The journey will open up for you.'