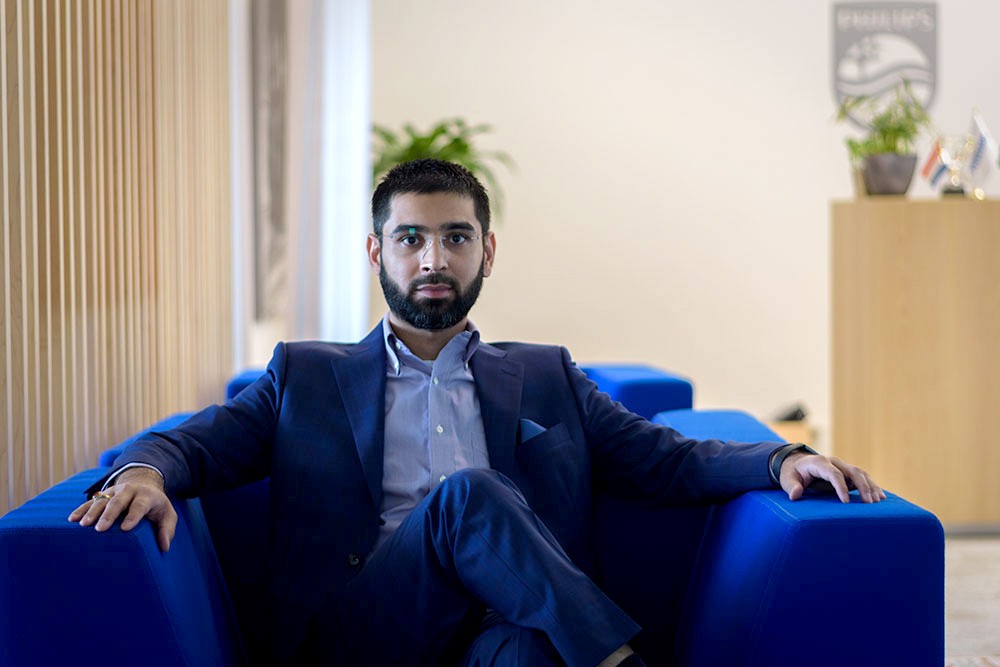 It was a chance switch in teachers at school in Riyadh, Saudi Arabia, that set Mustafa Malik FCCA on the road to a career in finance. While studying engineering, a substitute teacher with a background in accountancy stood in for his regular one and encouraged him to try a few finance lessons.
'I sat in on his class for three days. I started to look at balance sheets and developed a real interest, so having begun to explore possible career paths I took the decision to go into accountancy rather than engineering,' he recalls. 'I have no regrets.'
Rapid rise
The decision led him rapidly up the finance career ladder, passing through EY and GE to his current position as CFO at Philips Healthcare KSA, a Saudi joint venture between the global electronics giant and Al Faisaliah Medical Systems, selling healthcare solutions and services. Along the way, he also grabbed the opportunity to work in the US and experience working life both in practice and in industry.
'I work closely with customers, collaborating to ensure they have the right solutions, which in turn allows the business to grow'
Tips
'Make sure you have an objective reason and logic for anything you want to achieve; success depends on having clear goals.'

'Focus on risk assessment and critical thinking – this is the key to becoming successful.'
'If you do a good job, you will get noticed. Spend more time on getting it right rather than thinking about your visibility.'
Today, he runs a diverse team of eight based in Riyadh, Saudi Arabia, working in partnership with the rest of the business to ensure that finance is embedded in all the decisions necessary to maintain growth in the business.
'I spend a lot of time engaging with the CEO. We work as a team to make sure we reach our targets, and that we have in place the strategies, business models and finance solutions for our customers that will allow us to generate more business,' he says.
He remarks that where in the past CFOs would be focused on 'crunching the numbers and closing the books', he sees his role as integral to business growth. 'I work closely with customers, collaborating to ensure they have the right solutions, which in turn allows the business to grow,' he says.
Solutions growth
Key to such growth is the provision of integrated solutions. The business supplies equipment and services to the healthcare industry, but providing solutions to support its customers' operations is a fast-growing part of its activities. Malik notes that finance has a key role to play in negotiating contract terms to ensure that the deal makes sense both for Philips and its customers.
'This is a large part of my work,' he says. 'I attend meetings with our customers to understand their needs, the issues they face and how we can help them with these. Solutions can be anything from a combination of hardware and software to bundling various software packages in a way that is customised to customers' needs. This includes customised financing.'
He cites as an example a group of public hospitals that need to be digitally connected across eight sites so that vital information can be shared without delays. 'We exist to help healthcare operators create patient-centred ecosystems that deliver care quickly and efficiently,' he says.
Integrating customer activities
Alongside these all-embracing solutions, Philips still supplies the hardware necessary to provide patient care: monitors, scanners and ventilators. By combining sales of hardware with additional services, the company is able to have a continuing relationship with its customers.
'For instance, we create central command centres that integrate multiple units in different locations,' he explains. 'Among other things, these allow senior consultants to monitor patients across a number of locations from one place, and also help hospitals to optimise their costs.'
Healthcare across the world has, of course, been in the eye of the global Covid-19 storm, and Philips is no different. It witnessed a significant spike in demand for its products and services, especially ventilators and monitors, but, as Malik observes, it also experienced a temporary slowdown in customer revenues as non-pandemic-related treatments were postponed. 'There was an impact on cashflow,' Malik remarks.
'Our focus should be on making a centralised function much more commercial, much more "street"'
CV
2019
Head of finance/CFO, Philips Healthcare KSA, Riyadh
2017
Deputy CFO, GESAT, Khobar, Saudi Arabia
2014
Audit manager, GE, US
2011
Senior financial analyst, GE Healthcare, Riyadh
2009
Engagement auditor, EY, Riyadh, Saudi Arabia
Basics
2015
Philips Healthcare KSA founded – a joint venture between Philips and Al Faisaliah Medical Systems
€111m (US$135m)
Turnover in 2020
7%
Profit as a percentage of turnover
150
Staff employed in Saudi Arabia, out of a global workforce of 81,592
€19.5bn (US$23.5bn)
Philips worldwide revenue
He adds that there was also an additional one-off inflationary hit in the region when the Saudi government increased VAT rates to counter tax revenues lost as a result of the pandemic-induced slowdown in oil demand and falling oil prices caused by a three-way price war between the US, Russia and Saudi Arabia.
Malik acknowledges that these headwinds did pose challenges for the company but believes there will be a return to healthy growth, and that any slowdown in government-funded projects in Saudi Arabia will be reversed in the near future.
'There will always be a demand for healthcare products. We are exploring options such as more partnerships with government in the future,' he says. 'The path ahead looks interesting.'
Upward trajectory
Malik's own journey in accountancy began when he started his ACCA studies. Having completed an accountancy degree at Oxford Brookes University in the UK, he returned to Saudi Arabia to join EY as an auditor, where he completed the ACCA Qualification.
In this context, Malik was grateful for the flexibility of the ACCA Qualification. 'I knew that once I had started, I could do it from anywhere,' he says.
In 2011, he took the decision to move into industry, first joining GE Healthcare's finance department in Riyadh for three years, then enrolling in the parent company's leadership programme, which took him to the US. He stayed there until 2017, moving between divisions in six different states across the country, plus Turin in northwest Italy.
'The GE leadership programme was intense. I was constantly on the move, spending four months at a time in any one location. It gave me exposure to many areas of its operations such as transportation, aviation, power, oil and gas, taxation and audit. And all the time, I was focusing on critical problems that the business was facing. It was exhilarating.'
Having returned to his home country to be nearer to his family, by 2017 he was deputy CFO of a GE joint venture in Khobar, on Saudi Arabia's eastern coast.
Perfect timing
Then, when a position became available for a CFO at Philips Healthcare KSA – an opportunity that would allow him to build on the healthcare experience he had gained at GE – he didn't have to think twice. 'The timing was perfect, as the CFO role was also opening up,' he says.
And Malik hasn't looked back. This month, he is pleased to be taking part in the New Age Finance and Accounting Summit in Dubai – ACCA is one of the sponsors of the event, which looks at the future for the accountancy profession.
'I'm focusing on the impact of digital and how the finance function is changing,' Malik says. 'It is no longer about closing the books; it's about getting out into the market, speaking with customers, adopting new technologies, using digital analytics. Our focus should be on making a centralised function much more commercial, much more "street".'
It is an endeavour he is more than happy to promote – and just as keen to fulfil.