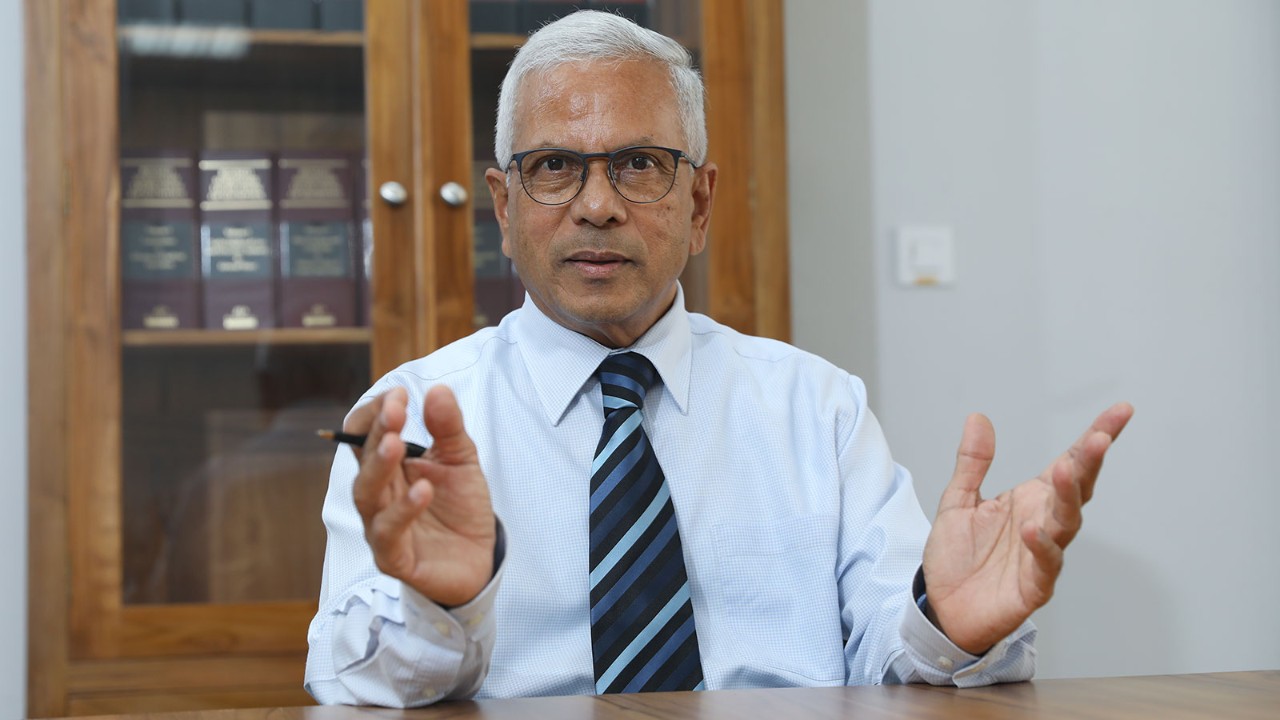 Mitrajeet Dhaneshwar (Dan) Maraye FCCA is a man of many parts. Not only has he held top finance positions in some of the most important public service organisations in Mauritius; he is also founder and owner of a business school and earlier this year was appointed by the island nation's president as ombudsperson for financial services.
The role of ombudsperson is one that Maraye himself recommended should be created. It was something he proposed 25 years ago, during a three-year stint as governor of the Bank of Mauritius. 'The office finally became operational in 2019. My aim now is to make it a model for the region,' he says.
As ombudsperson, he works closely with banking and non-banking regulators – the Bank of Mauritius, the Financial Services Commission, the Mauritius Bankers Association and the Assurance Association of Mauritius. 
'While I'm very proud of the official government work I'm able to do, what makes me happiest is to see young people achieve their potential'
Top tips
'My recipe is SPICE: sacrifice, passion, integrity, commitment, excellence.'
'As finance professionals, our job is to provide correct financial information in a timely manner so that stakeholders can make informed decisions. In this, transparency is key.'
'Integrity comes first. Always speak your mind and never say yes when you mean no.'
'When you see your particular sector grow, it's like seeing the fruit of a tree you've planted. That's very special.'
'As your career progresses, think about how you can benefit the next generation.'
Decades of development
As the former CFO of the nation's fledgling broadcasting, transportation and water infrastructure companies, Maraye was among the pioneers in the adoption and implementation of good corporate governance practices in various public corporations in line with international standards.
In 1996, he was appointed Governor of the Bank of Mauritius, a role that required him to travel extensively around the world, representing his country at the International Monetary Fund and meetings of the Southern African Development Community.
But first, Maraye's ambitions drew him to the UK. After studying part 1 of the ACCA Qualification at the University of Mauritius, he headed for London where he completed his articles at chartered accountants Gordon Leighton & Co., achieving the ACCA Qualification in 1976.
Financial challenge
Lying 2,000km off the south-east coast of Africa in the Indian Ocean, Mauritius is the only African country to be in the 'very high' category on the United Nations Human Development Index. The Word Bank classifies the country as a high-income economy and it is ranked as one of the most developed economies in the African region.
The environment today, though, is very different from when Maraye began his career in the 1970s. Back then, having gained independence in 1968, Mauritius was financially challenged, and the fledgling state-owned companies he joined were strapped for cash.
'One of the greatest advantages my ACCA education has brought me is the ability to move between industries and cultures'
CV
2021–present
Ombudsperson for Financial Services, Mauritius
2008
Managing director, Urban Infrastructure Capital Advisors
2006
CEO, Airports of Mauritius
1999–present
Founder and owner, Glamis Business School
1996
Governor, Bank of Mauritius, and vice chairman, Mauritius Offshore Business Activities Authority
1988
Chief accountant, Mauritius Cooperative Central Bank
1987
Finance manager, Overseas Telecommunications Services
1979
CFO consecutively of Mauritius Broadcasting Corporation, Central Water Authority, National Transport Corporation
'When I began my roles in finance at the Central Water Authority, the Mauritius Broadcasting Corporation and the National Transport Corporation, they were extremely challenging places to work,' he says. 'Not many people were willing to take jobs there because of the risk, but I looked for these challenges.'
As all these companies were government entities, the fiscal woes of the country translated into strict budget parameters in the utilities, Maraye explains. 'Back in 1974, the hike in the price of petrol hit a small economy like Mauritius very hard. Later, the devaluation of the Mauritian rupee in two consecutive years – 1979 and 1980 – brought further challenges.'
Mauritius's economy was at the time based around a single crop: sugar. 'We had to identify and develop other pillars to drive economic growth,' Maraye says.
In the 1970s, the Mauritius Broadcasting Corporation was at the forefront of a media revolution. 'We had to promote television broadcasting and also provide the infrastructure to change from black and white to colour television, all in a context of very tight budgets,' Maraye says.
Building infrastructure
Maraye has worked towards building the pillars for growth in Mauritius and elsewhere ever since. More recently, as managing director of a US$500m dollar private equity investment firm for many years, his focus has been on developing housing projects and infrastructure facilities in India, a role that has taken him back and forth to Mumbai on a regular basis.
Key to enabling him to move comfortably between sectors and economies is his ACCA Qualification.
'One of the greatest advantages my ACCA education has brought me is the ability to move between industries and cultures,' he notes. 'It made me an all-rounder, and I've been able to adapt the skills I learnt  back then to any challenging situation.
'The ACCA Qualification was a good choice because of how internationally respected it is,' he says, adding that two of his children are also ACCA fellows.
Creating opportunities
Alongside his public sector work, Maraye established Glamis Business School in 1999. The school – which partners with Edinburgh Business School, part of Heriot-Watt University in the UK – specialises in management education and offers flexible study options leading to internationally recognised qualifications.
Looking back, Maraye says he is just as thrilled with the results the school has delivered and the opportunities created for students over more than two decades as he is with his more public achievements.
'While I'm very proud of the official government work I'm able to do, what makes me happiest is to see young people achieve their potential.'