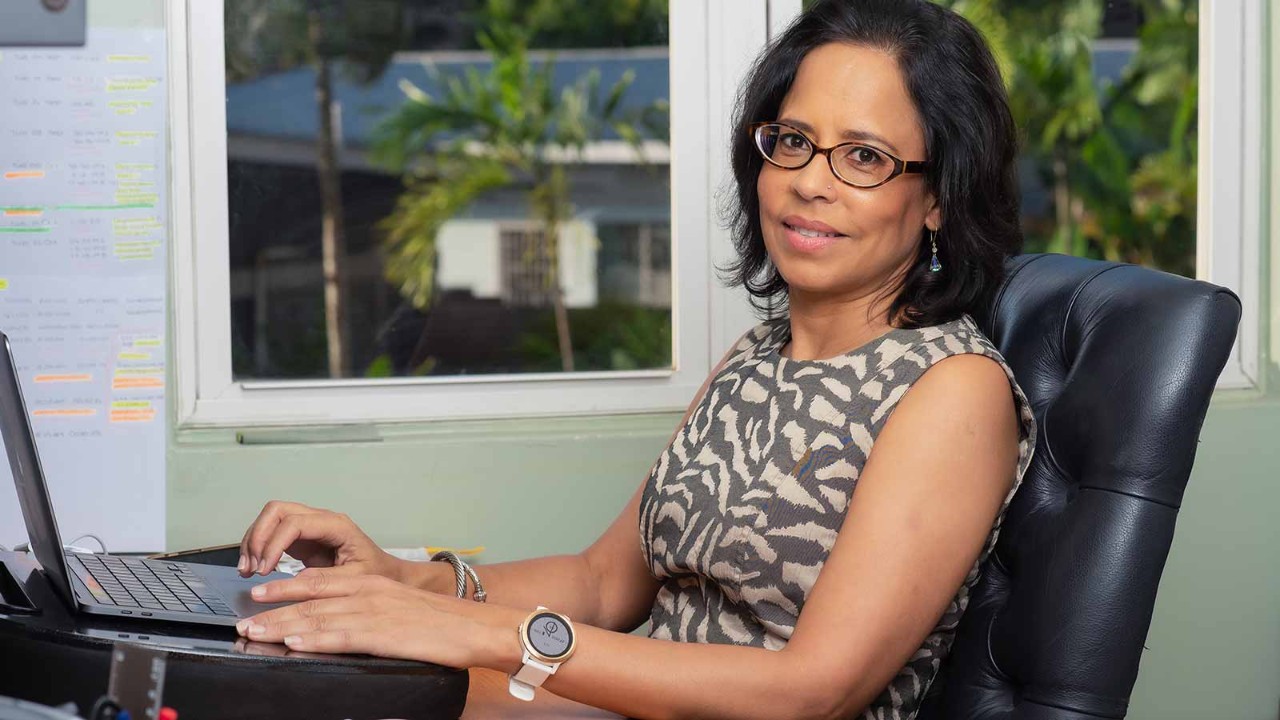 'My mum tries to save the world.' That's the description Melanie Richards's son, Zaid, used to use when struggling to describe what his mother does for a living.
Richards, who studied for the ACCA Qualification but has spent the past 15 years running her own advisory business, CSR Solutions, providing advice on sustainability matters, uses the story to describe the commitment she holds dear.
'When my son was nine, my profession didn't have a name,' says Richards, who is based in Port of Spain, Trinidad. 'His mum wasn't a nurse or a teacher. So, when he had a school project and somebody asked, "What does your mum do?", he would say: "My mum tries to save the world".
'I won't profess to be trying to save the world,' adds Richards, 'but I am trying to do my share.'
'You cannot continue to externalise the social and environmental implications of your business decisions and insulate yourself from them'
CV
2007
Founding director, CSR Solutions
2019
Member, Oil, Gas and Coal Project Working Group, Global Reporting Initiative
2018
Consultant, United Nations Development Programme (UNDP) Small Grants Programme
2013
Steering committee member, Trinidad and Tobago Extractive Industries Transparency Initiative
2006
Case study author, UNDP Growing Inclusive Markets initiative
1991
Auditor, EY Trinidad and Tobago
Early convert
More than a decade providing advice to the oil and gas sector, undertaking impact assessments, sustainability reporting and assurance assignments, stakeholder engagement and mapping, as well as advising the not-for-profit sector, reveals Richards as an early convert to the values of corporate social responsibility (CSR), a precursor to enivronmental and social governance (ESG), helping companies to understand the responsibilities that go beyond profit and finance.
But Richards's current role came after a very different start to her career. She joined EY out of school where she studied for her ACCA Qualification and worked in audit. However, she moved on after six years before completing the qualification, in search of a role 'where I could serve people'.
She went on to study for a degree in tourism, worked in a hotel and then returned to the University of the West Indies to take an MBA in business administration. That led to a couple of years working in consultancy at the university before, in 2007, looking for her next role. A friend suggested she use her knowledge of sustainability to start her own advisory firm and within months she had launched CSR Solutions.
Richards admits that she had a 'patchy' start, establishing her credentials and working in a field 'many didn't even think was a real thing', but the business took hold and CSR Solutions has now become a fixture of the sustainability sector in Trinidad.
Global outlook
Those credentials have also worked in the not-for-profit sector. Among many assignments, in 2019 Richards travelled to the Netherlands to help the Global Reporting Initiative develop a sustainability reporting standard for the oil and gas industry, and to Paris to represent Trinidad and Tobago at the global conference for the Extractive Industries Transparency Initiative. A short sabbatical in 2018 saw her monitor a small grants programme in Trinidad on behalf of the Global Environment Facility.
While over the course of 30 years Richards has moved well away from accounting practice, she still values the start and skills it gave her. She says the training not only moulded her attitude to work but also offered a 'structured' approach that she still uses today in practice.
'The accounting experience gives me a certain credibility and validity with the business sector,' she says. 'The other thing I've taken from the profession is my work ethic and my drive.'
Tourism epiphany
The turning point in Richards' career was in 1998, when she began her tourism degree. This included a course on sustainable tourism; having turned to tourism because Trinidad and Tobago had done little to promote itself as a holiday destination, the class was an epiphany.
'That simple course was my "Aha!" moment,' says Richards. 'I thought, "This is it! This is what we need to be doing". I realised that any organisation can apply these concepts and ensure that decisions are not only focused on the economic or financial side.'
'If these are the companies potentially doing the most damage, both socially and environmentally, then I need to be in there'
Getting it
With AB's interview taking place midway through the COP26 summit in Glasgow, Richards was keeping a close eye on proceedings. She is concerned that politicians may be 'saying what they think the world needs to hear' and worries how much of the rhetoric turns into actual policy change on the ground. But she also exudes optimism.
'I feel that people are finally getting it,' she says. 'They are finally understanding the relationship between organisations, society and the environment, and the fact that you cannot operate isolated from society or isolated from the environment. You cannot continue to externalise the social and environmental implications of your business decisions and insulate yourself from them.'
Covid-19 has played a part in the change of heart, especially at a leadership level. 'I feel as if Covid-19, for all the bad that it's done, has made people realise, as clichéd as it sounds, we're all in this together – this society and the environment and the people living in it."
Do the right thing
With a commitment to sustainability, Richards admits that she has wrestled with the dilemma of working for oil and gas companies, often undertaking regulatory impact assessments for them. She also freely admits that she has seen 'decisions that I think should have gone in a different direction' and experienced the disappointment and feeling that she may have 'let down stakeholders'.
'I sort of flipped it around and thought, well, if these are the companies potentially doing the most damage, both socially and environmentally, then I need to be in there,' she says. 'I need to be looking at what they're doing and guiding them to do the right thing.'
A number of successes have stayed with Richards. One involved a community consultation for an oil and gas company and an elder in the community who told her that he wished all community consultations were like hers.
Another featured a community agricultural project run by a company in schools; one student told Richards she took the lessons home and her family began a kitchen garden.
'It was a little thing,' says Richards. 'It was not a grand representation of things I had done. But for me, I felt "Gosh! I'm making an impact".'
That said, Richards now finds herself at a crossroads. She is currently working on a law degree, which she is due to complete next year. She believes that she will then change tack, reformulate her business and move in a new direction, combining her interest in human rights and poverty law with her sustainability expertise in an advocacy role.
'I won't stop working in communities,' she says. 'I won't stop working in ESG. I will find a way to make a difference.'
Top Tips
'If I was at the beginning of my career, the first thing I would tell my younger self would be to not be afraid to go against the grain and challenge convention.'

'I always felt that, in accounting, there was an expectation of the path you should take. You shouldn't be afraid to challenge what that path looks like.'
'If someone is working for the ACCA Qualification, they should find a component they enjoy doing to build their career on. Not everyone needs to be a financial controller in an organisation.'
'I went from accounting to tourism management to marketing management to sustainability. The time you spend trying different things to find your place is never wasted.'
'Don't be afraid to challenge what society says you should be doing. Find what you enjoy and don't be afraid to take a long time to find that thing.'