I come from a family of accountants. My father and his twin worked with accounting firms and almost all my siblings work in accounting and finance roles. I enjoyed listening to my dad talk about his job as a kid and I always imagined that his work must be very important. Growing up, I noticed that working with numbers came effortlessly to me.
After completing my first degree in biochemistry in Nigeria, I moved into the accounting profession. I joined Deloitte in 2008 as an audit assistant, becoming an audit senior in 2011. I led the audit of clients across financial services, including banks, insurance, securities and private equity companies. I obtained my ACCA certificate in 2012.
I obtained my second undergraduate degree, in applied accounting, from Oxford Brookes University in 2015. After relocating to the US to be with my family, I graduated with a master's in accountancy from the University of Denver in 2016 before gaining more professional qualifications in 2016.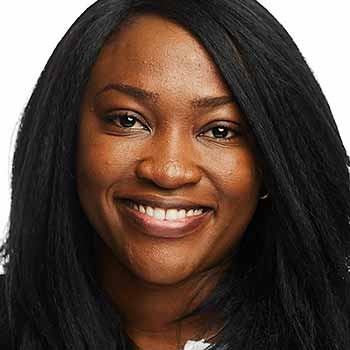 What I really like about my job is that I add value to the organisation's operations
I joined Crowe Horwath in 2016 where I audited clients across a range of industries. However, I wanted to be a more effective change agent by working from within organisations, so I pivoted to internal audit. I earned the Certified Internal Auditor (CIA) qualification in 2018 and graduated with a professional MBA from Regis University in Denver in 2019.
I work in the internal audit department at my alma mater, the University of Denver. I help the university improve operations, reduce risk and ultimately meet its strategic goals. I also act as a business consultant on complex issues.
One of my main challenges is that the university's operations go beyond the academic aspect. Other key areas include housing, athletics, health and campus safety. There are federal, state and local laws and regulations that guide these operations, and auditors must be aware of them.
What I enjoy about my job is that I get to meet a lot of people and learn about the work they do. I've also had the opportunity to train a lot of team members during my career, which is very fulfilling. What I really like about my job is that I add value to the organisation's operations.
Were I not an accountant, I would have been a doctor. A wish to become a medical doctor informed my initial decision to study biochemistry.
If I had law-making powers, I would make world peace mandatory while ensuring that aggrieved parties are heard and their complaints addressed. I would also make a law that provides a living wage to the poor.
My biggest achievements are my daughters, Elsie and Bethel. I was raised by a strong mother, and it is important for me to be a good role model to them. I love the strong and smart ladies they are growing into and I am excited to see the positive impact they will make when they grow up.
When I am not auditing, I enjoy spending time with my daughters. I also like watching movies and exploring new places.