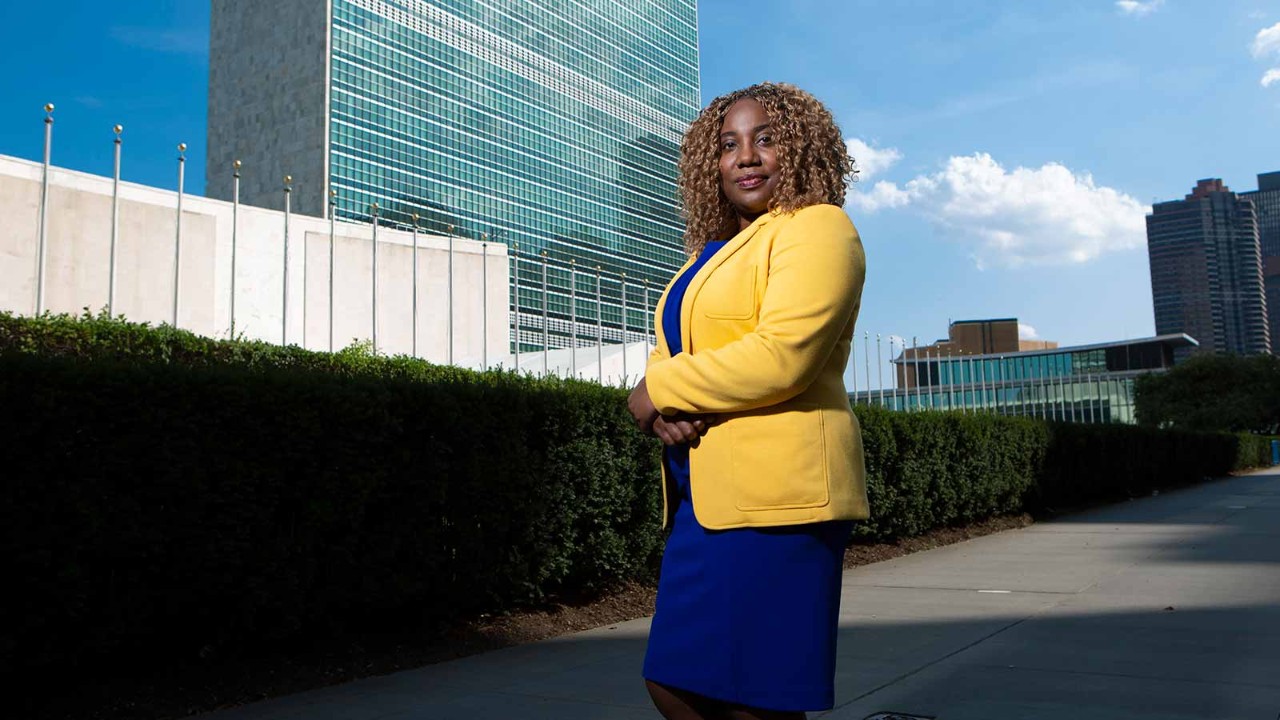 Not every finance professional has what it takes to leave behind a successful career at a major international bank to serve with an international organisation working to eradicate poverty around the world. But that's the path that Miriam Chirambo Kunorubwe FCCA chose in early 2020 when she moved from the chief controls office at Barclays in London, UK, to become a strategic finance management advisor and chief of the strategy and policy unit in the Office of Financial Management at the United Nations Development Programme (UNDP) headquarters.
The role is the fulfilment of a long-held dream, one that has seen Chirambo Kunorubwe travel a long way from her origins in Malawi. Educated in Zimbabwe, where her family moved when she was nine, and having spent most of her career in the UK, she is now settled in New York, US.
'As accountants there are so many ways we can influence the delivery of SDGs – one does not have to be in the field to play a part'
CV
2020–present
Finance strategic management advisor and chief – strategy and policy unit, UNDP, New York, US
2010
Manager, rising to vice president, chief controls office, Barclays Bank, London, UK
2006
Assurance executive, banking and capital markets, EY, London, UK
2002
Audit senior, AMG Global, Harare, Zimbabwe
She puts her ambition down to being aware very early on of the poverty faced by some sections of society. 'That's where my passion for the UN came from,' she says, looking back on her childhood in Zimbabwe. 'I grew up seeing those differences and observed that some people have more in life while others are underprivileged and struggle to afford one decent meal a day. I wanted to make a difference and contribute to a better life and future for all.'
She couldn't be better placed to fulfil this ambition than at the UNDP, with its focus on helping countries deliver the Sustainable Development Goals (SDGs).
'The SDGs concerned with gender equality, eradicating poverty and hunger, promoting good health and wellbeing, education and climate action are quite close to my heart; they are what motivate me, and as accountants there are so many ways we can influence the delivery of SDGs in a timely and efficient manner – one does not have to be in the field to play a part,' she says. 'You can identify where the resources need to go, get involved in the budget process, and you also have the responsibility to make sure funds are used as intended, by making sure you put in place proper governance frameworks, processes and controls to ensure that the people entrusted to use the resources are held to account.'
Crossing borders
She initially had plans to become a physiotherapist (several family members work in the sciences field), until her headteacher, David Mutambara, persuaded her that her talents would be better suited to a finance-related role. So after school came an honours degree in accountancy at the National University of Science and Technology in Zimbabwe's second largest city, Bulawayo.
After graduating, she returned to the capital Harare where she completed her articles of clerkship with AMG Global Chartered Accountants while pursuing the local professional accounting qualification and simultaneously giving birth to the first of her two children.
However, economic conditions in Zimbabwe were by then deteriorating, and in 2005 she made the decision to move to the UK.
A timely introduction through a professional network led to almost five years in the assurance services department at EY's London office, covering the financial services sector (banking and capital markets, and insurance). It was during this time that she qualified with ACCA – studies she had begun in Zimbabwe with a view to gaining a qualification that would future-proof her career.
Then came nine years with Barclays Bank, working first in internal audit, then in governance, risk and control. The fast pace of the banking sector taught her to be agile and adaptable – qualities she has found useful at UNDP where it is fundamental to be nimble-footed, given the importance of providing timely solutions to crises. However, having grasped the concepts of risk management and control for a large private international organisation, Chirambo Kunorubwe felt the time was right to use this expertise to give back to the world at large by working for an international not-for-profit. So it was that in January 2020 she crossed the Atlantic Ocean to join the UNDP, based on New York's Manhattan Island.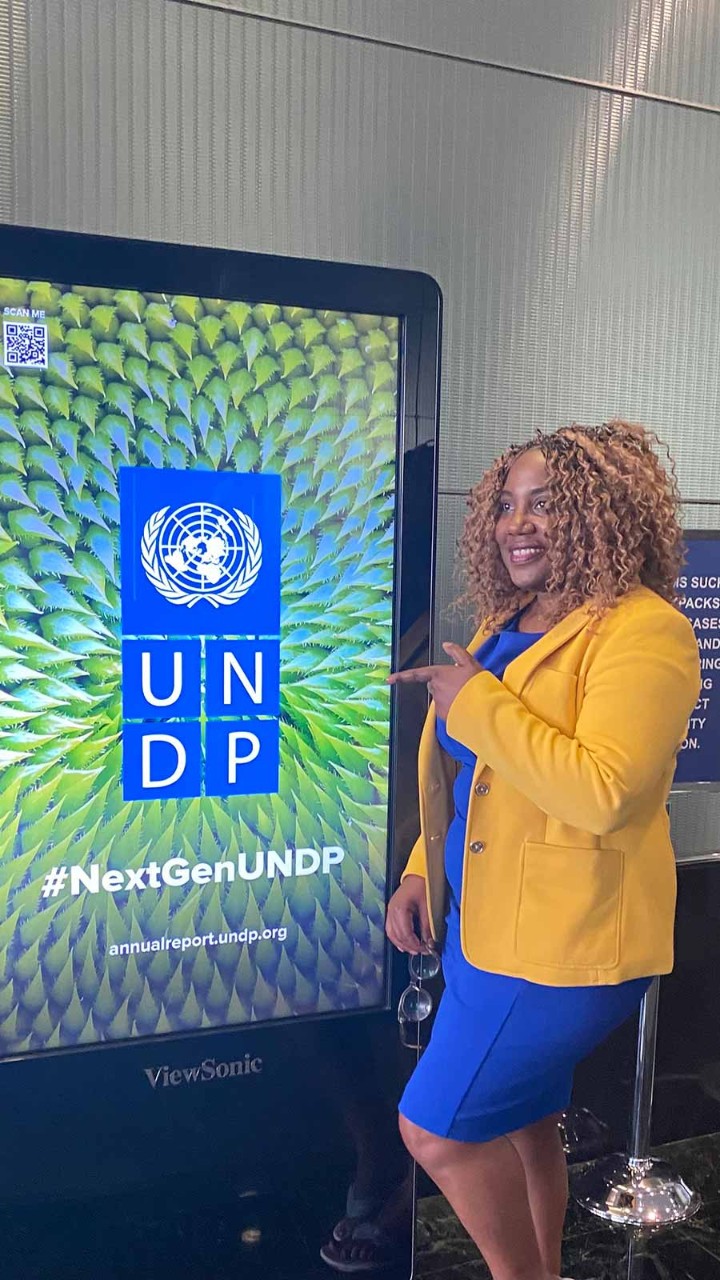 Tips
'It's important to build a professional network based on trusted relationships.

'Make sure you get the right work experience from the outset and think about what your experience is contributing towards your professional learning.'
'Dare to get out of your comfort zone, and keep learning and exploring new opportunities. If you find yourself being the smartest person in the room, you are in the wrong room.'
'Never let anyone tell you you are not good enough, or make you feel inferior. Be confident in yourself, have a positive mindset and keep pushing. Even if you fail at first, keep trying – eventually you will get there. As Max Ehrmann said in his poem Desiderata:  "You are a child of the universe, no less than the trees and the stars, and you have every right to be here".'
'Put aside time for extracurricular activities alongside your work – all work and no play makes Jack a dull boy.'
Oversight and supervision
Chirambo Kunorubwe's core duties at the UNDP are extensive, and include advising management, supporting and deputising for the CFO, supervising audit related matters, preparing reports for the executive board, helping with resource planning and contributing to the strategic development of the organisation's global finance function. But chief among her duties is to underpin accountability to UN member states by devising policies and standards to ensure rigorous oversight of the UNDP's US$5.6bn budget and resources.
Unsurprisingly, no two days are the same, she says. As well as her core responsibilities, she can also be drafted in at short notice to help with projects and emergencies in trouble spots around the world, including conflict zones such as Afghanistan and Iraq.
As you might expect, finance for an organisation with operations in 170 countries has its challenges. 'Because of that detachment from head office, sometimes the oversight can be a little difficult,' says Chirambo Kunorubwe.
Implementation of projects can be either directly through UNDP or through implementing partners. 'Even though we require them to follow certain guidelines it may not be easy to actually see exactly what they are doing on the ground,' she says. That means conducting audits to 'make sure they are complying with the agreed requirements'. The UNDP backs that up with online resources and enormous transparency about the work it does.
Still, 'inappropriate activity', as Kunorubwe puts it, can occur, especially in countries embroiled in war, where strict controls are much more difficult to impose and corruption may be rife, resulting in increased risk of fraudulent activity.
Pandemic pressures
The Covid-19 pandemic has complicated matters for organisations all over the world, and the UNDP's operations are no exception. Working from home is not an option for people in countries where the internet infrastructure or the day-to-day responsibilities of their work simply do not permit it. Restrictions on movement also meant auditors could not get into the field to assess what was happening on the ground. So raising awareness and training has mostly had to be conducted remotely.
'We've had to change the way we operate,' says Chirambo Kunorubwe. 'Potentially there are some areas where the risk of fraud could increase due to the pandemic.' To counter this, the UNDP has put in place control measures to ensure the smooth operation of its activities. The results so far have been encouraging.
'In terms of objectives, we've managed to operate the way we should, especially at the corporate level,' she adds.
Moving to a work-from-home model where possible and redirecting resources meant the UNDP had to be flexible in its approach. That's the big takeaway for Chirambo Kunorubwe, who says adaptability and agility in how to deliver on the UNDP's mandate was one of the big lessons from the pandemic.
'We had to think about the resources that we had in place and identify those that were flexible and could be channelled to other areas. Sometimes this involved negotiating with member states,' she says.
Accountability
Despite being submerged in the technicalities of finance, Chirambo Kunorubwe continues to hold her reasons for being at the UN close to her heart, alongside her faith in ACCA.
'My qualification, with its international reputation and broad subject matter, has been the perfect preparation. Accountancy, governance and accountability are integral to delivering on UN projects,' she says.
'I am proud to be associated with an organisation where I can use my skills and experience as an accountant to make a difference. You can influence the world in accounting.'
UNDP in numbers
US$5.6bn
Total contributions for UNDP projects in 2020
US$1bn
Spending on helping countries around the world to prepare, respond and recover from Covid-19
20,000
Number of people working for the UNDP in 170 countries around the world
3 million
Number of people who gained access to water and sanitation through UNDP projects
6,700
Government organisations in 82 countries the UNDP helped to keep functioning during the pandemic
5,300
Community organisations in receipt of UNDP support during the pandemic.