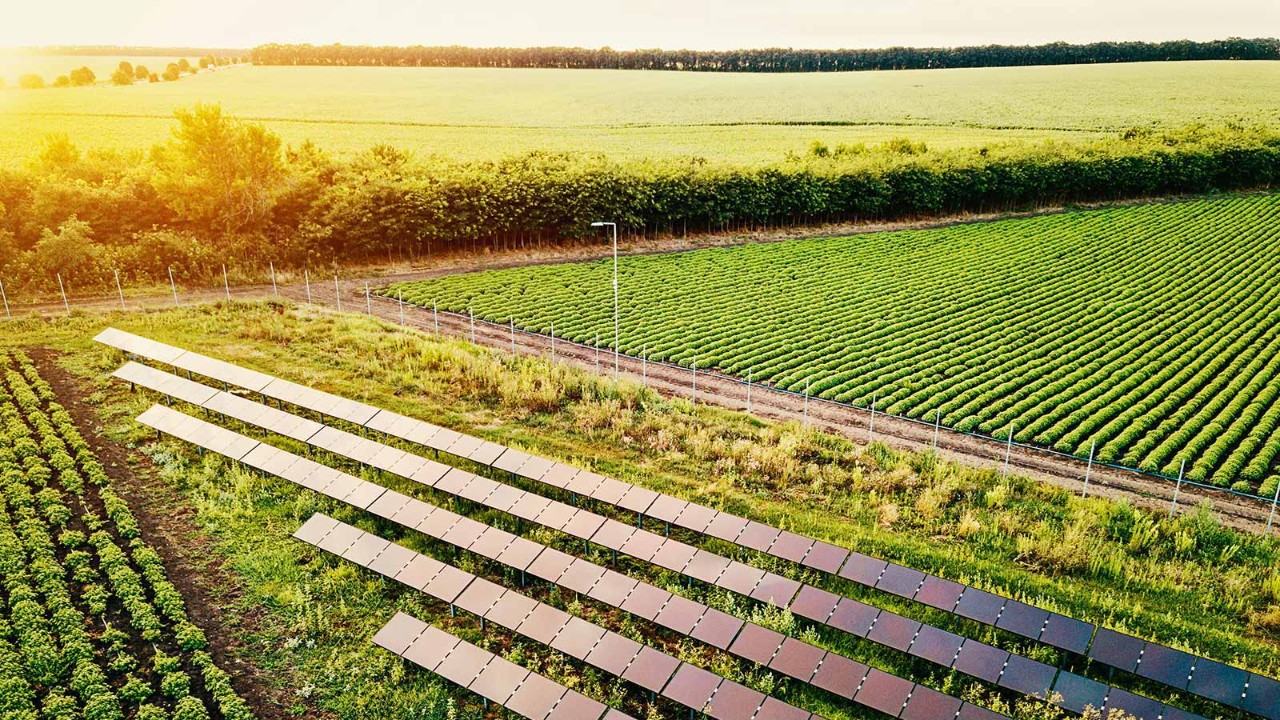 Ireland's Climate Action Plan may have been eclipsed by more pressing concerns over the past year, but this central plank in the programme for government will exert increasing influence over our lives in the coming years. Renewable energy is key to ambitious plans to reduce the country's greenhouse gas emissions by 7% annually by the decade's end.
While wind energy, both onshore and off, will be the mainstay of the Irish renewables sector, solar photovoltaic technology is set to play a surprisingly strong role in Ireland's decarbonisation. Solar panels are becoming a familiar sight on the rooftops of Irish homes, and rapid technological advances are both reducing their cost and increasing their power-generating potential, according to John McEneaney FCCA.
'The lease rental model and the fact the farmer is getting an income means solar is not seen as intrusive in the same way as wind'
A partner in Dundalk-based practice KMR, McEneaney has been active in the renewable energy sector for a number of decades and, as chairman of Harmony Solar Ireland, is now in the vanguard of solar farm development in Ireland. A recently agreed partnership between the company and ESB Solar is set to make a major contribution to the diversification of Ireland's energy portfolio.
A different proposition
Tracing his involvement in renewables to the early 1990s, McEneaney has long recognised the complexity of the sector, its inherent risks for investors, and the need for high-level expertise in finance and planning to guide projects to success.
Early learning came through a biomass project intended to allow poultry farmers to dispose of chicken litter and generate energy for the community. Like many such projects, it 'fell on planning', McEneaney recalls. 'People didn't see it as a solution, but rather as a big pollutant.'
More recently, the development of Ireland's wind capacity has been stalled by local communities mounting strong campaigns against the construction of turbines.
Solar farms offer a different proposition, McEneaney says. They are a much more discreet presence on the landscape and also provide a direct source of long-term income to landowners.
The inclusion of solar energy in the renewable electricity support scheme (RESS) provides the context for viable commercial projects in Ireland. Even so, the process of establishing a solar farm remains a complex one, with an array of technological, financial, grid connection and planning challenges to be overcome.
'In renewable energy, there is no certainty,' McEneaney says. 'You invest with the hope that you will get over every obstacle in your path. And it is only when you do this that you have the prospect of a viable project and a return on investment.'
Hurdles to overcome
Harmony Solar has set its goal as securing land, planning permission and a grid connection for the projects and bringing each project to a 'shovel ready stage'. In practical terms, this involves the company first of all in identifying suitable sites for future solar farms.
'The site has to be suitable for planning permission, have available capacity for a grid connection, and be able to connect the project to the national grid infrastructure,' McEneaney says.
After a site has been identified, the next step is to negotiate and execute lease options with the landowners. In rural Ireland, this could involve a number of farmers collectively and lease options of  eight years with leases of 30 to 35 years. The potential for farmers to earn €1,000 per acre annually is an attractive one, although McEneaney acknowledges concerns have been raised around taxation and succession if farmland is used for renewable energy and not entirely agricultural purposes.
'We are lobbying the department to ensure that these reliefs remain available o the landowners who support Ireland's green transition,' he says. 'That's a barrier for some people until it's resolved.'
The two most significant challenges for the development of solar projects in Ireland are achieving planning permission and securing a viable connection to the grid network. A recent report by the Irish Wind Energy Association claims Ireland will miss its 2030 renewable electricity targets because of a 'broken planning system'.
'The planning process in Ireland is more in favour of the individual rather than the environment and the community,' McEneaney says, although he adds: 'Solar appears to be getting a more friendly reception from the rural community. but it is still not without significant challenges.'
Grid connections are managed by ESB Networks and Eirgrid, depending on the project size. McEneaney says: 'The grid network in Ireland was not developed to facilitate the proposed level of renewable energy on the system. Whereas in other jurisdictions around the world, network operators have adapted their policies, ESB Networks and Eirgrid have not.
'The key issue with this is that perfectly viable projects cannot proceed, delivery times of projects are delayed and the cost of renewable energy to the consumer is more than it needs to be.'
Investment and expansion
In 2020, Harmony Solar's groundwork paid off when, having brought a portfolio of sites in throughout Ireland through the development cycle, agreement was reached with ESB Solar to bring the projects to the next stage of commercialisation and ultimately to create energy. An initial capital investment by the Irish semi-state body has seen work begin on delivering an initial 300MW from these farms. Further phases in development are ongoing to deliver over 1,000MW by 2030, which would power 10% of all Irish homes.
Having proven its model in Ireland, Harmony Solar is also in expansionary mode. 'We have now entered the Polish market, where Harmony Solar Poland has a number of sizeable projects at various stages of development,' McEneaney says.
'We have taken the same strategy: identify suitable sites, work with tier 1 professionals on the ground, and identify partners to enter into development with.'
'The one thing I have learned in this sector is you can't go in on a wing and prayer and hope to get lucky'
While the Climate Action Plan is beneficial 'from a helicopter point of view, it doesn't make things easier on the ground', McEneaney says, and he is critical of some aspects of RESS in particular. 'Solar PV shouldn't be competing with wind energy for the same RESS support. They should be all be supported individually on their merits as part of the overall objective unless there is a correction factor in the auction mechanism.
'Solar receives RESS support during the day when demand and electricity prices are higher, and wind receives more support at night when demand and electricity prices are lower. The Department of the Environment, Climate and Communications are proposing using a correction in the future auctions, which is a welcome development.'
For those drawn to the sector, he also cautions that while renewable energy 'is the only way forward', individual projects 'have to be financially viable and sustainable. Many projects have fallen by the wayside because of a lack of funding or expertise.
'The one thing I have learned in this sector is you can't go in on a wing and prayer and hope to get lucky,' McEneaney says. 'You have to have the right team, the right expertise and the finance to see you through to where you want to get to.'