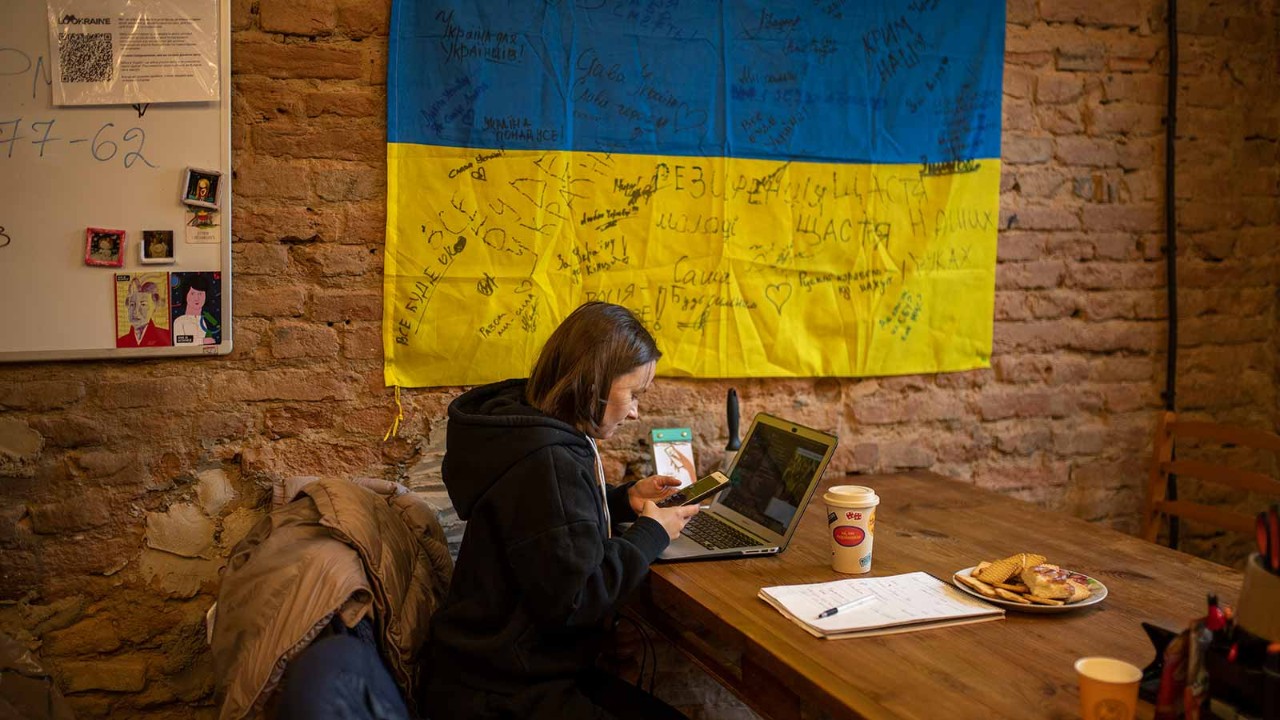 As the war in Ukraine continues to take its toll, there are still accounting professionals on the ground in cities such as Kyiv serving their clients in any way they can. At the same time, there are many professionals who have now been displaced from Ukraine and are working remotely throughout Europe, thanks in part to the help they have received from the international accountancy firm networks.
Looking ahead, there are calls for accountants to step up and drive forward a reconstruction plan that will help rebuild the country's shattered economy and infrastructure once the conflict has ended.
Fees unpaid
'We still have around 50 members of staff in Kyiv,' say Sergey Atamas ACCA, joint managing partner of Kreston Ukraine. He adds that just over half the firm's clients are trying to continue trading in one form or another and have asked for audits to be completed alongside other projects. However, the remainder of the firm's clients have ceased trading and cannot afford to pay their outstanding fees.
'We lost our office, our housing and our clients, but not our faith in ourselves'
Around 40% of Kreston Ukraine's staff have also stopped working because projects have disappeared or because they are involved in voluntary work or have left the country. Atamas himself is currently in Germany with his family, although the firm's joint managing partner and CEO both remain in Ukraine.
Sadly for Atamas, this is not the first time his firm has faced such disruption. Until 2014 Kreston's main Ukraine office was in Donetsk, in the east of the country, bordering Russia. When Russian forces occupied the region in support of the separatist forces there, 'we lost our office, our housing and our clients', he recalls. 'But we had not lost faith in ourselves and in our strengths.'
Arriving in Kyiv with just a few suitcases, the whole team set about rebuilding the firm to become the seventh largest in the country. Now, though, Atamas is facing further upheaval as his staff is spread out among more than a dozen countries in Europe and beyond, having taken up offers of free housing and work from other members of the Kreston Global network.
At the same time, Atamas is building up the capacity of Kreston's outsourcing operation in Ukraine, looking to absorb staff from other Kreston lines of business who are unable to leave the country.
Big Four assistance
Other firms and international accountancy networks are also working to help those displaced by the war in Ukraine. Roisin Murphy, co-head of corporate responsibility at KPMG in the UK, says: 'We want to do everything we can to support those impacted by the horrific events unfolding in Ukraine. We are helping colleagues displaced by the conflict find roles in other KPMG firms, including the UK firm.'
The Big Four firm is also supporting UK colleagues with families and friends living in Ukraine, helping them navigate UK immigration requirements. Its European and UK firms are providing employment opportunities to KPMG staff who have crossed the Ukrainian border, while colleagues in the UK firm have also been sharing tax and audit work with Ukrainian colleagues still working there.
The firm has also signed up to the London First pledge to offer jobs and wider support to Ukrainian refugees under the government's Homes for Ukraine scheme. It is working with the lobby group and UK government to make employing refugees a more straightforward process.
Funding the recovery
Ukraine has launched four funds for economic recovery after the war to attract finance from governments, NGOs, business and individuals. The funds will target the following areas:
restoration of ruined infrastructure (Destroyed Property and Infrastructure Restoration Fund)
economic regeneration (Economic Recovery and Transformation Fund)
resumption of small and medium business operations (Small and Medium Business Support Fund)
servicing of Ukraine's international financial obligations (Debt Management and Redemption Fund).
'We want to do everything we can to support those impacted by the horrific events in Ukraine'
In a statement, Deloitte said it was helping Ukrainian colleagues and their relatives with relocation, including immigration assistance, transport and accommodation as well as financial and psychological support. So far, it has assisted more than 50 colleagues and their families in their relocation to central Europe, notably to Poland, Romania, Moldova, Hungary and Slovakia.
A spokesperson for EY says: 'We continue to support our 700 EY Ukraine colleagues with financial support, relocation, transportation and immigration services. In addition, the entire global EY family has come together to offer refugee support, including logistical assistance, volunteer work and financial donations to the wider Ukrainian community.'
Reconstruction
Looking ahead, Atamas is urging accountants and other professionals to put their weight behind moves to create a 'Marshall Plan' to help rebuild Ukraine. The original Marshall Plan was designed to rebuild Europe's infrastructure and economy after the Second World War, and Atamas sees the need for a similar plan in the aftermath of the war in Ukraine.
'Auditors have always played an important role in ensuring the transparency of funding, capital raising and placement,' he says. 'Considering that the restoration of the Ukrainian economy will require huge funds, control over the intended purpose of the received investments will also be entrusted to independent audit companies.'
Attracting professionals back to the country could be one challenge facing the accountancy community in Ukraine. Atamas is optimistic, but much naturally depends on the outcome of the conflict. Assuming a fully fledged reconstruction plan, Atamas would anticipate a large inflow of donor funds and foreign direct investment.
'I am sure many who previously went abroad will return to the Ukrainian market,' he says. 'Thanks to new opportunities, talents from nearby countries will be attracted and we will be able to scale our business.'