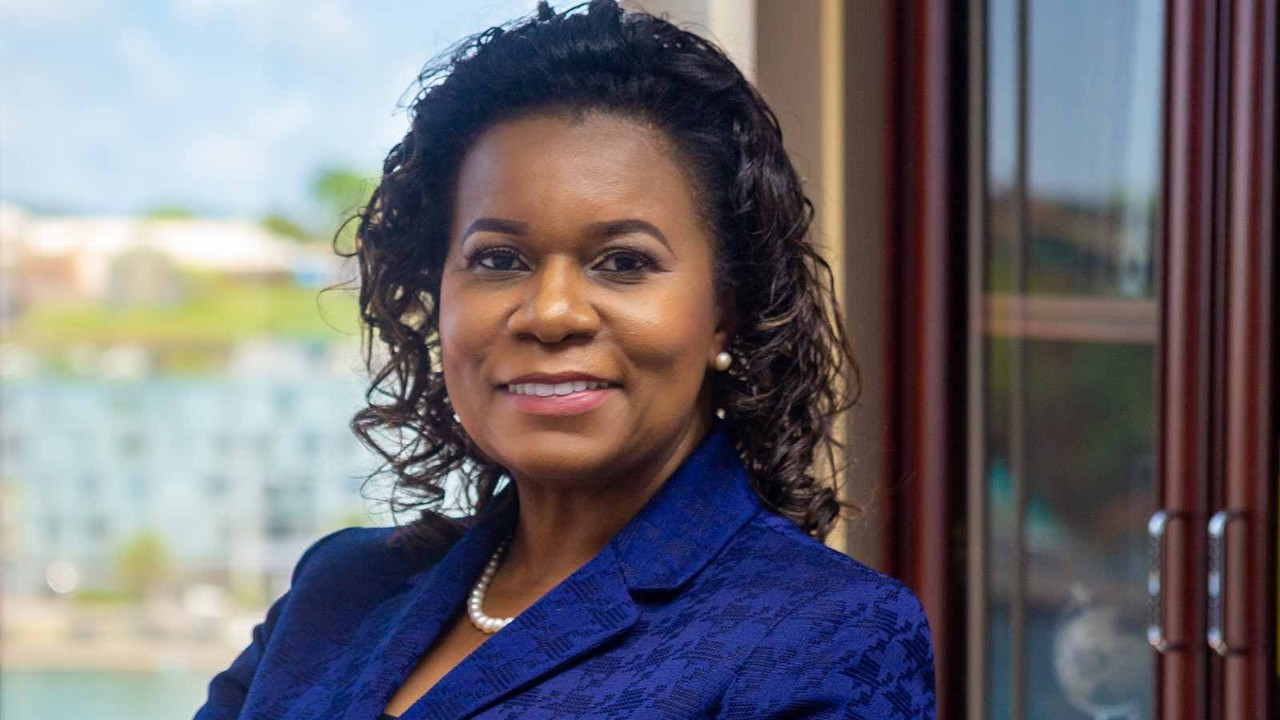 Ketha Auguste FCCA, CFO at Bank of Saint Lucia Ltd, has been with her employer for 26 years. She took a job there as a teller intending only to work  for a few years before going to university. Instead, she changed course and decided to train for the ACCA Qualification, moved on to treasury management and the rest, as they say, is Saint Lucia banking history.
Since joining, Auguste has received one promotion after another in a career that has seen her put her 'nose in everywhere', following her natural curiosity and a fervent belief in hard work and perseverance.
'Working in an institution for so long, you develop a sense of loyalty'
Basics
XC$2.485bn
Bank of Saint Lucia's total assets
XC$882m
Total investment securities
XC$803m
Value of loans to customers
5
Branches
28
ATMs
1
Bureau de change
'Because I was curious, I got opportunities,' she says over a Zoom call from her home on the Caribbean island of St Lucia, which has a population of fewer than 200,000. 'There was always some challenge in the Bank to keep me intrigued. So, that really kept me here.'
Auguste worked as Group Management Accountant and a Corporate Treasury Officer through the early 2000s. In 2010 she became Group Finance Manager, a role she held for six years before being promoted in 2016 to her current role.
She gained ACCA certification in 2005 after a five-year, untutored study effort, and also obtained an MBA from the University of Napier in Edinburgh, Scotland and a professional diploma from the Graduate School of Banking at the University of Wisconsin–Madison in the USA.
Confidence boost
ACCA gave Auguste a major boost, enabling her to apply for positions that required a formal qualification. But it was also personal. 'It allowed me to have much more confidence in myself because I did it on my own,' she says.
Despite occupying an executive role, Auguste says her origins were humble. One of four children raised by parents Victor and Jacinta, a carpenter and dressmaker, she grew up in the countryside outside Castries, Saint Lucia's capital.
'I got my spirit of perseverance from them,' she says. 'We learned to work hard for what we had.'
'Customers' tastes and preferences are changing; the competition is changing'
Under pressure
That spirit has served Auguste well during times of professional pressure. The period after the financial crisis of 2008 was a particularly difficult time in which the Bank experienced serious turbulence and she talks about the institution in the immediate aftermath like a dear friend surviving severe illness.
'Working in an institution for so long, you develop a sense of real connection,' Auguste explains. 'It was really sad to see the Bank's losses and to see the Bank under so much pressure, but it was also very rewarding to be part of the solution and coming up with  initiatives to bring the Bank back. We had to clean up our balance sheet, restore capital and now we are stronger than we were before. For me, that is very fulfilling.'
The pandemic was another difficult period. The Bank participated in a programme which offered loan moratoriums and to customers. The Bank recorded substantial loan-loss provisions after the tourism industry, a mainstay of the island's economy, was hit hard by lockdowns. The moratoriums ended last year and customers have begun repaying their debts.
'I have good expectations for 2022; although there are a lot of economic challenges,' Auguste says, referring to rising inflation, and ongoing supply chain difficulties caused by the pandemic and war in Ukraine. 'But I can see tourism starting to boom again.'
'Banks cannot sit around because they will be left behind as companies like fintechs may take away business'
CV
2016
CFO, Bank of Saint Lucia Ltd
2010
Group Finance Manager, Bank of Saint Lucia Ltd
2005
Corporate Treasury Officer, Bank of Saint Lucia Ltd
2002
Group Management Accountant, Bank of Saint Lucia Ltd
Global economic travails have affected the Bank's XC$900m (€323m) investment portfolio but Auguste says that the issues are 'transitory'. 'The real challenge for the Bank is keeping up with regulatory developments while remaining relevant and enhancing our services to meet the needs of the new "Digital Customer".'
'Customers' tastes and preferences are changing; the competition is changing,' observes Auguste. 'People want things now and they want them in the comfort of their homes.'
In response, Bank of Saint Lucia is working on its 'Digital Branch', which should improve internet access to services. 'Banks cannot sit around and wait or they will be left behind as other companies, non-bank financial companies, like fintechs, may take away business,' she says.
Solution-focused
As Auguste reflects on her rise from bank teller to CFO, she says she had never imagined she would one day become a member of the executive team.
Key to her success, she believes, is remaining focused on solutions rather than problems. A little good humour helps, too.
'Some people ask me: "Ketha, how come you're so bubbly? How are you always smiling?" But it helps if you crack a joke. You laugh, you smile, you learn how to manage because it's counter-productive sitting around and complaining. It's not going to get you anywhere.'
'As is the case in most places throughout the world, to get to C-Suite position women have to work twice as hard as men.'
Gaining respect
'When you're a woman and you grow up here, it's difficult to get the respect you deserve. It seemed the only way to move forward was to go overseas to work and come back. That's why I continued to study,' she says referring to her professional diploma and MBA – decisions that clearly paid off.
It is pretty significant  being a local, a woman and occupying a CFO role. 'I'm very proud of my accomplishments and I think it  encourages other women in the Bank who are studying,' she says. 'As is the case in most places throughout the world, to get to C-Suite position women have to work twice as hard as men.'
'When I saw how proud my daughter was of my accomplishment, it made me realise that it really is a good thing for other young people, especially women, who are trying to pursue a career.'
Top tips
'Maintain a positive attitude and remove negativity; it really keeps you from moving forward. If you don't give up, there's always a solution to any problem.'
'ACCA students should look for opportunities and try to get as much experience as they can. Experience is key and is part of your professional development.'
'Being organised is very important, otherwise it will be more difficult to work and study simultaneously . It can be a more challenging  for women with children, so being organised is even more important.'