There was joy in the African ACCA student and member community in November when news filtered in that an African of Nigerian descent, Joseph Owolabi FCCA, had been elected as ACCA's president. The Australia-based member, who spent the greater part of his professional life in Nigeria but has also spent time in North America and the UK, becomes the first African to lead this great global accounting body.
The excitement this has triggered in the member community stems from the fact that having a president of African descent gives the large African ACCA community a greater sense of belonging. Even more, it means that a glass ceiling has been shattered.
It is important to point this out because, at the back of the mind of many an African ACCA member, there used to be a sense of limitation as to what roles they could aspire to in the organisation. This is not only so with ACCA, but with most other such bodies founded and headquartered in the West.
Owolabi made this point in a statement: 'If you had told me as a child growing up that I would one day be the first African leading the largest, truly global accounting body, I would not have believed you. ACCA is an inclusive, open and global community for members, future members and partners. Wherever in the world I have found myself, ACCA has given me a home and a family.' (You can read Owolabi's first column for AB magazine, 'Our family of like-minded professionals', here.)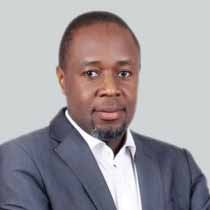 At the back of many an African ACCA member's mind was a sense of limitation as to what roles they could aspire to
Qualities and contribution

It's a development that has reassured members from Africa, and other regions of the world, that the organisation remains inclusive and open. It shows that ACCA does not care about a person's race, language or country, but rather about the qualities they possess and how they can contribute to achieving the objectives of the organisation.
This is not a new change of direction for ACCA, as the body has always done its best to be inclusive, embracing diversity as it works to achieve its purpose of being a 'force for public good and leading the global accountancy profession by creating opportunity'.
ACCA was, after all, the first accounting organisation to have a woman president – Vera di Palma, who took on the role in 1980. ACCA has had five other women presidents since then. It has also had presidents from Asia, the Americas and now Africa. ACCA presidents have been drawn from different parts of the profession, too – from accounting practice, consulting, the private and public sectors. This is the definition of inclusivity, and it has helped make the organisation what it is today.
Opportunity for all
Going forward, and to keep growing as a global body, ACCA must continue to provide opportunity to all. It must continue to provide support to students and members in different parts of the globe. This support has to be tailored to the needs of the different markets and jurisdictions in which ACCA students and members live and work. The organisation must continue to engage in advocacy for the public good, and be proactive in adding its voice to discussions around policy, especially as it affects economies, business and the profession.
To keep our dear ACCA growing, we the students and members must do our part. First, by representing the profession and ACCA in the best possible manner in all our dealings; and second, by getting involved in the work ACCA does for the public good. As this year winds down and we prepare to move into 2023, we must all decide to be more involved, to do more to better our profession, our organisations, businesses and society.
Congratulations not only to Joseph Owolabi, but also to Ronnie Patton (deputy president) and Ayla Majid (vice president). And congratulations, ACCA!