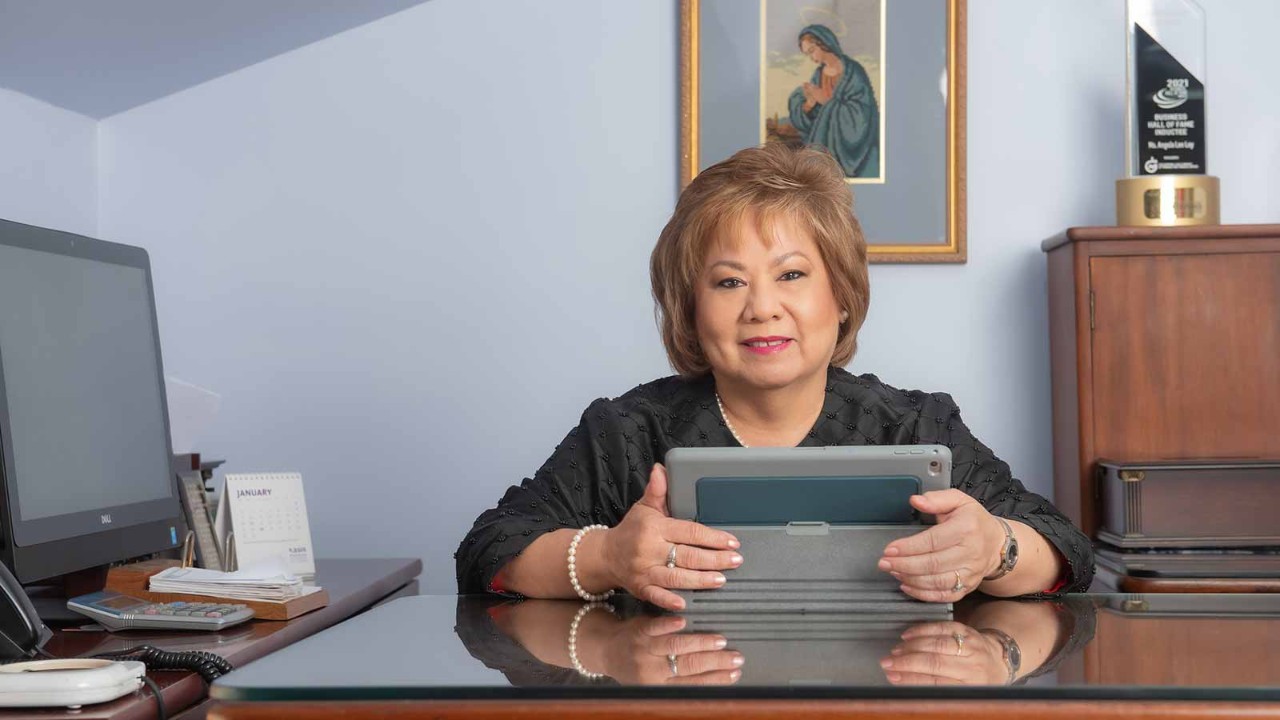 When Angela Lee Loy, chair of Aegis Business Solutions, began her career as an accountant after leaving the teaching profession, she didn't set out to become 'one of Trinidad and Tobago's most successful and experienced female entrepreneurs', as well as a 'global business leader' and 'visionary'.
Yet that is how she was described last November when she was inducted into the Trinidad and Tobago Chamber of Industry and Commerce's Business Hall of Fame, a result of the respect and high regard with which she is held in the business community.
'You can't say something and think it won't apply to you, because you lose credibility'
CV
2016
Chair, Caribbean Resourcing Solutions
2012
Chair, Eve Anderson Recruitment
2008
ACCA Achievement Award for the Americas
2007
First female president, Institute of Chartered Accountants of the Caribbean
2005
First female president, Institute of Chartered Accountants of Trinidad and Tobago
2001
Chair, Aegis Business Solutions
1986
Partner, Price Waterhouse (later PwC)
Induction into the Hall of Fame is only the latest in Lee Loy's long list of achievements. During a career that has spanned five decades, she has held a wide range of leadership roles within business, professional bodies and the not-for-profit sector. And, she says, it is a career where the ACCA Qualification has played a critical role in her success.
'The ACCA Qualification is very well respected in Trinidad and Tobago, but I would also say that ACCA is so global, it is a qualification that is very well recognised around the world,' she says. 'You can come into the qualification at different levels, so it was available for someone like me who couldn't afford to go to university. I take my hat off to ACCA; there is no other qualification that can do that.'
Today, Lee Loy is not just chair of Aegis, a provider of outsourcing and advisory services across the Caribbean. She is also the owner of two recruitment businesses – Eve Anderson Recruitment and Caribbean Resourcing Solutions – is a non-executive director for several companies, and as part of her numerous voluntary commitments is the chair of a trust and a foundation.
In her home country, she is also considered the mother of outsourcing. 'I brought the word "outsourcing" to Trinidad and Tobago 20 years ago,' she says. 'Now it's commonplace.'
Magic touch
Lee Loy clearly has the magic touch in business, so what's the secret to her success? She credits her sense of self-awareness about her responsibilities as a leader, saying: 'I can't play the fool because so many people's lives depend on the companies I own.' She also highlights the importance of being trusted by others and 'walking the talk'. She says: 'You can't say something and think it won't apply to you, because you lose credibility.'
Rising up the ranks
Lee Loy grew up in a large family, the second youngest of seven children. As her parents couldn't afford to send her to university, she worked as a teacher immediately after leaving school. While teaching, she applied to join Price Waterhouse, attracted by the prospect of being paid to study for a professional accountancy qualification. When the firm offered her a job, she was initially sad to give up teaching, which she loved.
On joining Price Waterhouse as a trainee in 1972, she found herself one of just two women in a professional role. The male-dominated environment didn't bother her, however, and she's never felt intimidated by men. 'I just sat and did my work,' she says. 'When people have asked me how I felt about breaking the glass ceiling, I say, "What glass ceiling are you talking about?"
In 1976, she qualified as an accountant under a joint scheme operated by ACCA and the Institute of Chartered Accountants of Trinidad and Tobago. She values her association with ACCA because it's a global organisation that is 'very well respected in Trinidad and Tobago', and has served on the ACCA International Assembly. Because of her own experiences, she appreciates ACCA's commitment to making accountancy qualifications accessible to people from all backgrounds.
By 1986, Lee Loy was a partner in the firm, which later merged with Coopers & Lybrand to form PwC, where she remained for the next 15 years.
Enter Aegis
Even before the high-profile collapses of US companies Enron and WorldCom, Lee Loy anticipated that PwC would have to provide either auditing and accounting services, but not both, to its clients in Trinidad and Tobago. So, at a partners' meeting early in the new millennium, she offered to withdraw from the firm and start her own accounting services business, leaving PwC to focus on audit.
This led her to found Aegis, and the business has gone from strength to strength ever since, becoming so successful that it is compared to the Big Four in the local market.
Aegis – which means 'divine shield' in Greek – now has six primary service lines: accounts outsourcing; payroll; HR; corporate secretarial and governance; IT; and business development. The firm's staff are all deeply knowledgeable in their own areas of expertise.
'I don't know who does not make a mistake; it's how you deal with them that matters'
Basics
500
Clients served by Aegis Business Solutions
100+ 
Employees
2001    
Year founded
6 
Service lines
1
Office
Lee Loy, on the other hand, sees herself as a 'jack of all trades and master of none', but with a sufficiently high level of knowledge of all areas to be able to market her services. She is also an enthusiastic proponent of delegation. 'Delegation is the only way we learn,' she says. 'If I keep all the knowledge in my head, nobody's learning.'
While the pandemic has hit the Caribbean hard, Lee Loy says that Aegis has held up well amid the crisis. As the business had already been looking into work-from-home policies, it was able to switch rapidly to remote working.
It also pivoted to offer virtual management of annual general meetings – known simply as 'annual meetings' in Trinidad and Tobago – a service that has been enthusiastically embraced by clients. 'Covid makes you think about how you can do things differently,' she says. 'You just keep pushing your mind to see what more you can do.'
Staff have maintained their morale during the pandemic by holding online activities, such as bingo and quizzes. The business has also invested in mindfulness courses for employees and supported them to develop their spirituality. Lee Loy is herself a committed Roman Catholic and a woman of deep personal faith.
Good people
Over the past decade, Lee Loy has moved into the recruitment industry, seeing it as complementary to Aegis' services. After all, Aegis supports the incorporation of companies, which then need to be staffed. Within four years of buying recruitment company Eve Anderson, Lee Loy had doubled its revenues. She puts this achievement down to hiring good people. 'It was really getting those quality people that made the difference,' she says. 'It always makes the difference in anything.'
Looking ahead, Lee Loy isn't ruling out the prospect of buying more businesses, saying: 'I will never miss a good opportunity if there is one and I can afford to do it.' Nevertheless, she's clear that accumulation should always be with the intent of improving the lives of other people. 'Acquisition of things should not simply be to hoard,' she says. 'It should be so that you can do something better with them.'
And that perhaps is Lee Loy's key business lesson: 'One of the most important ingredients to success is the ability to trust and be trusted,' she says. 'That trust comes with being an accountant. We are trusted advisers. Trust is such an important word, it should not be taken for granted.'
Top tips for leadership success
'Always do your best, whatever that is.'
'Collaboration is very important – do not think that you have all the answers.'
'Be honest in everything you do. If you say that you made a mistake, people will forgive you, but don't pretend that you didn't make it because you will lose credibility.'
'When you work in a service industry, you have to be service-orientated. Go the extra mile and get back to people as quickly as you can.'
'Give other people the benefit of the doubt and try to put yourself in their shoes.'