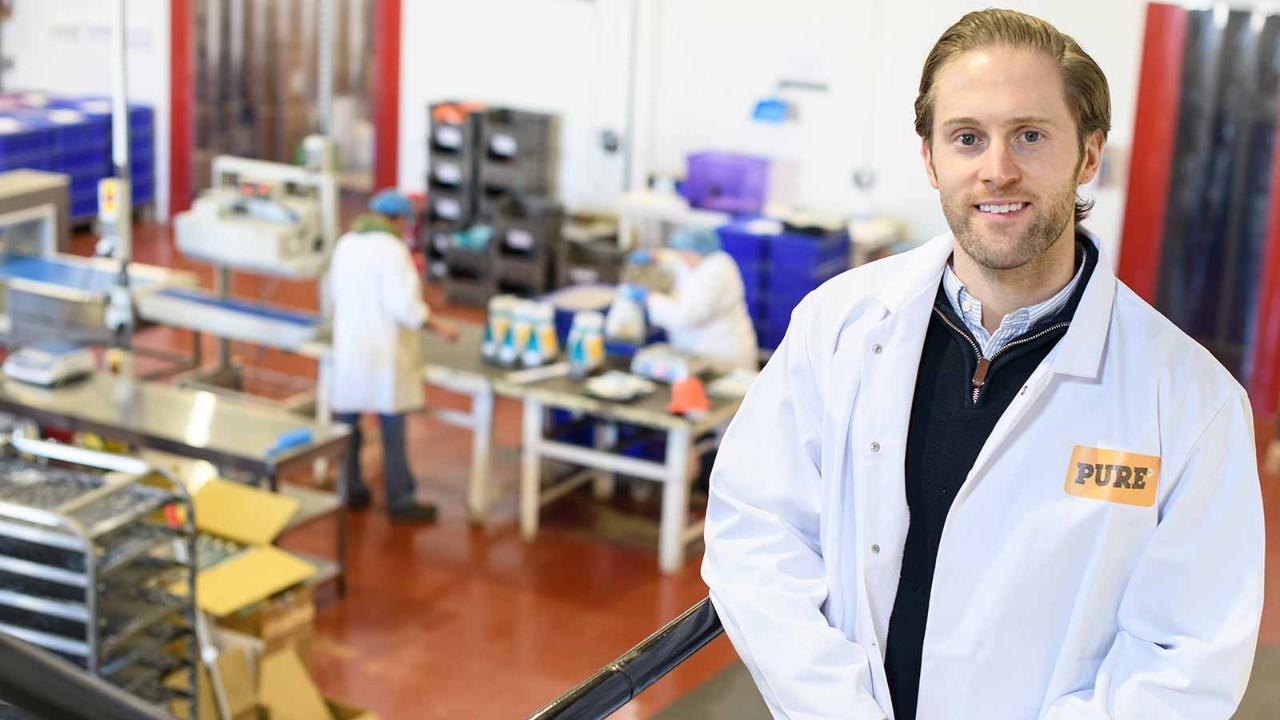 Despite being co-founder and CEO of Pure Pet Food, a business that now employs 40 staff with turnover in the multi-millions, Daniel Valdur Eha admits he never had any ambition to be an entrepreneur.
'I wasn't one of those 12-year-olds with his own chocolate bar business,' he says. 'I graduated with a degree in psychology and I actually started working towards a PhD in clinical psychology. It was my childhood friend Mathew Cockcroft who was the entrepreneur.'
'It was very organic and hand to mouth at the start. I kept the stock in my bedroom'
Uncertain about his PhD, Valdur Eha was drawn to Cockcroft's business ideas. However, their first two companies flopped. 'We learn a lot from failures,' he says. 'I realised that I needed to do something I was passionate about. I also wanted something I could scale, that wasn't just a service but was about building a brand, something bigger.'
Just add water
It was then that Valdur Eha became aware of a US business that had become one of the fastest-growing pet food companies in the US and was air-drying its ingredients. Dog food is usually highly processed, which degrades the nutritional value.
'If you deep-fry a piece of broccoli, it's not going to be as healthy as if you steamed it,' he explains. 'Our process preserves ingredients – you can see bits of carrot and chicken. You just have to rehydrate the food. No one was doing this in the UK or Europe.'
The successful US company inspired him. 'We had a tried-and-tested business model in a similar market, so we felt the risk was reduced.'
'We knew a dragon couldn't just click their fingers and make it happen. We were going to have to appeal to our consumers'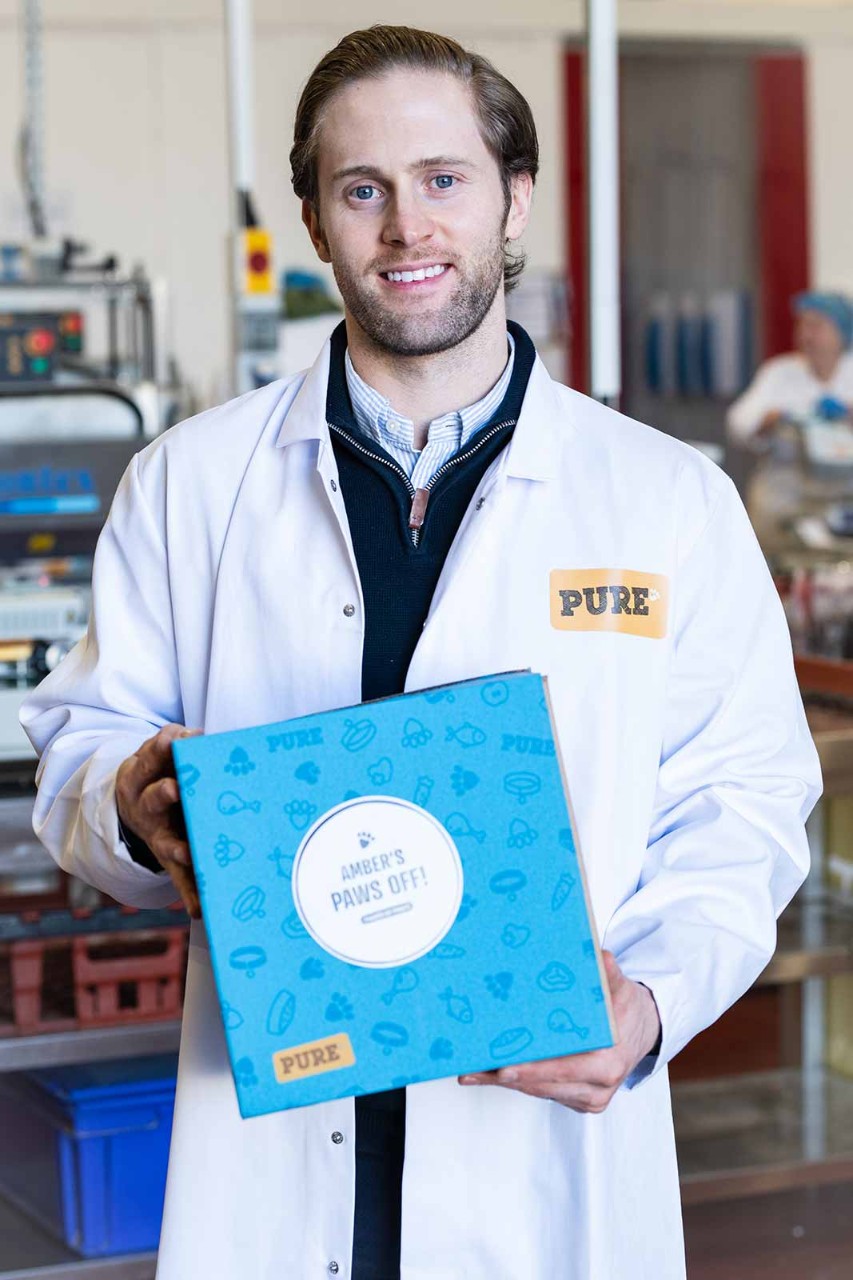 Initially, Valdur Eha's biggest challenge was raising capital for the new business. He and Cockcroft were already working long hours doing marketing for financial services businesses from a small office in Halifax, West Yorkshire. They would combine this with developing their new venture. 'It was a lot of hard work, but we scraped some money together,' says Valdur Eha. 'It was as organic and bootstrapped as it possibly could be.'
Fortune smiled
However, they had some good fortune early on. Valdur Eha sourced a local food manufacturer who was able to produce rehydratable pet food to a high standard, so he pitched his idea to them.
'Remember, at this point my own experience was a psychology degree and couple of failed businesses,' he says. 'Conveniently for us they agreed to help.' Their input was key. 'They worked with us on regulations, getting the nutritional balance right, finding suppliers, and they didn't charge us anything for six months.'
The business launched its website in 2013, which Valdur Eha admits was 'really basic'. Lacking experience, they also made mistakes, especially in understanding the needs of the customers. 'We used this 18-month period as a long R&D process, living on as little as possible. All the money we had went into things like upgrading the website. It was very organic and hand to mouth. I kept the stock in my bedroom.'
Enter the dragons
The company lacked the resources for marketing, but in 2015 Valdur Eha applied to the BBC show Dragons' Den, seeing its huge potential value for raising the company's profile. In a moment of rare synchronicity, as he sent his application off, the BBC contacted him asking him if he would like to be on the show since the company had won an innovation award. He jumped at the chance.
Two dragons did make offers, but neither appealed. 'We managed to find a polite way of turning them down without looking like we'd just come on for exposure,' he says. 'And we weren't naive – we knew a dragon couldn't just click their fingers and make it happen. We were going to have to appeal to our consumers.'
Knowing your cur-stomer
That consumer is the dog owner. Understanding the complex relationship between owner, food and animal is vital – as well as appreciating that the amount of money spent by an owner has nothing to do with their income.
'For many owners, dog food is the very last thing they will cut back on. It's recession-proof.'
A dog's likes and dislikes can be a big part of how an owner sees their pet. 'They will panic if the dog doesn't eat one meal, even though dogs in the wild can go days without food,' Valdur Eha says. 'So maybe they sprinkle cheese over the food; dogs see this and change their behaviour to make it happen again. They've got their owners wrapped around their paws.'
'The amount of money spent by an owner has nothing to do with their income'
The Dragons' Den appearance did have a dramatic effect on sales, which soared. It also brought the attention of retailer Pets at Home. Impressed, Pets at Home contacted Valdur Eha. 'They became a minority shareholder, so we had some cash. We bought the original production facility and now we had distribution into Pets at Home.'
With this growth came the need for renewed financial rigour. 'We had to produce accounts and cashflow figures, and this brought me to ACCA, so I could fulfil the needs the business now had. We managed to raise £5m in venture capital and sold some of the business to fund growth, which I could not have done without ACCA. It also gives our investors confidence.'
Next steps
Valdur Eha prefers not to disclose actual figures, but says their strategic plan is to scale the business quickly. A new factory in Leeds will help them with this, but the business does face challenges. Big players such as Mars and Nestlé, which dominate the pet food industry, are being joined by new entrepreneurs keen to exploit the market.
'It's hard work, but it's also my hobby'
Furthermore, Brexit stopped all Pure Pet Food's exports to Europe, as a vet would be required to sign off on every individual shipment – 50 orders would need 50 certificates.
Costs are rising too – raw materials, energy and wages are all becoming more expensive. 'Pretty much everybody has come to us with price increases of 5% to 15%,' says Valdur Eha, 'and distribution costs have gone absolutely bonkers.'
Enormous potential
While admitting the business may take a hit, he feels that margins are still healthy and the outlook is good. 'After the US, the UK is the best place for this product. We have a potential market size of £3bn. Even though our turnover is good, we haven't even scratched the surface of what is available.'
Valdur Eha has succeeded in finding a business he's passionate about and can grow. 'It's hard work, but it's also my hobby,' he says. 'I like exercise and I'm doing a diploma in leadership, but apart from time with my family, I've found nothing as interesting or fulfilling as business.'