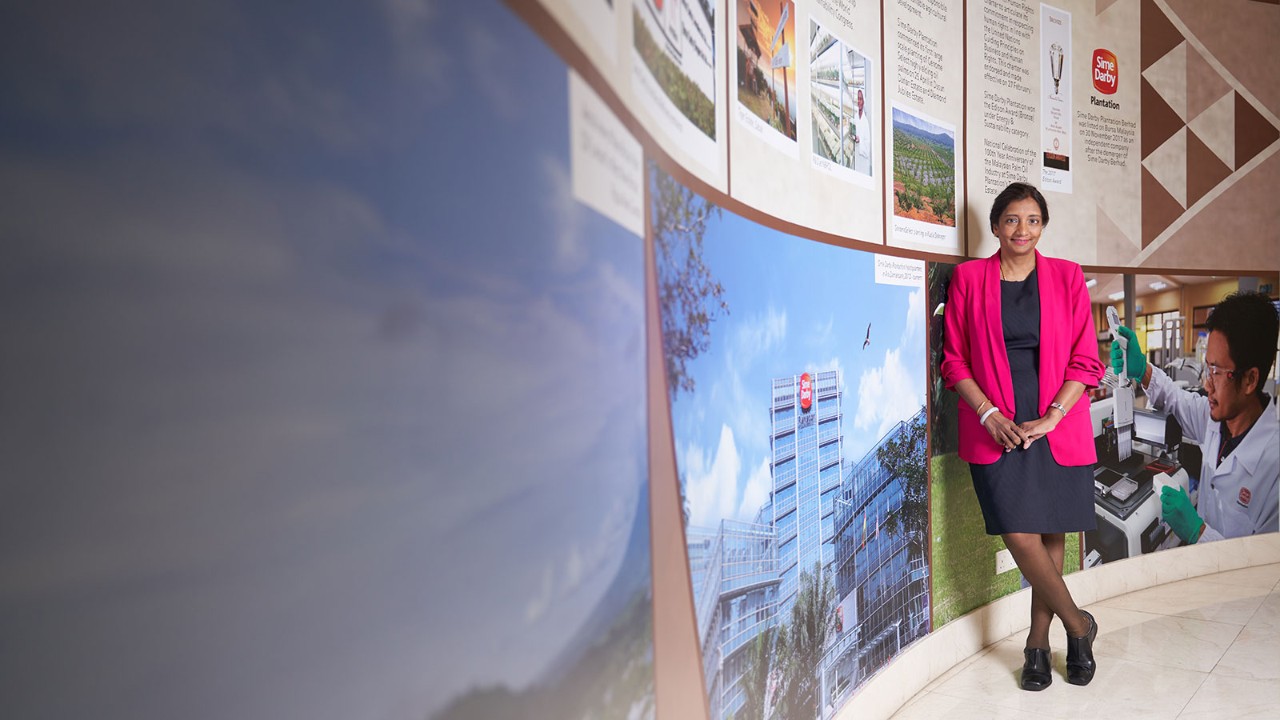 In the decade that Renaka Ramachandran FCCA has been CFO at Sime Darby Plantation, the world's largest oil palm plantation company, she has gone to work with a spring in her step on all but three occasions, each coinciding with the demands of overseeing the company's listing on Bursa Malaysia in 2017. Her deep-down enthusiasm speaks volumes for the depth of her job satisfaction.
She credits her successes to her love for her job, buoyed by the belief that the company's values align with her own. Holding steadfast to 'always doing good', she has successfully navigated the business challenges of climate change and environmental, social and governance (ESG) concerns, which are increasingly viewed by investors and stakeholders as key issues.
'Finance individuals have foresight: we know an action taken upstream, for example, may impact the downstream, so our role is to run the numbers'
CV
2020
Appointed deputy managing director, Sime Darby Oils
2011
Appointed CFO of Sime Darby's plantation division
1992
Joined Coopers & Lybrand (now PwC) as an audit associate; after a series of promotions, became executive director in 2004
1991
Started as an audit associate with Raj & Associates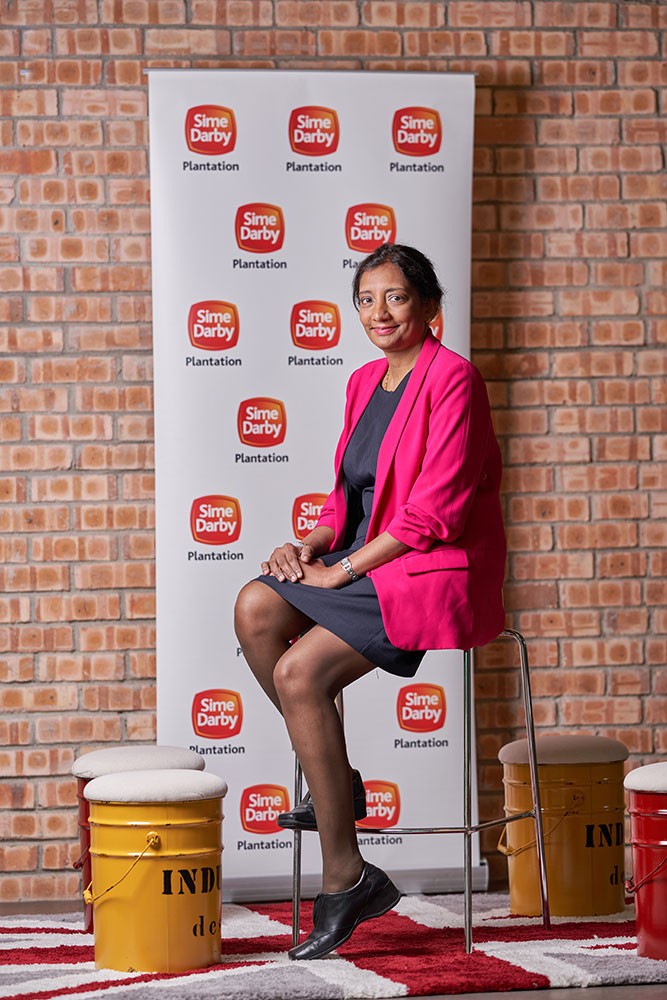 'We share the same values: always do good, believe in what you are doing and do not take shortcuts. I believe in karma: do good, and good will find itself in you.'
For someone who was nudged to take up accountancy by her father, who at the time worked for the Auditor General's Office, Renaka has an impressive track record. Her career milestones include climbing through the ranks at PwC from audit associate to executive director before making the leap, after 19 years at the Big Four firm, to Sime Darby Plantation.
Luck and love
'I was very naive when I first started my career,' she says. 'I thought I would be a finance manager one day and that was it. But my role evolved, and I was lucky to have been at the right place at the right time. I think a lot of it has to do with luck and love of the job.'
Renaka moved to Sime Darby in 2011 as CFO of the conglomerate's plantation division. After the plantation division demerged from Sime Darby in 2017, it was listed on Bursa Malaysia as Sime Darby Plantation, and she became its CFO.
She admits she hesitated before switching from practice to the corporate sector. 'I loved my job at PwC. It had its highs and lows obviously – like very long hours – but I enjoyed my work there. After giving it some thought, I felt that if I didn't take on the challenge at that point in my career, I would miss the boat. It was a good offer and it meant working with people I was comfortable with.'
Critical role
Her CFO role covers 'the usual bread-and-butter of finance and accounting, and the regulatory and compliance aspects of reporting to Bursa'. She also oversees mergers and acquisitions, corporate finance and business reviews, and is responsible for governance as chair of the investment and credit committees.
She says the finance role today is increasingly impacted by digital transformation. 'There is a lot of automation in terms of minimising manual changes. Digitalisation from a finance angle is about ensuring business reports are uploaded and interfaced straight to financial systems.'
Yet, as she points out, the CFO remains critical to the business, with a role that cuts across all operations. She explains: 'When a non-finance person comes up with an idea, often the outcome proposed is an ideal. But finance individuals have foresight: we know an action taken upstream, for example, may impact the downstream, so our role is to run the numbers.'
In July 2020, Renaka took on the additional role of deputy managing director of Sime Darby Oils, where she leads governance, compliance, logistics and a five-year transformation programme to improve profitability, efficiency and growth. 'We've got a target to achieve – profit before interest and tax of RM1bn [US$240m] in 2025. In 2019 it was hovering around RM218m. Growth will be achieved organically by increasing capacity in current refineries, cost reductions and unlocking capacity in blockages and current machinery, as well as through mergers and acquisitions.'
Saving the world
Sustainability is the CFO's new best friend, as the World Economic Forum recently declared, underscoring the strong correlation between financial and ESG performance. Renaka is fully on board with the idea of accountants stepping up by translating the implications of climate change into numbers. 'It takes more than the CFO to convince the organisation,' she says, 'but the CFO can tell a compelling story in numbers. In the old days, finance was always a bystander with ESG. We would be listening to what the sustainability team were driving.'
Over time, though, the finance team has been working ever more closely with the sustainability team. Today, Renaka is a key member of the ESG effort at Sime Darby Plantation.
'We are now leaders in the orientation towards zero burning, not planting on peat and no deforestation, as part of the business and across the supply chain'
Sime Darby Plantation
Sime Darby Plantation is the world's largest producer of certified sustainable palm oil, producing more than 2 million metric tonnes a year.
It is involved in the full spectrum of the palm-oil value chain, with upstream plantations, downstream operations, research and development, renewables and agribusiness.
Upstream operations are spread across Malaysia, Indonesia, Papua New Guinea and the Solomon Islands. The downstream business, known as Sime Darby Oils, spans 14 countries and involves the manufacture, sales and marketing of oil/fat-based products, oleochemicals, biodiesel, nutraceuticals and other palm oil derivatives.
Given the monumental impact of climate change, the CFO clearly cannot do it all on their own. 'You need the entire organisation to sing from the same hymn sheet,' she says. 'I mean every single employee. Where the CFO can play a role is really in educating the business in terms of the implications of their actions, telling the story in numbers.'
A constituent of Bursa Malaysia's FTSE4Good Index of companies with recognised corporate responsibility practices, Sime Darby Plantation is also a founder member of the Roundtable on Sustainable Palm Oil. 'Everyone in the organisation has to think of sustainability, and it should come naturally to us. We are now leaders in the orientation towards zero burning, not planting on peat, as well as no deforestation as part of the business and across the supply chain,' Renaka says.
Finance of the future
A member of the ACCA Accountants for Business Global Forum, she has a grandstand seat for what is expected of finance professionals in the future. 'When I qualified, my debits and credits were very important, I needed to know accounting and I used to ask myself if all the systems failed would I be able to close the set of books? The answer is yes. It might take me three years but yes, because we've been trained that way.
'Today's graduates are not strong in debits and credits, but in the future, the system will close the books. At Sime Darby Plantation, the system consolidates everything. The finance professional of the future is not about being an accountant. The CFO role will evolve into an analytics and business orientation role. The focus will be on interpreting the numbers and using them to move the business forward.'
'The finance professional of the future is not about being an accountant. The CFO role will evolve into an analytics and business orientation role'
In the immediate term, though, it is the pandemic that has hit the reset button for how the business operates. 'We were fortunate because we had invested in IT systems, so on the first day of lockdown not a single person was in the office, and everything worked smoothly.

'Working from home on a rotation basis is now permanent. Our people come to the office when they need to. We are very outcome-driven: work in your own time but this is your deadline and you have to deliver, and it has worked perfectly well. For the purposes of alignment we do need to see people on and off, so that is why the rotation is in place.'
The path ahead
So what does the future hold for Renaka? 'My core is finance. I am interested in ESG, so if I do decide to orientate elsewhere I hope to bring with me all my training in ESG. There are many professions in the world, but accounting is one that gives you the ability to do many things – it's a good grounding to jump into other roles, CEO roles, for example,' says the 54-year-old.
So has her recent appointment as deputy MD of Sime Darby Oils whetted her appetite for a general management role? 'Maybe, if it is interesting enough. But I am not considering it as this point in time. I love my job, and this organisation has given me many opportunities.'