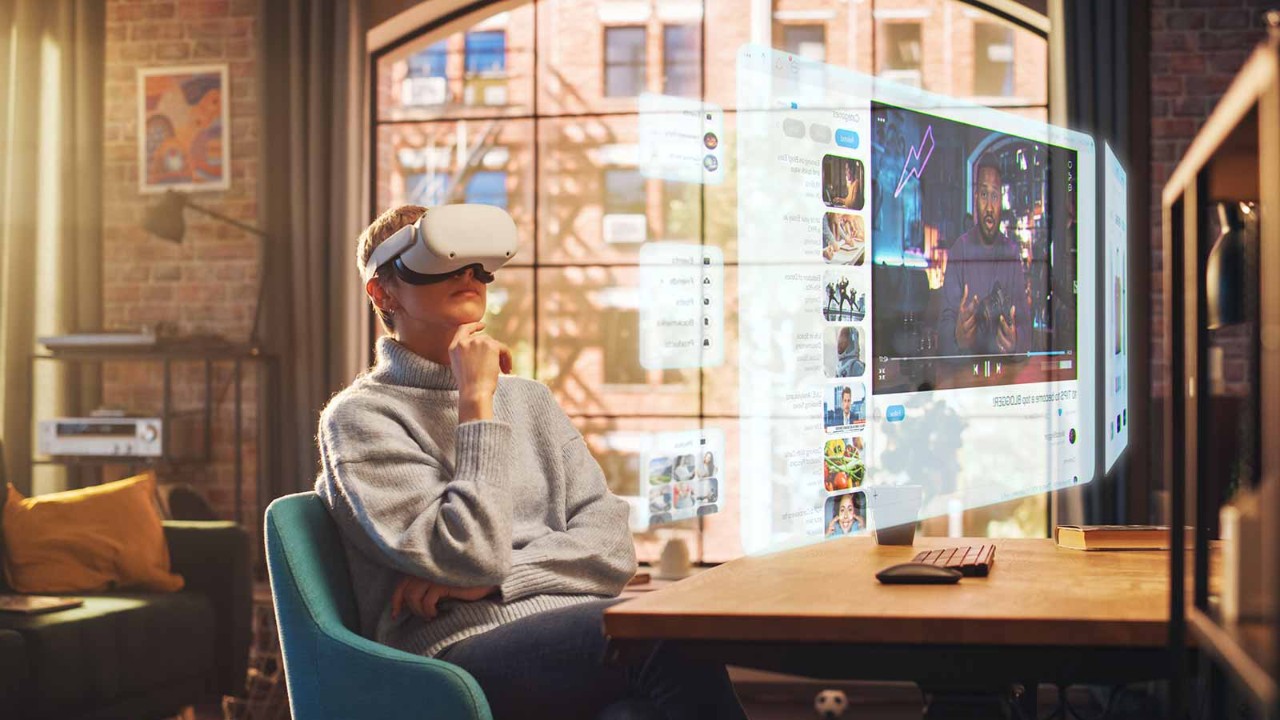 The metaverse is a vision for the future of the world wide web, making our online interactions much closer to the three-dimensional sensory experiences we have in real life.
We will not merely be looking at a screen or listening to a podcast or typing an email; we will be immersed in a virtual world, as if we were actors in a play or movie. We will bring not only our sight and hearing to these interactions but also, eventually, all our other senses: touch, taste and even smell.
The metaverse will be a combination of virtual reality with sound and video, augmented by devices able to interact with our other senses.
The origins
This is a vision that has arisen from technology developments in different parts of applied computing. First comes the world of computer games, which have become increasingly lifelike as technology has advanced, particularly in computer graphics and sound processing.
Advanced simulation has become widespread for applications such as understanding the robustness of supply chains
Games technologies have in turn found application for training of military personnel, providing ever more realistic and immersive experiences of battle. For example, two decades ago, the US Army selected the Institute for Creative Technologies at the University of Southern California as its main partner for the development of advanced simulation training programmes, on the basis of the university's leading computing expertise and its famous film school. Creating realistic and immersive computer training requires not only sophisticated tech skills, but also storytelling and media production capabilities.
Another area of applied computing that has fed the development of the metaverse has been increasingly sophisticated business simulation modelling. From telecommunications networks to factories, from financial markets to insurance, advanced scientific and business simulation has become widespread in industry and commerce, for applications such as modelling the potential impacts of climate change or understanding the robustness of supply chains. Such complex simulation models now support real-time management systems for these applications.
Key players
The widespread popularity of immersive games indicates that many people will find the vision of the metaverse compelling, and the world's leading technology companies are currently investing heavily in its development.
These companies include Meta (which changed its name from Facebook to indicate the company's focus on the metaverse), Google and Microsoft, which became the world's third largest video game company with its purchase in January 2022 of Activision Blizzard. Other tech companies likely to be active are Apple, Amazon, Baidu, Sony and Tencent.
Multiple challenges
Before the vision is realised, however, there are many challenges, both technical and commercial. The first is that of technical standards and interoperability. If different metaverse spaces are created, will it be easy for users to move between them? Will it be possible to take virtual possessions created or purchased in one space across to another? Will users have a single identity across different spaces?
For spaces to share data or for users to move themselves or their assets between spaces will require common technical standards. For example, Universal Scene Description (USD), originally developed by computer animation studio Pixar, has been proposed as a standard for describing scenes in virtual spaces, to enable exchange of graphics data between them.
Some countries are seeking to create a business-friendly regulatory environment for metaverse applications
Secondly, to create realistic immersive experiences for users, developers of metaverse applications will need to store and access massively large databases and to process this data extremely quickly. There are many computational challenges in undertaking these tasks.
Thirdly, being able to purchase items online and to move digital assets between different spaces will require the ability to store information and records of digital assets (such as electronic currency and non-fungible tokens) securely and in a tamper-proof way. The use of blockchains and distributed ledgers is likely to play a part in meeting this challenge.
How it's applied
As our economic and social lives move online, many companies see the business potential for participation in the metaverse. Manufacturers of luxury goods such as cars, for example, are considering selling virtual copies of their marques to players in online games, in order to monetise their brand presence online.
Similarly, two global banks, JP Morgan and HSBC, have recently purchased 'land' in the metaverse – ie virtual space on metaverse platforms – for undisclosed sums. They plan to use these spaces to build their brand presence, to host events such as online conferences and as a venue for selected third-party developers to create applications of interest to their customers.
It is not only companies currently looking to position themselves for operations in the metaverse; some countries are, too. They seek to do this in order to create a business-friendly regulatory environment for metaverse applications or for development of relevant commercial services, such as online dispute resolution and mediation. For instance, Dubai's new regulator for virtual assets has opened a MetaHQ in The Sandbox, a platform providing virtual space for metaverse applications.
The accountant's challenge
These new applications create interesting commercial challenges for accounting and financial professionals: How do we value digital assets such as 'land' on the metaverse? Value often arises from scarcity but the online world is infinite – at least in principle.
How can we verify identity in this online world, when photographs, videos and voiceprints can all be digitally altered or corrupted? Verification of identity and authentication of instructions will require new systems and business processes, probably involving cryptographic technologies.
The grand vision of the metaverse and the many challenges that must be addressed in order to achieve it make this an exciting place to be!