When I was considering what to study, I was impressed by the career opportunities in accountancy. I started my career as an accountant in a micro-entity before taking an internship with a Big Four firm. It's where I learned about how businesses operate financially and organisationally.
Before joining OTP Bank Moldova, I worked for the National Bank of Moldova (NBM). At NBM I improved my knowledge of risk management and regulation in banking. I also did consultancy work with the Asian Development Bank, where I gained more precious experience.
When auditing, I especially enjoyed working with financial institutions. I was fascinated by their complex governance, business models and impact on the economy. However, I find I use accounting principles every day, as I analyse the financial performance of the bank.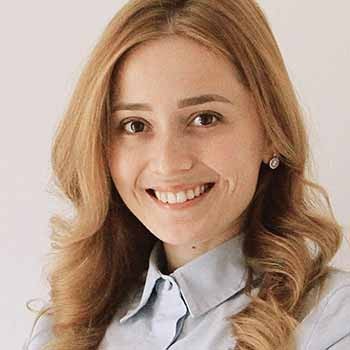 I am lucky to have a great team and proud that we are making an impact
To be a good head of strategy you need to be a visionary person, someone who can always see the whole picture. Simultaneously, though, you need to be able to focus on very specific details. You must have a broad knowledge of how the business segments operate, and of the bank's upcoming investments. Critical thinking, time management, being a team player, empathy and continuous professional development are all essential for the role.
Moldova's human development index score has steadily improved. It has been helped by NBM's monetary policy, alongside the development of the banking sector. Currently, the sector is resilient, with a satisfactory financial performance. Importantly, the banks have recovered the trust of the population, which brings many development opportunities.
Our banks need to provide accessible funding for sustainable growth and economic expansion. Growth should be encouraged through appropriately scheduled loans. Banks should also target their efforts to promote a healthier financial education, which will bring banking closer to the population.
Loving what you do every day is the key to happiness. I am lucky to have a great team and I am proud that we are making an impact. It is exciting to see the company growing. By being involved with strategy, planning and control, I get to observe the whole process.
If I had law-making powers, I would impose strict rules on non-banking financing institutions, such as micro lenders. Currently, these are not well regulated, are not correlated with the risk profile of the client, and have extremely high margins. These companies are not contributing to the sustainable growth of our economy.
My biggest achievement is my career path, overcoming all the challenges I faced. I have combined passing numerous qualifications with learning and continuous professional development. I am currently studying for a PhD.
My department had to be built from scratch in a fast-paced environment. The challenge was to bring people together, establishing procedures and a team culture. I have managed to reach my personal objectives, but also contributed to the growth of my excellent team.
If I wasn't a finance professional, I think I would have been in programming and information technologies. Our world is becoming ever more automated.
It is very important to have a balance between work, studies and personal life. I enjoy sport, especially volleyball, but also yoga, focusing on achieving harmony in both mind and body. To express my creativity, I like to paint.