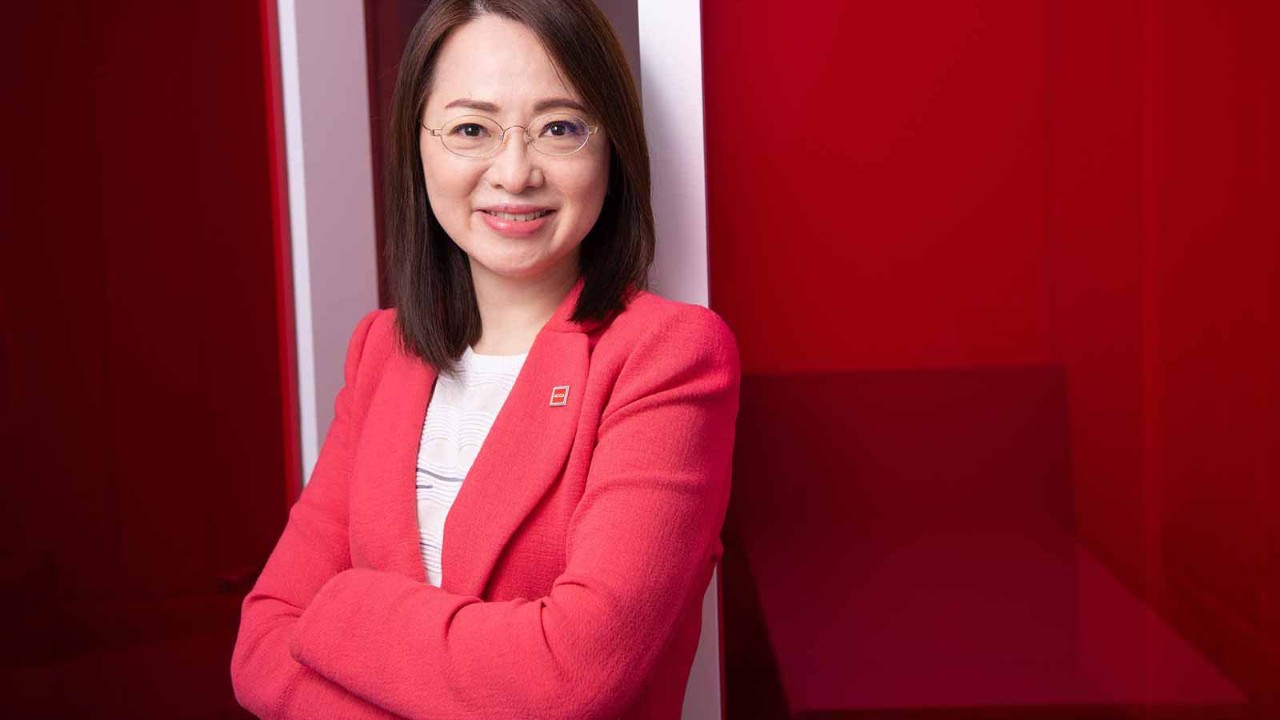 Whether it's exploring new forms of electronic payment or serving as chairman of ACCA Hong Kong, Alipay Financial Services chief executive Jennifer Tan displays a commendable spirit of self-challenge and continuous innovation. It's a formidable combination that has won her the prestigious Outstanding Women Professionals and Entrepreneurs Award from the Hong Kong Women Professionals and Entrepreneurs Association.

The award honours inspirational leaders and role models who have made significant contributions in their work and to society, and Tan doesn't disappoint. As a senior female executive who has already accomplished a great deal in multiple fields, she plays an active role in giving back to the accounting industry and society as a whole.
Starting out as an accountant, Tan went on to work for Hutchison Telecom in 1996, and later became a pioneer in the development of digital payments – an uncharted and challenging area at the time. She recalls buying her first mobile phone in 1993 and finding it so helpful for both her personal life and work that she decided to join the telecoms industry.
'With "nothing is impossible" as my motivational motto, I never thought of giving up'
CV
2021
Chief executive, Alipay Financial Services (Hong Kong), and executive vice president, Ant Group
2017
CEO, Alipay Hong Kong
1996
Started as senior manager (finance) at Hutchison Telecommunications, Hong Kong, promoted to general manager (finance), then FD, CFO, managing director (fixed) and chief operating officer
1993
Regional controller, central Asia, Kraft General Foods Asia Pacific, Hong Kong
1989
Assistant controller, Colgate Palmolive, Hong Kong
1985
Experienced senior, Arthur Andersen, Hong Kong
'My choice to enter the telecoms industry and later on to take part in launching the digital wallet in Hong Kong were not spur-of-the-moment decisions,' she says. 'They reflect my eagerness to face new challenges, as well as my career goal, which is to bring more convenience and a better lifestyle to the Hong Kong people.'
Full indoor coverage
During a 21-year career in the telecoms sector, one of her most remarkable achievements was implementing 'full indoor coverage' of the Hong Kong mobile communications network.
She says: 'The mobile network was inadequate back then, as the connection would be interrupted every time the person on the call went indoors, which was extremely inconvenient. Moreover, it was too expensive for any single telecoms provider to work on a solution alone.
'My colleagues and I gave the issue a great deal of thought. We finally came up with a proposal to roll out a large indoor mobile communications network jointly with the other telecoms providers.'
Her industry peers did not pay much attention to the initial proposal. But that all changed when Hutchison built a network for the high-end shopping malls and office buildings in the Central District, allowing users to use their mobile phones indoors without interruption for the first time. The feat came as a surprise to Hutchison's competitors, and many subsequently entered into cooperation agreements with the pioneer.
Later, full indoor coverage was also made possible inside the metro system. The delivery of full indoor coverage not only served as a prerequisite of the shared economy, it also paved the way for Hong Kong to evolve into a smart city.
Digital wallets
After 18 years with Hutchison, Tan was promoted to chief operating officer in 2014, at a time when mobile phones had become an indispensable part of people's daily lives. She then came up with a new idea: to implement mobile payments in Hong Kong. She represented the company in negotiations with Ant Group to turn the idea into reality, which eventually led to the establishment of a joint venture between the two groups in 2017.
Transferred to the joint venture as its first staff member – she's now executive vice president, Greater Bay Area – Tan was given the job of promoting the AlipayHK digital wallet. It was a challenge that proved more difficult than any she had previously faced.
She explains: 'A lot of people thought it was an impossible mission, because the Hong Kong population was very comfortable with spending using credit cards or Octopus cards, and it was going to be quite difficult for them to take up a digital wallet, as that was something entirely new. However, with "nothing is impossible" as my motivational motto, I never thought of giving up.'
Borrowing from her experience in implementing full indoor coverage, she and her team first identified the needs of users, then gradually tailored the digital wallet to suit the local market. With support provided by the company and various teams, the use of Alipay as a payment tool has become increasingly popular in Hong Kong.
'Success is built on trying, and there can't be any success if you don't give new things a try'
Giving back
During her seven-year stint as Hutchison CFO, Tan's contact with accounting juniors gave her the idea of giving back by supporting the growth of young talent. She participated in the first mentoring programme organised by ACCA and helped train a couple of new accounting professionals every year.
Later, she was leader of ACCA Hong Kong's professional development subcommittee, identifying members' development needs and equipping members with the latest skills needed in our dynamic business world. She was subsequently elected ACCA Hong Kong chairman.
Nowadays, more and more women are serving in management positions across various industries. As a veteran business leader, Tan believes that female leaders possess a number of unique strengths.
Virtues
First, she says, women are more careful and attentive to detail, which is particularly important for the service industries where user-friendliness and a good customer experience are crucial. Taking the launch of a company app as an example, she suggests the attention-to-detail method requires first testing the app multiple times as a regular user, in order to make sure the programme meets the customers' needs.
'Second, women are patient, and are more willing to listen to the opinions of customers and subordinates, as well as being more willing to brainstorm ideas.
'Third, they are more tactful when handling situations, and are generally more capable in terms of interpersonal relationships and communication. Effective communication with one's work partners allows for smooth cooperation and is very beneficial for project development.'
Don't fear failure
Tan has one important piece of advice to other professional women: stick to your own beliefs and insist on doing the right thing. There is no need to be afraid of failure, as much practical experience can be acquired from trying new things.
'Success is built on the foundation of trying, and there can't be any success if you don't give new things a try,' she says. 'Many people are smarter and better than me, but they might have too many concerns and fail to pursue their ideas.
'No matter what you do, you should keep in mind that as long as you persevere, nothing is impossible.'