It all started in 2002 when I was 17 years old and had just finished school in a small town in the far east of Russia. I had no idea what I was passionate about and who I wanted to be when I 'grew up'. I knew nothing about finance, but on my parent's recommendation I undertook an international accounting and audit degree in Khabarovsk Academy of Economics and Law.
One of the tutors often talked about the Big Four. I was fascinated by the culture, values, international spirit and career opportunities, and I'd always wanted to be a part of something global and important. I moved to Moscow and was offered a junior auditor role at KPMG. This is also where I heard the word 'expatriate' for the first time.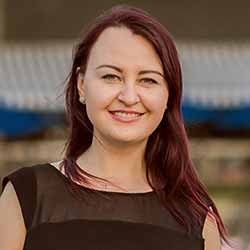 My aim is to ask more questions than prescribe solutions, allowing staff to seek multiple perspectives and expand their horizons
After four years at KPMG Moscow, I signed up for a two-year secondment with KPMG Auckland and moved to New Zealand. I eventually decided to stay here permanently and after eight years at KPMG, I moved into industry as a financial accountant in a major construction company.
From KPMG I moved to Gleeson Group as a finance manager and this year I was promoted to group financial controller. Gleeson Group provides bulk haulage, civil construction services and machinery, as well as aggregate supply for the construction and roading industries. The company has been around for over 50 years and, with over 100 trucks in its fleet, has been involved in almost every major development here. I look after a finance team of six and report directly to the CFO.
Winning the 2022 Emerging Financial Manager of the Year award at the CFO Awards New Zealand has been a massive career milestone. The award recognises, celebrates and encourages exceptional finance talent under the age of 40, and highlights the future CFOs and leaders of New Zealand's finance sector. I feel it acknowledges my determination and hard work, authentic leadership and passion for what I do. The award means a lot to me and encourages me to continue my professional and personal growth.
I'm passionate about people. One of my hats as a finance leader is as a coach. I invest lots of time and energy into my team. My aim is to ask more questions than prescribe solutions, allowing staff to seek multiple perspectives and expand their horizons. I believe that driven, determined and nurtured staff bring greater value to a business.

I would like to become a mentor to young female finance professionals. I've noticed a lot of limiting beliefs among young professionals, especially females. I would like to show them that opportunities are unlimited — you can build a life from scratch in a new country, achieve success and get leadership roles.
If I weren't an accountant, I'd maybe be a dancer. I started my dancing journey three years ago and fell in love with Cuban salsa, bachata and reggaeton. I've done multiple stage performances in the past and my teacher's told me I'm quite good.