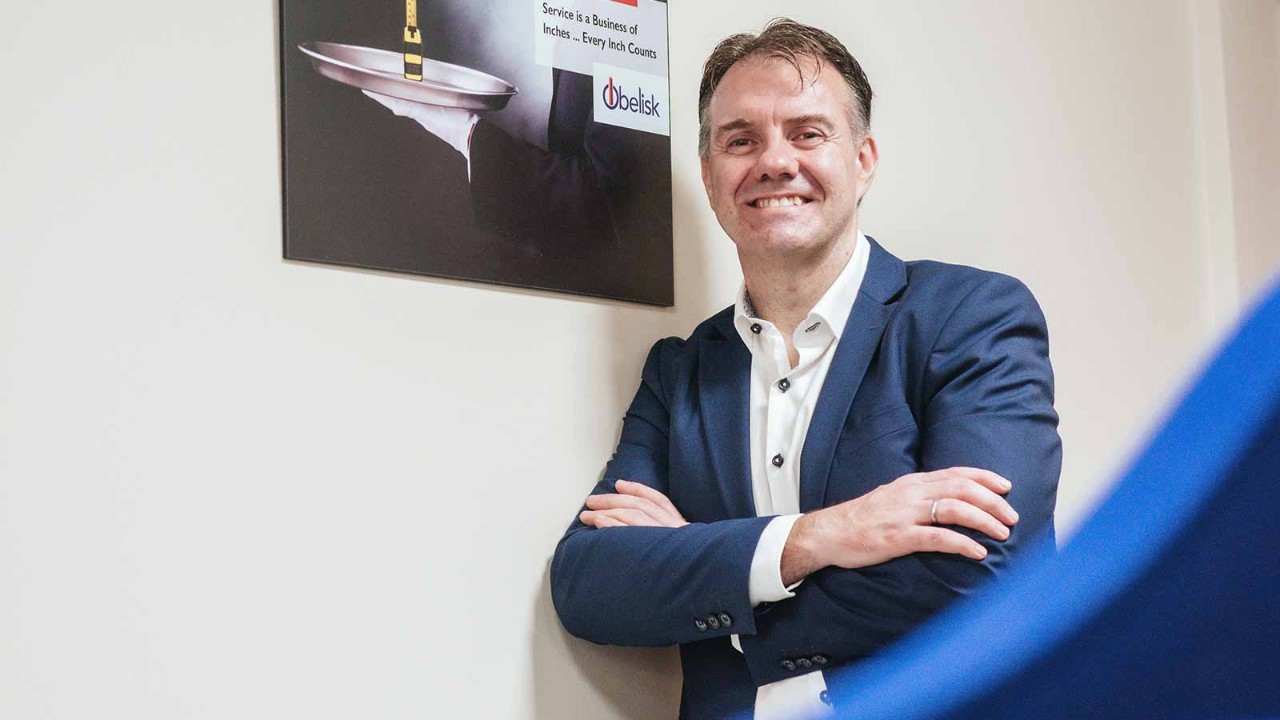 Talk of career heights among ACCA members is usually in figurative terms, but when the role involves maintaining Ireland's network of mobile phone masts, there's a literal element to it, too. While the antennae that keep our phones connected to each other operate at the behest of global telco brands, their actual maintenance is a more domestic affair.
Among the leaders in this field is Obelisk, a 250-strong privately owned company headquartered in Cavan and with offices in Dublin. ACCA gets its namecheck through CEO Ronnie Delaney FCCA, who took on the top role earlier this year. Obelisk bills itself as a 'fully integrated service of survey, design, build, upgrade and maintenance of telecoms and energy infrastructure'. This, in layman's terms, means 'everyone is using call data. We are the ones who make sure the network is connected and delivers traffic,' Delaney says.
'Energy consumption is everyone's problem and our clients expect us to play our part'
CV
2021
CEO, Obelisk
2018
Group CFO, Obelisk
2016
Finance director, Obelisk
2010
Group financial controller, Obelisk
2007
Finance manager, Quinn Group
2002
Management accountant, Smartply Europe
In a fiercely competitive and innovation-driven sector, Obelisk's credentials are impressive. It maintains approximately 40% of mobile infrastructure in Ireland, is the main maintenance and construction provider to Vodafone and 3 here, and holds a strong market position in the UK, too.
While innovation and enhancement of service are inherent expectations among phone users, so is value for money, Delaney is quick to point out. It's a challenge that sits at the heart of the company's operational model. 'Consumers want top quality but at the cheapest price,' he says. 'We are driven by a revenue-per-unit approach and have to maintain efficiency of service at all times.
'To do this, we have strong systems in place and a strong management team. Innovation comes in many different forms and we also use technology to drive efficiencies in our own businesses. To stay as market leader, you always have to be one step ahead.'
Sustainability in action
As an example of how that pressure on cost, coupled with the growing drive for sustainability, is driving change, Delaney points to the quiet transformation in how the mobile network is being powered. In recent years, use of solar PV panels, small PV solar farms adjacent to masts and micro turbines have become increasingly prevalent.
'Energy consumption is everyone's problem and our clients expect us to play our part,' Delaney says. 'The pandemic era heightened the need for data but also the need to improve sustainability performance. The energy price rises of 2022 have intensified this further, but also show that every crisis can be an opportunity.'
The company's expertise in these areas has developed to such an extent that it now operates separate energy and renewables divisions. Obelisk Power provides design, build and maintenance services for overhead and underground power infrastructure, while WMI supports the design, installation and maintenance of windfarms.
'We evolved within these spaces on our own initiative,' Delaney says. 'The WMI division began with us undertaking wind monitoring and assessment for the development of windfarms. There are a variety of considerations in the optimum positioning of a wind turbine, including wind direction, speed and quality. The smallest degree of change in positioning can make a big difference in the efficiency of a turbine.
'For me, the key thing has been to get the basics right and to have clarity on the direction I want to take the company in'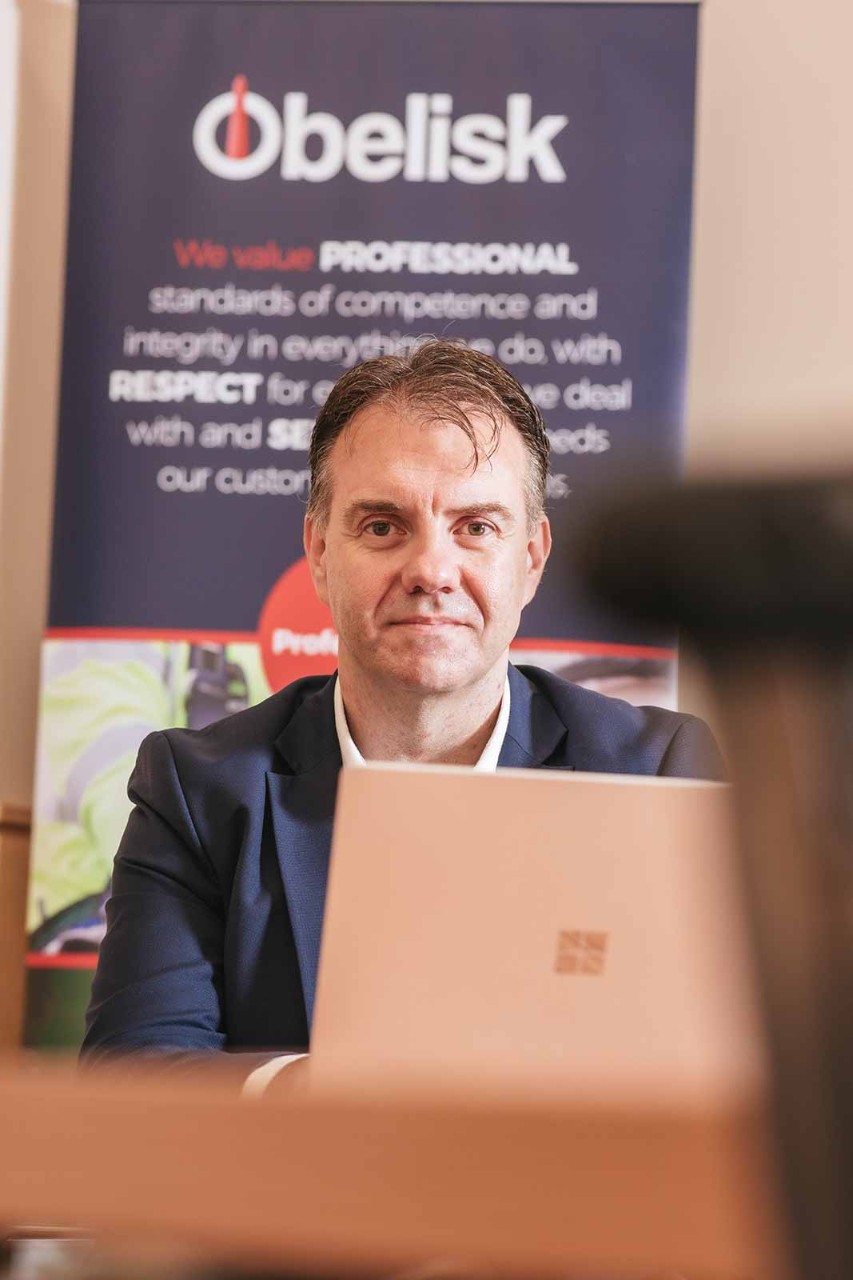 'We are providing renewable energy infrastructure not only as a standalone service but also as a solution to the energy needs of our telecoms customers.'
Listen and learn
A further vote of confidence in the company's credentials came when Obelisk was acquired by the Portuguese engineering company Constructel Visabeira in early 2022. Delaney hails the development as an opportunity 'to create one of Europe's leading telecommunications and energy services companies', with opportunities for Obelisk to expand into major markets across the EU as well as the US.
Side by side with the acquisition came Delaney's own elevation to CEO. While a core part of the company's finance team since 2010, he acknowledges that 'like any new position, the role of CEO is always going to be a little daunting at the start. For me, the key thing has been to get the basics right and to have clarity on the direction I want to take the company in.
'I've spent a lot of time since then communicating that vision to the board, management and staff. Communication is also about listening and learning. As an accountant, I understand the business and how it should operate. For the technology questions, I have subject matter experts who will bring their insight to a situation. As a leader, it's important not to be afraid of that dynamic. Our people are our greatest asset and when they are successful, we are successful, too.'
Delaney believes that this emphasis on relationship development and collaboration is key to career progression for finance professionals.
'To go from leading on numbers to leading on business is an easier transition when you know what makes the business function and can share that with others,' he says. 'Finance gives you strong visibility on a business, but only from one perspective. To grow in your role you have to be able to tell a story as well as talk numbers. ACCA taught me how to interpret figures into a narrative and to align the information I have with the needs of the business.'
'I see myself as a custodian of the business, someone who will bring it to the next level'
Basics
40% 
Approximate share of Ireland's mobile infrastructure maintained by Obelisk
2022
Acquired by Portuguese engineering company, Constructel Visabeira
2016
Joint venture extends company presence to South Africa
1996
Year Obelisk founded in Cavan, Ireland
While the new role provides much to be excited about, he recognises it comes at a time of unprecedented uncertainty. 'I don't think any industry or organisation is going to be absolved from the energy crisis or from dealing with higher costs,' Delaney says. 'Our response will centre on recognising the things we can control and the things we can't. We will continue to invest in technology and training to make the best of this.'
At the heart of home
While ACCA has been a driver of Delaney's business career, he reflects that it has a part to play in his home life, too. His wife, Olivia Smith FCCA, is a finance business partner who puts particular emphasis on sustainability and climate change in her work with clients.
'We have two young children and lots of conversations about what's happening out there in the world. We can bounce ideas off each other knowing there's a common ground in terms of what those opinions are based on, so you could say ACCA is at the heart of our household,' he says.
'Olivia's view on what sustainability means in finance often brings a perspective to business that I might not have considered before, such as the value of a gender-balanced approach to return on investment.'
With both career and home life confirming to Delaney 'ACCA's value in expanding your knowledge and opening you to new approaches', there can be little doubt that this will guide his approach in the coming years.
'I see myself as a custodian of the business – someone who will bring it to the next level,' he says. 'Collaboration is central to that – bringing our people together and enhancing our quality of service through knowledge and innovation to deliver sustainable value for everyone.'