There can't be many people who can pinpoint the moment when sustainability reporting entered their life, but Rodney Ndamba FCCA, founder and CEO of the Institute for Sustainability Africa (Insaf), certainly can.
'It was back in 2007, and I'd just finished my master's in accounting and finance at the University of Huddersfield,' he says. 'I went to have a chat with one of my supervisors and we were discussing my next steps, and the mining sector, which is the main economic activity in my home country, Zimbabwe.
'He went to the bookshelf, took down his his copy of Accounting for the Environment by Rob Gray and Jan Bebbington, and handed it to me. I started reading it straightaway and couldn't stop – I read all night. And I saw then that there was a great role for accountants in environmental reporting.'
'Sustainability pushes companies into long-term thinking and long-term successes'
CV
2010–present
CEO, Institute for Sustainability Africa, Harare, Zimbabwe
2013–present
Listing Committee member, Zimbabwe Stock Exchange
2010–16
Stakeholder Council member, Global Reporting Initiative, Netherlands
2009–20
Lecturer in professional ethics and global regulatory frameworks, University of Zimbabwe
2006–08
Assistant management accountant, Jewson (subsidiary of St Gobain), UK
2003–06
Finance manager, Labour & Economic Development Research Institute of Zimbabwe
The importance of environmental reporting really hit home when Ndamba returned to Zimbabwe. 'There was an outbreak of cholera [caused by contaminated water] and around 4,000 people died. I did some research into the environmental reporting by local companies and found that most of them were not accounting for their environmental impact, so there was a chance that they might have contributed to the disaster.'
Little consequence
The lack of awareness of environmental reporting – then only in its early stages worldwide – persuaded him of the need for an organisation that could raise its profile and support education around the topic. 'At the time, environmental reporting was just seen as an element of corporate social responsibility; there was no support to help the profession develop skills.'
Getting Insaf – an independent sustainability thinktank and research institution with a regional focus that Ndamba set up in 2010 – off the ground proved a considerable challenge. 'Accountants and companies tend to have a compliance mindset,' he says. 'They would ask, where is the law or standard that requires me to do this? And there weren't any at the time. But I continued to knock on office doors. I was very persistent. I still am.'
The tipping point came, he says, when he was appointed to the Zimbabwe Stock Exchange listings committee in 2013. 'I was asked to draft a new section of the listing requirements, on sustainability reporting. That began to push companies into action.'
At around the same time, Zimbabwe's voluntary national code of corporate governance was updated, with a reference to sustainability reporting included for the first time. It was followed by a new law for public entities, the Public Entities Corporate Governance Act 2018, which also included provisions for sustainability reporting.
Profile raiser
'There was still some resistance within companies, even after these new instruments were introduced,' Ndamba says. So, with the help of ACCA and other professional bodies, he set about spreading the word, persuading accountants across Zimbabwe of the benefits of sustainability reporting. In 2010 he was elected to the Global Reporting Initiative's Stakeholder Council and he has been a member of ACCA's Global Forum for Sustainability since 2012. His contribution was recently recognised when he was named ACCA Zimbabwe's Advocate of the Year.
'It is clear that some of the conflicts on the continent are climate-related'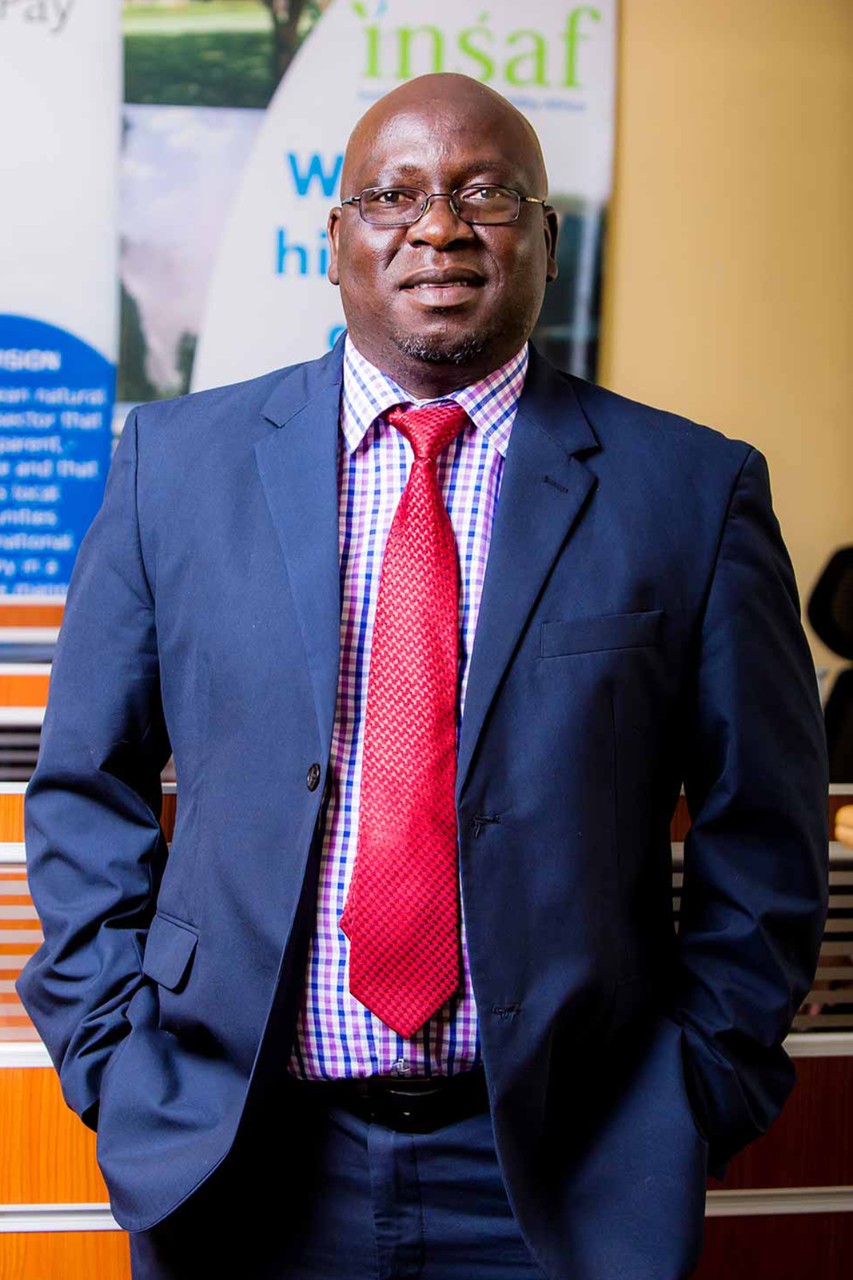 'I would say that the increased involvement of the accountancy profession persuaded a lot of companies to accept that environmental and sustainability reporting was something that they had to do,' he says.
Additional pressure came from shareholders and investors – again, with impetus from Ndamba. 'I set up a platform called the Shareholders and Investors Forum on Responsible Investing, which brought together institutional investors and pension funds. That movement has really grown, and investors started asking questions about sustainability at annual general meetings.
'The pressure is coming from so many angles today,' he adds. 'It's pushing many companies to go for sustainability.'
Demand ramps up
Today, Insaf has a staff of 10 and Ndamba is no less persistent in his drive to raise the profile of environmental reporting across the continent. 'Interest has grown significantly since the institute was set up,' he says. 'I expect our numbers to double because the demand is there.'
Over time, he says, companies have begun to see the benefits of sustainability. 'I remember one company in particular,' he says. 'It took me about six years to convince them of the benefits of sustainability reporting; today the practice is embedded as one of their strategic pillars. Companies are seeing benefits, they are seeing that sustainability can help them control costs.'
He is also intent on spreading the word further afield in Africa. 'We are seeing the impact of climate change in Africa first hand, and it is clear that some of the conflicts we see on the continent are climate-related.' He recently told an Institute of Chartered Accountants of Zimbabwe conference that companies need to 'move away from survival mode to sustainability, which pushes them into long-term thinking and long-term successes'.
South Africa is the most advanced African nation in terms of sustainability and environmental reporting, followed by Zimbabwe, Kenya and Nigeria. 'I spoke at the ACCA conference in Africa this year, which focused on sustainability, and to the Pan African Federation of Accountants,' Ndamba says. He has also been appointed to the ESG Exchange, an initiative of South Africa's Good Governance Academy, which aims to promote effective sustainability reporting, and acts as a consultant for the United Nations in developing sustainability pilot projects across Africa.
The nascent state of sustainability across much of the continent means Ndamba has some concerns about the drive for globally consistent sustainability reporting standards. 'Based on my experience, sustainability speaks to the local context,' he says. 'Countries are at different stages of economic development, so while I appreciate that the standards need to have consistency, the conceptual framework also needs to allow for local context and local impacts.'
'Sustainability is the biggest opportunity of our time'
Heart of the action
Accountants, he says, can and should play a vital role in addressing climate change. 'Accountants are at the centre of sustainability because they are so closely involved in decisions about resource allocation,' he says. 'They need to ensure not only that the budget supports sustainability strategy, but also to help organisations understand the sustainability risks they face.
'They need to take into account aspects beyond the financials. Accountants are CEOs and finance directors – when they make decisions they need to take into account the sustainability impact, environmental impact, the social impact and the governance impact. Accountants are part of the entire equation.'
Less than 20 years ago, in Ndamba's ACCA final papers, sustainability was addressed as one of a handful of emerging issues. The progress since then, in Zimbabwe and worldwide, to bring sustainability, climate and environmental reporting into the mainstream has been impressive. But there is still a long way to go.
'I am optimistic,' he says. 'Sustainability is the biggest opportunity of our time, in my view. Yet there are only two options: either we coexist with sustainability, or we find another planet.'