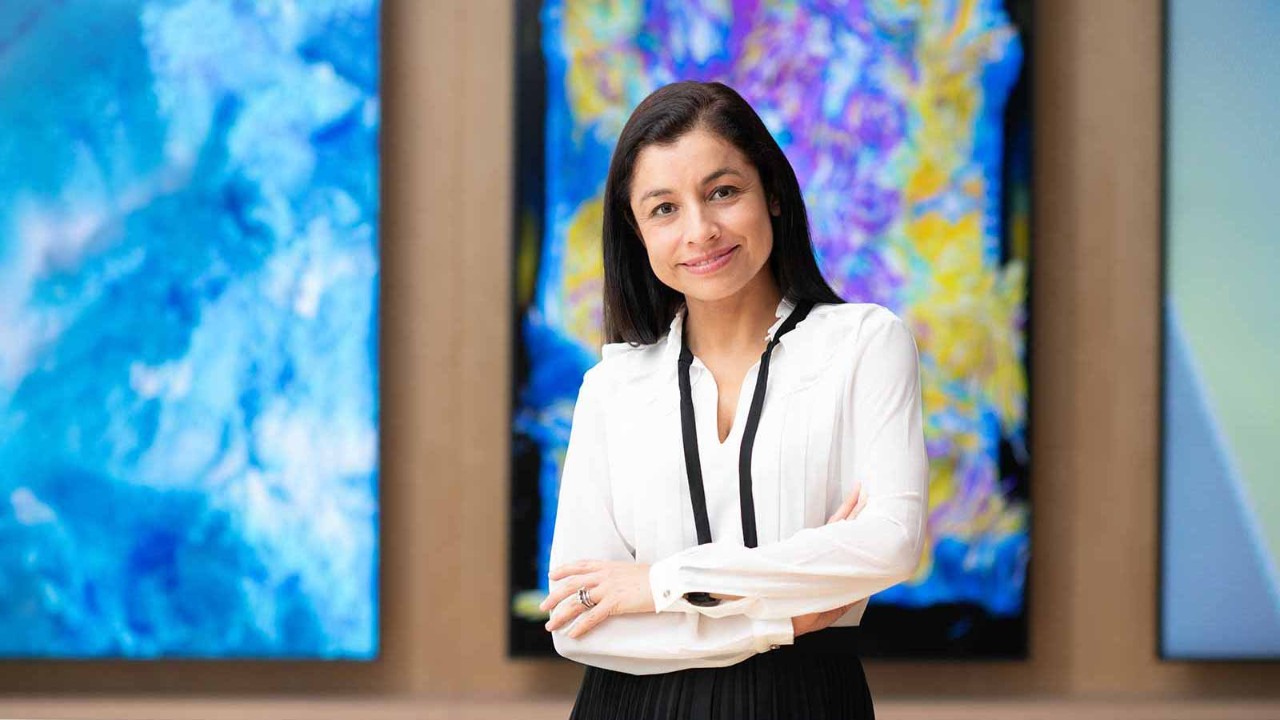 Transformation has been a constant companion for Maria Blanca, the COO of the Hong Kong arm of green solutions start-up Carbonbase.

She took a business degree in Mexico; studied accountancy and finance in France; gained her ACCA qualification in Ireland; went on an extended career break to focus on her family following an initial six-year stint in corporate finance; and set up her own business consultancy advising start-ups in Asia Pacific. Now, she's not just COO of Carbonbase Hong Kong but also of sustainable project body ImpactNFT Alliance.
'Climate change is by far the most dangerous and biggest health hazard facing humankind'
CV
2022
COO, Carbonbase, Hong Kong
COO, ImpactNFT Alliance, Hong Kong
COO, Carbon Neutral Club
2020
Advisor and former co-founder, WoMentors, Hong Kong
2019
Finance director, Fresh Accounting
2010
Independent consultant
2002
Assistant vice president, Citi, Ireland
Born in Puebla in Mexico, Blanca moved to France to pursue an international business degree before relocating to Ireland to work for Citibank. After spending time in various locations in Asia, she moved to Hong Kong in 2016. 'What appeals to me about Hong Kong is the diversity, intensity and opportunities that come with an inherent networking culture,' she says.
Her job roles since that career break are effectively all about transformation – whether coping with it or promoting it. Her current post at Carbonbase is about making an impact on a global scale. 'Climate change is by far the most dangerous and biggest health hazard facing humankind,' she says.
Sustainable transition
It's a change that Carbonbase is addressing, helping both enterprises and individuals make a sustainable transition to carbon neutrality through the development of its next-generation climate and fintech platform. The blockchain infrastructure facilitates carbon credits origination, transfer and cancellation, as well as validating additional projects that represent substantial carbon-negative development.
As the world reopens and more events are held in the wake of the Covid-19 pandemic, Carbonbase is becoming ever busier. 'We want to help those events to become carbon-neutral,' Blanca explains.
The company has, for example, supported two events run by the South China Morning Post newspaper in Hong Kong to achieve carbon neutrality. It also worked with Hong Kong's Tatler magazine to make its April 2023 issue carbon-neutral. Carbonbase has also helped many companies to understand their carbon footprints, including Wah Kwong, one of Hong Kong's biggest shipping companies, and Link REIT, Asia's largest real estate investment trust, and global leader in alcohol manufacture, Diageo.
Smart tools
Technology is a foundational element in Carbonbase's business. Their B2C product is a reward-backed carbon footprint calculator and offset engine, allowing individuals to calculate their footprint, easily offset it to become carbon neutral, and earn rewards on a reward-based marketplace.
Green blockchain is next on the list. 'Our biggest goal is to launch the first blockchain carbon registry in Asia, which is the next generation of carbon market infrastructure,' Blanca explains. 'There's a lot of bottlenecks in the current registers at the moment, and they've been having a lot of traceability and accountability issues.' A blockchain-based registry could optimise and automate data collection, and improve the transparency and credibility of transaction records in the carbon market.
'I understand the bias that mothers face when they try to go back to the workforce'
Long Guan photography
Carbonbase
Carbonbase was set up in 2020 by technologists, designers and finance professionals to address the urgent need for effective climate change action. Its business model involves charging large companies consulting and software fees for calculating their carbon footprint, as well as providing a monthly subscription plan for individuals who want to achieve personal carbon neutrality.
Broad role
Because the business is young – it was founded in 2020 – Blanca, as the COO, needs to assume leadership across many fronts, including human resources, to drive through the ideas of the CEO and founder Max Song. She also needs to get a full picture of the company's financial status and keep the CEO informed so that strategies can be adjusted if necessary.
'The other big part of my role is to take advantage of any opportunity that comes our way,' she says. 'For example, we're very proud to say we're part of the recent intake for the Cyberport incubation programme.' The government initiative offers Hong Kong-incorporated start-ups and entrepreneurs in the digital/tech space up to HK$500,000 over 24 months to help grow their businesses.
Support for mothers
Blanca has not forgotten the lessons of her child-rearing career break, understanding that mothers, full-time mums in particular, not only bear most of the burden of raising children but face career penalties for doing so. 'I understand the bias that mothers face when they try to go back to the workforce,' she says.
Her experience inspired her to co-found WoMentors with Lena Wong, a Hong Kong-based entrepreneur who shares Blanca's passion for gender equality and inclusion. WoMentors, which aims to help women remain active in the workforce at every stage of their career journey, supports returnership programmes and hosts industry events to advocate for gender equality as a way of promoting corporate diversity and inclusion strategies. In addition, Blanca's work in advocating gender equality won her an invitation from the OECD in 2021 to write an article on how to build a labour market that responds to the needs of mothers.
If Blanca's career is anything to go by, the career break taken to look after children can help form impressive entrepreneurial habits. The post-break career rethink that took her away from corporate leadership and into the start-up sphere has been amply rewarded, and offers lessons for individuals – and businesses – everywhere.