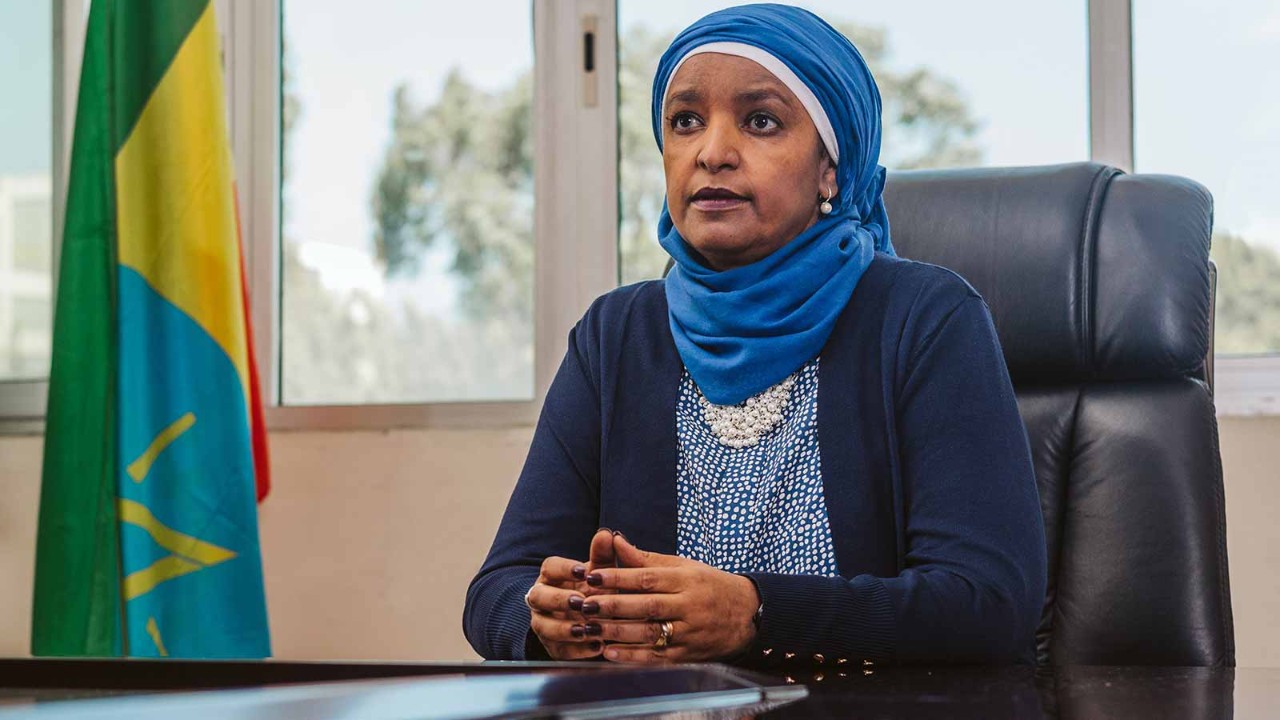 'My fear is that we do not have enough accountants on the ground to sustain the growth we are experiencing' – Hikmet Abdella, director general of the Accounting and Auditing Board of Ethiopia
After a grim half-century of military rule, civil war and catastrophic famine, Africa's second most populous nation is emerging as one of its giants. Over the past 15 years, Ethiopia's economy has roared like the lion that is its national symbol, growing at an average of 9.5% a year. That puts the country firmly among the world's high-growth elite.
'What keeps me awake at night is the pace of reform'
Ethiopia may have achieved economic lift-off, but flying high requires a fuel that is scarce in the country. If it's to attract the foreign investment that will keep the development boom going and help pull the population out of poverty (per capita gross national income is under US$1,000), the country needs a pool of professional accountants able to deliver international standards-compliant financial statements.
This is where the Ethiopian accountancy regulator, the Accounting and Auditing Board of Ethiopia (AABE), created in 2015, comes in. Hikmet Abdella, who had previously been the founding head of ACCA in Ethiopia, was appointed its director general in November 2019, shortly after the government decided it was time to open up the economy to the rest of the world.
'Ethiopia had been a closed economy for many years, but as we came out of the socialist regime after 1992, we saw the development of the private sector,' Hikmet explains. 'Financial institutions, such as banks and insurance companies, led the way, and we saw the beginning of wealth creation. However, it was not until four years ago that the new home grown economic reform strategy was announced, paving the way to begin the process of opening up the economy.'
Imbalance
She adds: 'My fear is that we do not have enough accountants on the ground to sustain the growth we are experiencing. In the past, qualified accountants were not absorbed into the economy as there was little demand, so there was a lot of migration to other countries. But now, with all the reforms, there will be companies looking to list on our capital market, including banks and insurance companies, and their CFOs will need to be qualified accountants. But the demand and supply of such professionals do not match.'
As the body that licenses and monitors the preparers of the financial statements that all capital market transactions rely on, it is fitting that AABE's chief has a seat on the board of the newly established Ethiopian Capital Markets Authority (ECMA). That puts Hikmet in a pivotal position to understand the need and ensure there are enough trained and qualified professionals to fill all the newly created positions.
AABE
2016

Date AABE established, following 2014 legislation
172
Licensed auditors
1,800
Licensed authorised accountants
500+
Qualified accountants currently working in Ethiopia
5,000-10,000
Qualified accountants required as the economy opens up
Expansion
So what is AABE doing to ensure there is a supply of suitably qualified professionals to carry out these roles?
'My vision is of 20,000 students studying for an accountancy qualification in five years' time'
More information
Hikmet Abdella will be speaking at ACCA's Africa Virtual Public Sector Conference on 30 March, 9–12.30 GMT. Click here to register.

'The economy will demand more accountants,' Hikmet says, 'and with the help of ACCA and World Bank funding, we are getting everything in place.' One initiative is the creation of an Ethiopian Institute of Certified Public Accountants (ETICPA) to train new accountants. Working with ACCA, AABE has developed a five-year strategy to build ETICPA; all that is needed now is government approval of the proclamation to establish it, which is expected soon. Hikmet's personal vision is that in five years' time there will be 20,000 students studying for an accountancy qualification in the country.
A key driver for capacity building and improved regulatory oversight is the need to attract foreign investment. 'Any foreign direct investment, or any other interested party, will want to look at the financial statements, so they can see they are of the right quality and are comparable,' Hikmet says. 'Then, investment will increase very quickly. We need to be able to say we have adopted international reporting and auditing standards and have the human capital to support them.'
Allied to this, there is a move towards adopting sustainability reporting standards, and AABE is looking to release its own corporate governance code towards the end of 2023. All of which will create further demand for professionals with accountancy skills.
'It is all part of the ecosystem,' she says. 'And it will be good for the finance profession. I always say that not being early to the table sometimes gives Ethiopia a competitive advantage, because it means we can get it right the first time. What keeps me awake at night is the pace of reform and what we need to do on the ground, but these are exciting times.'
Economic restructuring
Ethiopia's impressive growth is thanks at least in part to reforms in the 1990s that ushered in a state-led development model that relied on heavy public investment in areas such as infrastructure and education.

Since becoming prime minister in 2018, Abiy Ahmed Ali has pushed for more economic liberalisation, opening state companies to foreign investment. In 2019, a 10-year development plan was introduced to make private investment the driving force of the economy. The plan provides for the introduction of competition in growth sectors such as energy, logistics and telecoms, and generally improves the business environment.
The reforms have led to a shift away from Ethiopia's traditional reliance on agriculture. Once comprising roughly two-thirds of GDP, agriculture's share has now fallen to about one-third (although the sector still employs two-thirds of the country's workforce). Services is now the biggest sector, while industry accounts for a quarter of GDP.