There are, reckons Robert van der Klauw FCCA, more than 200 nationalities brought together under the clear blue skies of Dubai, the largest city in the United Arab Emirates. 'There's no other global city like it,' he says. 'Perhaps only London comes close.'
As head of finance in the Middle East and Africa for global reinsurer Munich Re, Van der Klauw provides financial leadership and manages the finance function of the life and health reinsurance business in the Middle East and Northern Africa region. This also includes a technology business and a services business that offers health insurance related administrative solutions.
Originally from the Netherlands, he has been based in Dubai for the past seven years, first as regional CFO for insurance company MetLife and now for Munich Re, where he has been employed since December 2018. However, his journey from Amsterdam to Dubai has also taken in eastern and western Europe and East Asia.
Professional odyssey
Throughout his working life, Van der Klauw has been exposed to many different cultures. Even in his first job as a financial analyst at international banking group ING in Amsterdam, the city closest to his childhood home, he worked with colleagues from many different backgrounds, particularly from Hungary, Czech Republic, Slovakia and Romania.
It wasn't long before he was leaving his home town and travelling east when he was asked to lead the finance function of ING in Romania as CFO. His travels eastward then took a giant leap when he moved to Seoul, as CFO for ING in Korea.
'I have been very fortunate to have been asked to grow and lead many talented and diverse teams, no matter what their nationalities,' he says. 'You have to get to grips with cultural difference, but you do learn, and at the same time you learn more about your own culture as well.'
New technologies bring new vulnerabilities. Cyberthreats are one of the biggest security risks of the 21st century
CV
2018 to date
Regional head of finance, Middle East and Africa, Munich Re, Dubai
2013-18
Regional CFO, Middle East and Africa, MetLife, Dubai
2009-13
Treasury project manager, ING Spain, then CFO and treasurer, ING Italy, Milan
2006-09
CFO, ING Japan, Tokyo
2003-06
CFO, ING Korea, Seoul
1999-2003
CFO, ING Romania, Bucharest
1997-99
Senior financial analyst, ING, Amsterdam
He admits that his move to Korea made him realise that his experience of cultural difference was very limited. 'Management, leadership style and group culture were all very different there,' he recalls.
He was then asked to help set up ING's retail bank in Tokyo, Japan – an experience he describes as one of his career highlights. 'It was by far the most difficult project I had been involved in up to that point,' he adds.
It wasn't too long before he was on the move again, this time back to Europe where he worked with ING in Spain and Italy, just in time to experience the eurozone debt crisis, triggered by the prospect of Greece falling out of the euro.
Wealth of experience
'If you are able to work anywhere, that is far more exciting than working in one particular country,' he says. 'Working for an international company took me on an international career, and I decided not to go back.' The fast-paced, constantly changing financial services industry offers many opportunities for growth and professional development. It has allowed Van der Klauw to accumulate experience in treasury, finance and risk management at global financial institutions and hold leadership roles in banking and (re)insurance.
It was his international career that inspired him to study for the ACCA Qualification. Already trained as an actuary, he qualified with ACCA in 2011. He was drawn to the qualification for its international recognition and because he could continue his studies despite moving from Seoul to Tokyo and then to Milan. 'There was always a way I could study,' he says.
Risk central
Munich Re is a global provider of reinsurance, primary insurance and insurance-related risk solutions and services. If ever there was a challenging time to be involved in the business of risk, it is now, with pandemics, climate change and cyber risk high on every board agenda.
'The global battle against the coronavirus has not yet been won. Many countries have managed to reduce the number of Covid-19 infections by taking action – at times drastic – to curb the spread of the virus, but the situation remains precarious. It will not be possible to determine the true extent of the pandemic's impact on the insurance sector for some time. So far, the insurance and reinsurance industry has shown resilience and met its commitments,' Van der Klauw says.
Dealing with the impact of the pandemic has been just one, albeit major, challenge for the sector. Big data and predictive analytics, cybersecurity and emerging 'insurtech' are three key trends Van der Klauw identifies.
'The world has become a data-driven place, and this goes also for finance functions,' he says. 'Technology and transformation are not just critical to improving service delivery and driving down costs, they also allow finance to become a data-driven strategic business partner that can support business growth and manage risk.'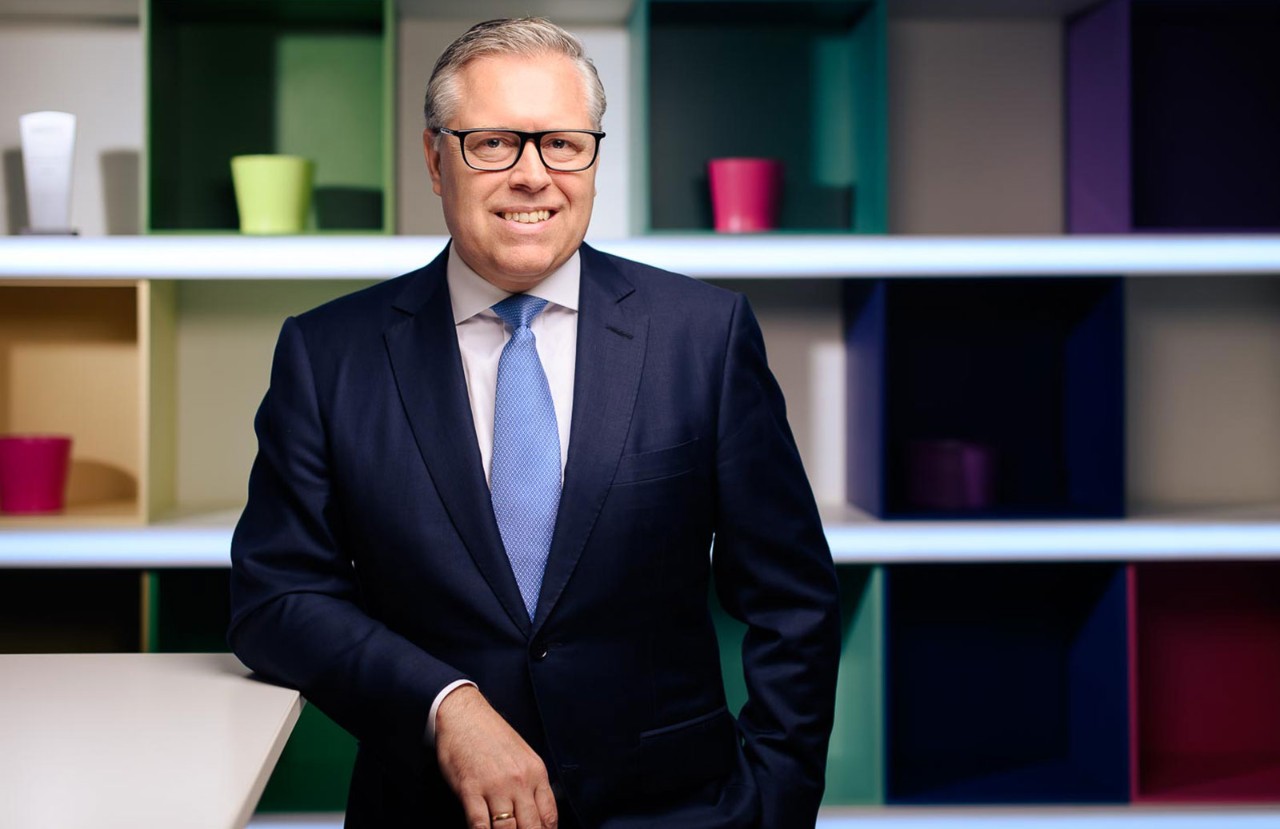 Munich Re in numbers
€1bn (US$1.21bn)
Global profit in the first three quarters of 2020 despite Covid-19 related losses of €2.3bn
€51.5bn (US$62.5bn)
Global gross premiums written in 2019
140
Years since Munich Re was founded by Carl von Thieme
39,662
Employees around the world at the end of 2019
Digital developments
'These new insights could see a further move towards usage-based insurance, automated insurance claims and the ability to detect fraud using AI and machine learning,' he suggests. This final point touches on that second key trend: cybersecurity. 'Crime pays at the moment, albeit in bitcoins,' he says. 'New technologies bring new vulnerabilities. Cyberthreats are one of the biggest security risks of the 21st century.' This has triggered the creation of a dedicated set of insurance products around privacy liability, extortion, business interruption, data restoration & remediation costs.
The third trend, insurtech, is making inroads into the sector, as fintech has done with banking. Blockchain and other distributed ledger technologies are leading to greater efficiencies and security.
This in part explains Van der Klauw's participation in ACCA's technology forum, which he joined in 2019. 'I'm not a technology expert, but I am there to represent the industry,' he says. 'We are aiming to understand the key issues such as the impact of machine learning.'
However, despite all the talk of artificial intelligence, machine learning and robotics, Van der Klauw believes that people remain key to a successful team. 'You have to have the right people, but with a changed mindset, one that is committed to applying and implementing change,' he says. 'Technology will free us to analyse rather than produce the data.'
Of course, technology played a key part in Munich Re's response to the pandemic. Van der Klauw's team were able to work from home – the transition was, he says, very smooth. He believes that Dubai itself did a good job in tackling the pandemic. 'They took all the right measures, including lots of testing, healthcare investment and enforcing strict rules around hygiene and social distancing.'
IFRS 17
Inevitably, IFRS 17, Insurance Contracts, is currently at the top of his accounting list. Even though its implementation has been pushed back a year, the standard represents a fundamental change in the way insurers report. 'IFRS 17 will give users of accounts a new perspective, with uniform measurement and presentation,' he says. 'However, the work involved is not to be underestimated.'
More broadly, Van der Klauw believes this is a great time to push for structural changes to the region's economies and become less dependent on oil. 'There is a vast amount of talent and capital in the region,' he points out. 'It has shown its resilience, and through diversification is now a hub for global business, covering both the Middle East and Africa.'
But it is the cultural experience that Van der Klauw especially appreciates. 'Being able to live in different countries has been an amazing experience. I continue to meet interesting people and have a full cultural immersion.'
Tips
'We have to get to grips with cultural differences, but in doing so we learn about our own as well.'

'Distinguish between cultural differences and simply not knowing.'
'In a different culture, you'll need to make some adjustments and adaptations to your management style, but stay true to yourself too.'