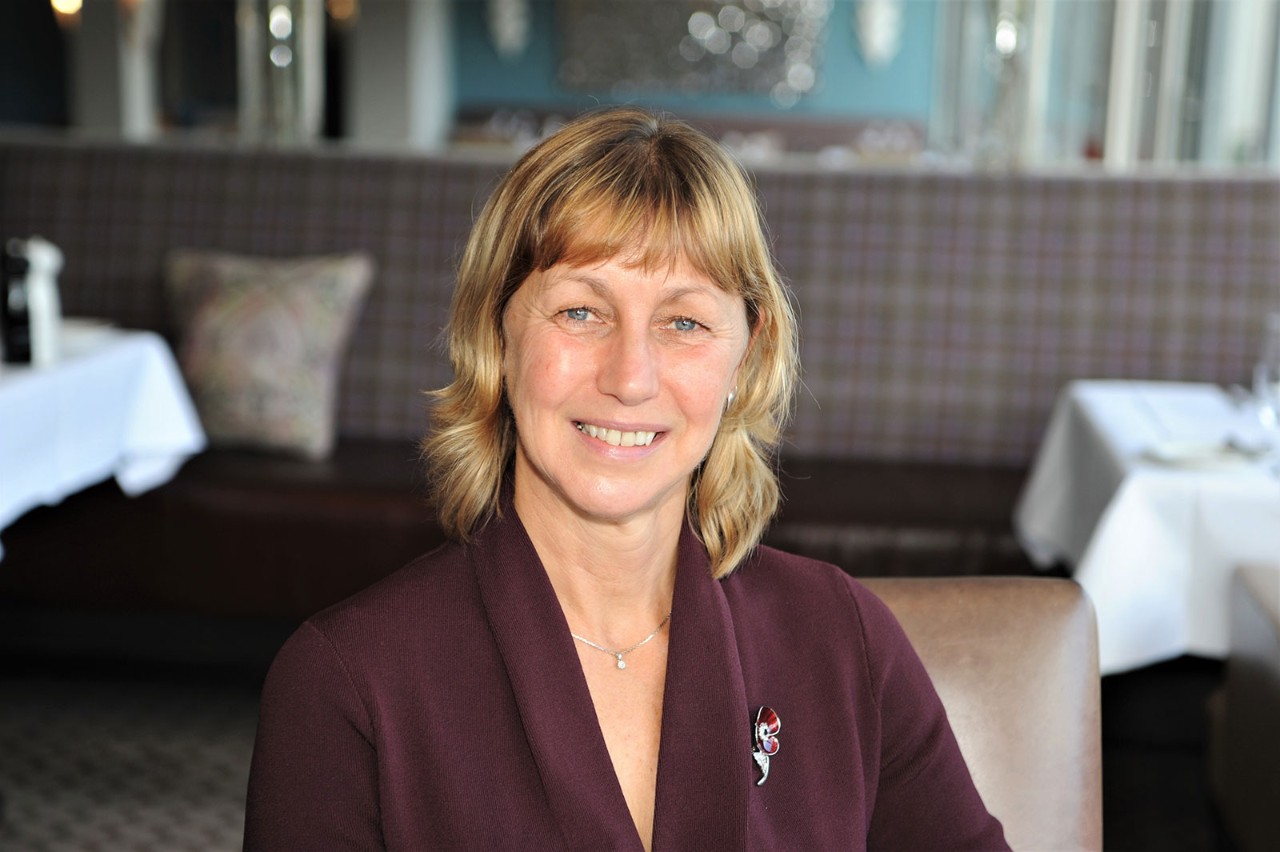 This interview took place before the 5 November lockdown.
On the banks of the river Dart in Devon, a long, narrow building watches over the yachts bobbing in the marina. In normal times it is an oasis of luxurious calm – the Dart Marina Hotel, a 49-bedroom hotel, restaurant and spa with a loyal clientele and an enviable location.
It is, says its finance director Lynda Redman FCCA, a beautiful place. Every bedroom and the adjoining holiday apartments have floor-to-ceiling windows, soothing decor and a balcony overlooking the estuary. 'Classic, peaceful and proudly independent,' says the marketing blurb. The past few months, though, have shattered the calm.
'The rates holiday was really helpful, and the furlough scheme gave us time to think'
'When the pandemic hit we could see straightaway that we would have to close,' says Redman. 'We ended up closing on 22 March and reopened as soon as we were allowed to, on 4 July.'
The saving grace, she says, was the government furlough scheme. 'We had already made some harsh decisions before the scheme was announced, so I was so grateful because it meant that we could save jobs through the lockdown and run a reduced business when we reopened. Everyone was furloughed except the managing director, me and our part-time sales ledger position.'
Picking up the pieces
The team set about modelling a plan to reopen at 40% capacity, with 20 rooms. 'The social distancing requirements meant that we had to reduce staff – we can only fit two chefs in the kitchen, where previously we had five.
'We don't open to non-residents, and leave 24 hours between room bookings. The empty rooms are being used to store all the furniture and soft furnishings that we've had to remove from the rest of the hotel. It's gone well so far, the team is amazing and we've had great reviews on Tripadvisor.'
Overall, the government support for the tourism sector has been good, she says. 'The rates holiday was really helpful, and the furlough scheme gave us time to think.' Not every initiative was as helpful, though, such as the emergency VAT cut for hospitality businesses: 'The VAT rules changed half way through a month, which was confusing and complex. Being full at 40% capacity, we couldn't drive volume with price reductions, but keeping any additional net revenue was very controversial. Keeping the rate low as we recover after the winter is useful.'.
She warns, though, that many tourism businesses will need more support over the winter. 'We are lucky in that we have accommodation to offer. Food businesses are really struggling.'
Asset-rich
There are three business in the Dart Marina group: the hotel, the marina, and the Higher Ferry, a floating bridge that takes traffic travelling along the A379 between Plymouth and Torbay across the River Dart – an essential local access route.
While Higher Ferry is privately owned – the company invested more than £5m in 2009 in a new cable ferry that can operate safely in strong winds and tides – it is governed by an Act of Parliament.
'The ferry business has been particularly difficult this year because it's not classed as a tourism business,' says Redman. 'So we had no grant, no support and no rates rebate, and volumes of traffic were very low during lockdown.
'We couldn't choose to close – not that we would have, because it's vital that the ferry keeps running so emergency services and key workers can get where they need to be.' Traffic and toll income has started to pick up in recent weeks, she adds.
New reality
The pandemic came at a challenging time for the company, as it had only recently completed lengthy and expensive renovations. Its 2019 accounts show an increase in turnover despite a 2% fall in occupancy because it was able to charge more for the refurbished rooms and was attracting extra income from its new waterfront eating venue. The directors were confident that the business would return to profit in this financial year, but as with most other businesses, now face a very different reality.
With the hotel running at 40% capacity for the foreseeable future, profits are a distant dream, but as Redman points out, 'we are making more money than we would if we were shut'. Business over the summer months was good thanks to loyal returning customers, good weather and the staycation effect. 'I think we can survive as long as we can continue to safely operate as we are. Another lockdown would be difficult, though.'
The numbers
£4.4m

Hotel turnover FY 2019
49
Bedrooms
3
Apartments
70%
Occupancy rate FY 2019
84
Employees (pre pandemic)
£1.3m
Ferry turnover FY 2019
'When asked why they wouldn't employ me, they said I was too much of a risk as a mother with young children'
CV
2016

Group financial director, Dart Marina Investments Ltd
2009
Financial controller, Dart Marina Investments Ltd
2007
Financial accountant, Riviera Desserts
1995
Financial controller, Philip Whear Windows & Conservatories

Overhaul
Redman joined the company in 2009, midway through the major refurbishment. The work was extensive but the hotel remained opened as much as possible. 'When the central block was being renovated we used the blocks on either side – we've had to soundproof all the rooms, take out the floors and ceilings, rebuild and add balconies to every room. We also refurbished the restaurant. But we carried on trading throughout.'
The major renovations were completed in 2015. As one of only four directors of the company, Redman was closely involved throughout. 'I accepted the role on the basis that I would be involved in decision-making, and that has been the case – I'm very involved in strategic decisions, planning and running the hotel.

'Initially there was only the managing director and me, although we have since taken on a general manager, so half of my time is taken up with dealing with operational issues, workmen and so on, and half of my time is dealing with the financial side.
The path to the Dart
Redman's route to FD has been relatively unusual. She was bitten by the finance bug while at college in her native Devon, where she completed work experience at an accountancy firm. 'I remember analysing expenses in a 16-column ledger, adding it up by hand. I loved that it made sense, and that feeling you get when both sides of a double-entry ledger balance.'
Family life intervened during her first year of ACCA study. Redman's husband was in the Royal Navy and they were posted to Yorkshire. When the family were moved to Cornwall a few years later Redman, with two small children, struggled to find work. 'I was getting turned down for roles, so I booked an appointment as a potential client with one accountancy firm, and asked why they wouldn't employ me. They said I was too much of a risk as a mother with young children.'
Instead, Redman took a job as a playgroup supervisor, started her AAT studies and then moved into industry, taking a role with a local windows and conservatory business. 'I found I was being asked questions I didn't know the answer to, so on the recommendation of a colleague I started training with ACCA. The ACCA studies were so relevant to my role, and I developed skills I use every day.' She qualified in 2000.
Redman's 11 years at Dart Marina have been less dramatic, at least until this year. 'The outlook is that it's going to be hard work. We have to change who we are and what we are. We used to be a  high-volume hotel, even over the winter, but we can't sustain that. We are becoming more seasonal. It's hard work, even before all this. But it's always interesting.'