Currently on his journey towards the ACCA Qualification, Richard Cunningham is the New York-based senior director of market affordability at Pfizer, one of the largest pharmaceutical companies in the world. Although the company recently made headlines for its groundbreaking Covid-19 vaccine, it has a long history of producing innovative medicines and vaccines. Cunningham's job is to ensure the company does whatever it can to provide those who need access to its products with opportunities to do so, regardless of circumstance or background.
For Cunningham, the importance of accessibility to medicines for patients is not just a distant abstraction, but one born out of his own lived experience. 'I was one of those patients,' he says. 'I was thousands of miles from home, in a country where I didn't fully understand the medical system. I know what that feels like.'
As a university student in Argentina more than two decades ago, Cunningham was blindsided by an urgent and unanticipated medical need, one that dragged him through a medical system unlike the one he knew from the UK. Calling it one of the most stressful periods of his life, that experience continues to ground Cunningham in his current role. He describes patient accessibility as a personal mission. 'I feel it is my responsibility to do whatever I can,' he says.
'There are patients out there that need somebody to fight for them'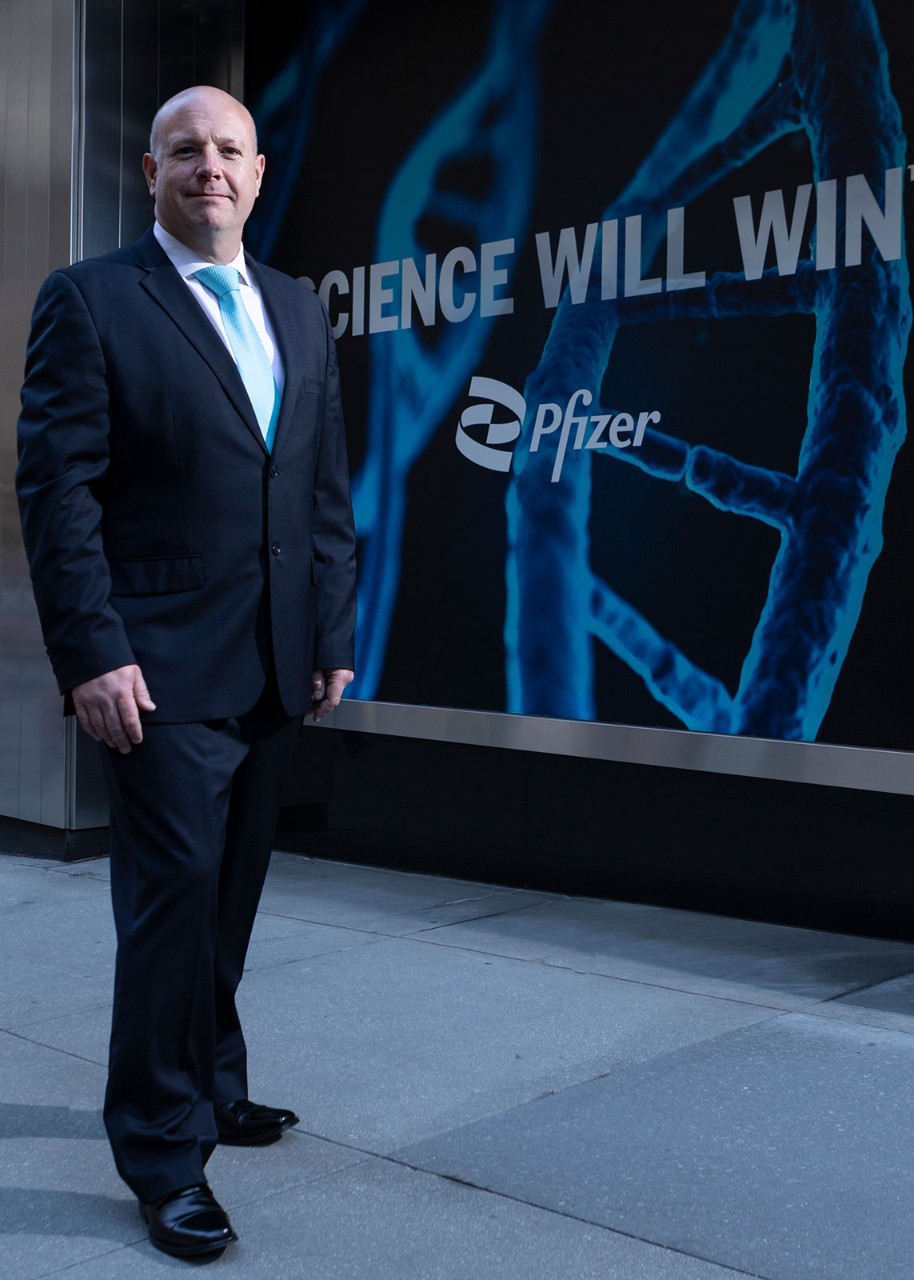 Photo: Jeffrey Holmes Photography
Cunningham's journey from a medical patient in Argentina to a leadership role at Pfizer is an unusual one. 'My career is non-linear,' he says. Early in his career, he explains, managers and mentors often encouraged him to pick a lane and stay there, developing an expertise in either finance or commercial strategy. He opted instead not take their advice. With the benefit of hindsight, the breadth of skills he maintained turned out to be vital preparation for his work today.
CV
2018
Senior director for market access – affordability, Pfizer
2016
Head of pricing – Americas/Europe, Pfizer
2012
Global FD, Pfizer
2012
CFO, Pfizer Integrated Health (medtech startup), Pfizer
2011
Regional FD – US, Pfizer
2009
Regional strategy director – US, Pfizer
Right side of the table
Born and raised in south-east London, Cunningham did not grow up intending to become an accountant. 'Accounting wasn't something I consciously thought of as a career path, it was just something I routinely studied in high school,' he says. After completing a degree in modern languages at the University of Leeds, he began his career as a financial journalist and editor with the Buenos Aires Herald, Argentina's leading English-language daily newspaper.
Despite some early success as a journalist, Cunningham soon 'got the sense that I was on the wrong side of the table'. Looking across at the corporate leaders he was interviewing, he noted that many held MBAs, a relatively uncommon qualification in Argentina at the time. And so, after three years in Buenos Aires, he returned to the UK in 1999 to begin an MBA at the University of Edinburgh.

It was the right move. His MBA coincided with the heady days of the dotcom boom: 'It was a great time to be there. You got to think differently … the whole way business was being done was being rewritten.' But it also meant he graduated in the middle of the dotcom crash in 2000. While it did not directly affect him, the crash motivated him to seek out career opportunities that were relatively insulated against boom-and-bust cycles. He found it in the life sciences sector.
Top tips
'As a profession, we're going to need to upskill and be nimble and flexible, and focus on value and where that value is. As you start your career, focus on adding value and being open to change'
'Be open to new experiences. Rather than view your career path as linear, be open to adjacent opportunities that may well emerge as your career evolves'
'Look for something you are passionate about that is really meaningful for you'
'Doing a job is great to put money on the table for a year. But for a 30- or 40-year career, you really need to be doing something you want to get out of bed in the morning to do'
New York calling
His career first took him to Lyon in France and then Atlanta in the US, where he worked at a Merck-Sanofi joint venture in animal health. He joined Pfizer's Atlanta office in 2009 and was asked to move to New York in 2011. His first role there was as chief financial officer for an in-house medtech startup, which sought to live-test potential commercial models and digital healthcare solutions.
In 2014, he was asked to help set up a new internal team that brought together pricing, market access, outcomes research and real-world evidence under one roof. But in doing so, he increasingly got the feeling that he might again be on the wrong side of the table. He explains: 'Pricing and market access is a skillset that is heavily quantitative and using a lot of finance skills and commercial acumen,' all things that resonated for him. 'At that point, I was on the finance side of the table; on the other side were these guys who wer actually using all the skillsets that I enjoyed.'
After consulting a mentor, Cunningham joined Pfizer's pricing team in 2016, which was his first opportunity to combine his finance and commercial strategy skills. He had responsibility for Pfizer's pricing strategy in Europe and subsequently the Americas.
Two years later, he moved into his current role of 'getting medicines in the hands of patients who otherwise wouldn't have them', in a manner that was both commercially viable and sustainable. It is his job to identify innovative solutions that reduce barriers to access. As he puts it: 'There are patients out there that need somebody to fight for them.'
His efforts may be paying off. In 2021, the independent Access to Medicines Foundation ranked Pfizer as fourth in its Access to Medicine Index, the first time Pfizer has cracked the top five.
Lifelong learner
Cunningham's involvement with ACCA began in 2008, while working in Atlanta. He already had a management accountant qualification, and the motivation to join ACCA was driven by the then convergence in international financial reporting standards. Working for an international joint venture between France and the US made the global credibility of the ACCA Qualification a particularly attractive one.
However, with various family commitments and progressively senior career moves, Cunningham has so far not had the necessary bandwidth to complete his ACCA Qualification. But he is quick to stress his appreciation for the professional community that ACCA has given him, first in Atlanta and now in New York.
'While I have been a student member, ACCA membership has been invaluable from a networking, mentoring and educational perspective,' he says. 'I have been active in my local ACCA chapter and have really found them to be exceptional. The people I have met have been really insightful and really helpful for guiding me from a career perspective.'
In other words, studying for the ACCA Qualification has put Cunningham on the right side of the table. While he fully intends to complete his 13-year ACCA journey in the near future, and become a fully qualified ACCA member, he has his hands full just for now, advocating for patients in the same kind of difficult position as he once was.
Pfizer
US$41.9bn 
2020 revenue, an increase of $736m on 2019
88,300
Number of employees globally
4th
2021 ranking from the independent Access to Medicine Index, up 13 places from the inaugural ranking in 2008
325
Number of days between the first confirmed Covid-19 case in the US and the Food and Drug Administration's emergency use authorisation of Pfizer/BioNTech's Covid-19 vaccine