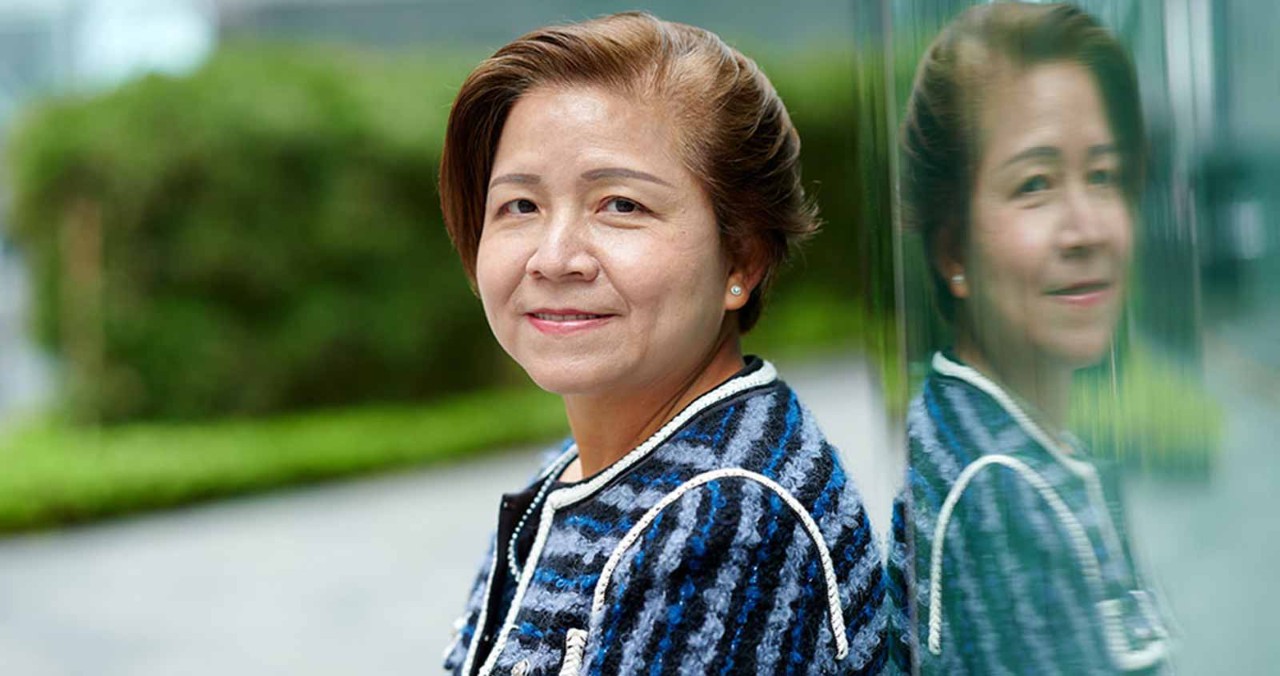 Throughout almost three decades with Swire, Fanny Lung FCCA, finance director at Swire Properties, has witnessed how fast-paced and knowledge-based financial work has become. She believes that finance leaders need to be tech-savvy and efficient communicators if they are to keep pace in the digital era.
Now a finance director with the Hong Kong mixed-use property developer, Lung has held a diverse range of positions under the company's job rotation programme, which has given her experience in a range of sectors and divisions, including aviation, marine, insurance, treasury, group reporting, corporate finance and property.
The veteran finance leader has witnessed countless changes within the finance function – from the development of cross-jurisdiction transactions to cyber risk and data protection – while at the same time investors, employees and other stakeholders increasingly require more information.
'There's a lot more to do and the pace is faster,' Lung says. 'My observation is that requirements for finance professionals are getting stricter in all aspects as technology advances rapidly.'
Digital journey
Lung has played a key part in the mixed-use property developer's digital transformation. Back in 2017, she recognised the urgent need to go digital. As a starting point, she instigated a training programme alongside visits from external experts.
The process was solidified in mid-2019, when the company set a more specific objective under Lung's leadership: to achieve 80% automation of processes such as payments, reporting and consultation within three years.
The finance team has identified more than 100 projects that aim to achieve this by leveraging modern technologies, such as artificial intelligence (AI), robotic process automation (RPA) and data analytics.
Lung's team has already introduced AI to budgeting and forecasting. This allows them to systemically capture and track external factors that correlate to the company's financial performance – a significant improvement on the previous reliance on internal data alone. The model is currently at the proof-of-concept stage and will be rolled out shortly.
Productivity boost
Using AI for budgeting has provided a massive boost to productivity, Lung explains.
'Budgeting is a time- and resource-consuming process. It involves all departments in collecting data and producing annual forecasts,' she says.
'Previously, running just three scenarios would take a long time; now AI does all the work and can run hundreds of scenarios to help us maximise return and pick a budget plan. As time goes on, AI budgeting will offer greater accuracy.'
You either take the lead or follow; I'd rather take the lead, learn how to go digital and take risks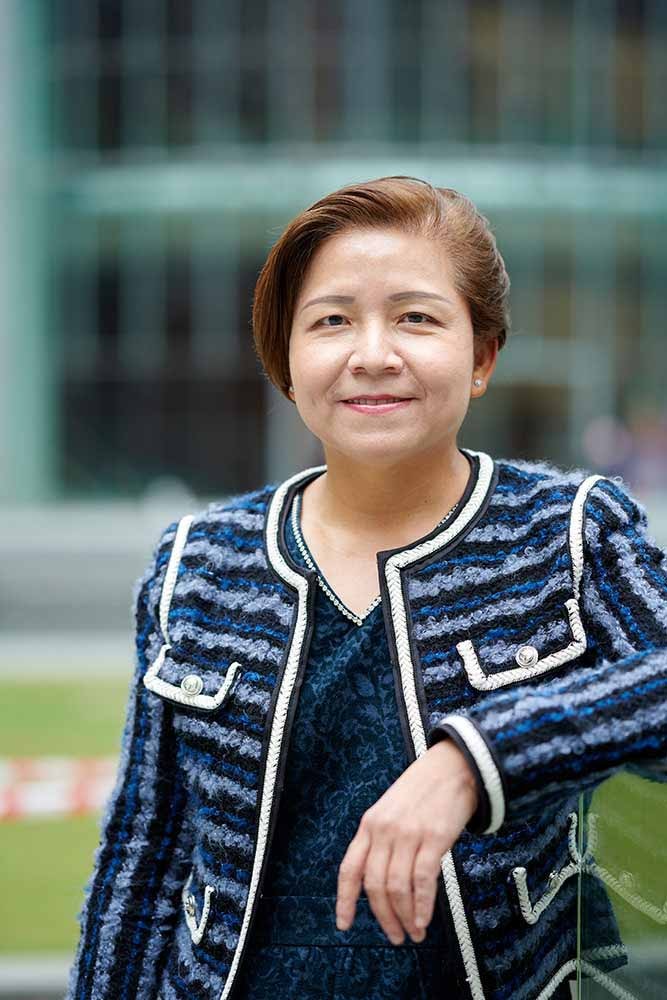 CV
2017
Finance director, Swire Properties, Hong Kong
2010
Group director, finance, Hong Kong Aircraft Engineering Company
2003
Finance director, Swire Pacific Offshore
2003
Finance director, China Navigation
2001
Corporate finance manager, Swire Properties
1999
Corporate finance manager, Swire Pacific
1992
Joined Swire, taking on a variety of roles including Group accounting manager, Swire Pacific, in 1998
Meanwhile, RPA, which does not require detailed technical knowledge to operate, is starting to replace repetitive work such as payment processing and regular data input for reporting and reconciliation.

Lung predicts that RPA will become increasingly mainstream, especially for replacing repetitive work, enabling staff to be involved in more knowledge-based work, such as big data analytics.
Lung and her team are also keen to embrace other new tech tools, such as data analytics platform Qlik Sense, which she describes as 'an effective tool for management reporting'.
Right tools
To help complete these projects, Lung has set up a finance transformation team to monitor progress. The team challenges the whole finance function to see what can be improved, then sources the right tool to solve the pain points.
Digital transformation is also embedded in annual personal evaluation, with each employee required to include plans for innovation or improving work processes for the coming year.

To date, Lung says a third of tech transformation projects have been completed, which has in turn greatly increased the team's productivity.
ACCA support
At the same time, Lung's team members are working towards ACCA's Certificate in Digital Innovation for Finance. This provides comprehensive knowledge about digital technologies such as blockchain, AI, RPA and data analytics, preparing her colleagues for digital transformation.
'The online training arrangement is especially helpful while everyone works from home,' Lung says. 'The staff can arrange to go through the programme any time and anywhere. After learning about the technologies, they can then apply the concepts in their daily work.'
Confidence builder
Despite the successes the finance function is already enjoying, Lung admits that Swire Properties' digital journey has not always been easy.
The first challenge was, she says, tackling scepticism among the team. In the early days, staff were unsure about changing the way they worked and were afraid of failure.
'To reassure the staff and encourage them to try new things, I started with the low-hanging fruit and quick wins to let them see achievements in a short time,' Lung explains. 'This built up their confidence and they are incentivised to work on bigger and more complex projects that required involvement with more departments.'
This strategy paid off. 'It is amazing to see how staff have changed their mindset from not confident at all to fully confident today,' Lung says. 'While at first they were reluctant to attain the 80% automation goal, now they come to me to suggest more ways to achieve this.'
Inadequate IT capacity also initially posed a challenge. But through prioritisation and proper planning, Lung and her team explored the options.
'Some solutions for our mobile application and RPA need only minimal IT support,' she explains. 'Through process re-engineering, we can rearrange processes to achieve savings without involving IT or digital support. This way, we overcome delays in implementing changes, and we encourage the staff to be more agile in finding solutions.'
Lung's persistence has also been an inspiration to her team.

'Whenever I encounter challenges, I don't give up,' she says. 'The team understands that after I set a clear objective, they will think of solutions.'
Communication is needed to hear different opinions. You need to be a good listener and an engaging manager to motivate your staff to get involved
Swire Properties
Swire Properties develops and manages commercial, retail, hotel and residential properties, with a particular focus on mixed-use developments in prime locations. It has investments across Hong Kong, mainland China, the US, Singapore, Indonesia and Vietnam. The investment portfolio includes Taikoo Place, Cityplaza and Pacific Place.

Total revenue in 2019 was HK$14.22bn (US$1.8bn). The company is listed on the main board of the Hong Kong Stock Exchange and, with its subsidiaries, employs more than 5,000 people.
Swire Properties is the real estate arm of Swire Pacific, a conglomerate that has five operating divisions: property, aviation, beverages, marine services, and trading and industrial. Swire Pacific has businesses principally in Greater China and elsewhere in Asia.
Team recognition

Lung's inclusive approach of fully involving her team in the finance function's digital journey has been recognised by Swire Properties' 'Ideas at Work' programme, which encourages staff to think of ideas to improve productivity or enhance customer experience. The award has gone to the finance team for the past two years, recognising their innovation in AI budgeting and blockchain.
'The award has boosted the team's confidence and further incentivised them to go digital,' Lung says. 'What I want to tell other companies is that besides providing training and a roadmap, incentives such as awards are also important to enforcing digitalisation.'
Open mindset
As digital adoption sweeps through the finance sector, Lung believes that leaders must adopt an open mindset in order to embrace changes, challenge the status quo and take the lead proactively.
'Digitalisation is an inevitable trend. You either take the lead or follow; I'd rather take the lead, learn how to go digital and take risks,' she says.
'Sometimes a technology may not result in great benefits instantly, but there's a trial-and-error process. I see potential in blockchain, for example; I truly believe it can be applied in many areas in the future.'
After deciding what technologies to pursue, being able to deliver solutions requires team engagement. This, says Lung, requires leaders to be not just tech-savvy but also efficient communicators.
'Even if you embrace changes, these need to be accepted by your team,' she says. 'You need to engage the team to work with you and help them understand different perspectives.
Communication is key
'Communication is needed to hear different opinions. You need to be a good listener and an engaging manager to motivate your staff to get involved.'
Reflecting on her leadership style, she sees herself as a people manager who prioritises team performance, engagement and communication. She naturally attributes Swire Properties' success in digital transformation to collaborative efforts, rather than her own persistence.
Lung is clear, though, that solid technical knowledge is no longer enough. While finance professionals still need to keep pace with new accounting standards, they now face new and higher requirements.
'Finance is not done behind closed doors nowadays,' she says. 'Risk management, for example, needs interaction with different departments.'
'We're required to understand business and drive more value through communication and collaboration.'