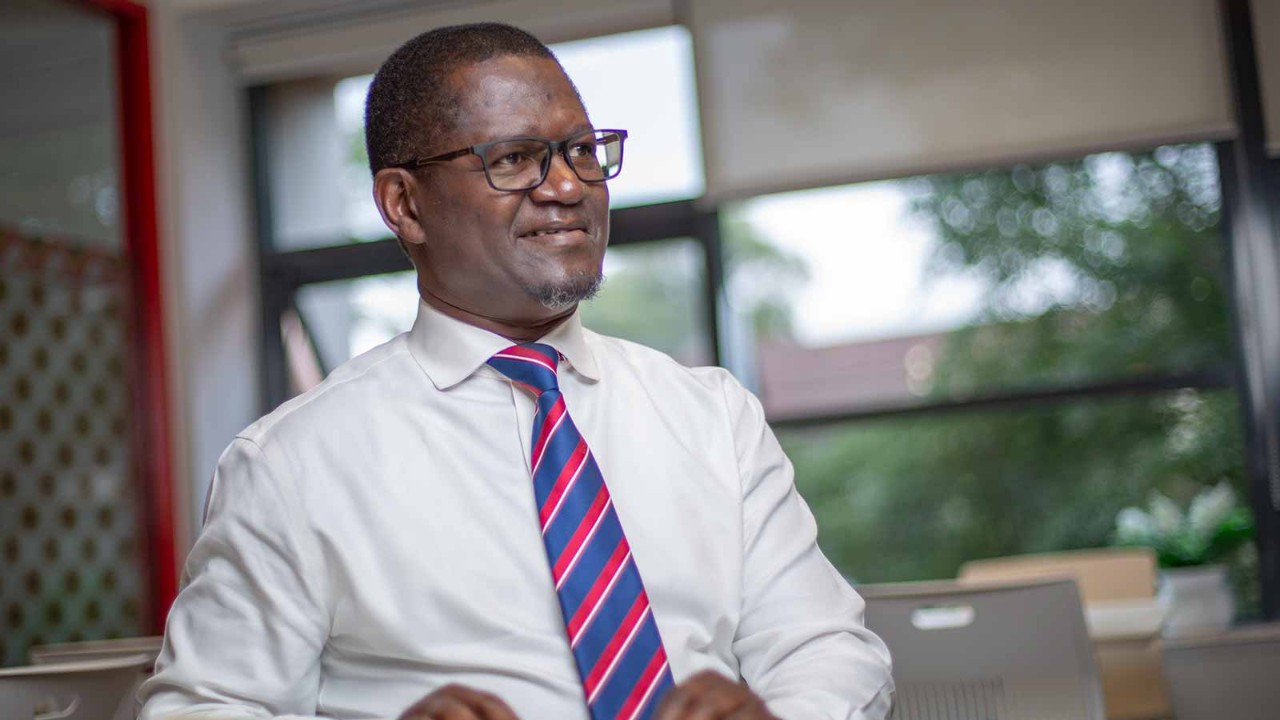 The wellbeing and motivation of the team is the key to workplace productivity and organisational success, declares Vincent Opiyo FCCA, regional FD at African pay-TV giant MultiChoice Group. The man who steers the finance function in the company's northern region, covering 37 countries in East, West and Central Africa, points out: 'If you can't take care of a human being, then they won't give you what you want to see. I want good numbers, and good numbers come from happy people.'
'My region has to perform, so what keeps me awake at night is how to motivate the respective teams'
Good financial performance means 'looking beyond the numbers', he says. 'My region has to perform, so what keeps me awake at night is how to motivate the respective teams, whether it is the salespeople or customer care people, to bring in the desired performance. If the call centre manager says he wants a small budget for a bonding session, I'll try and find money to make sure that happens.
'The accountant or finance person of today is more of a business partner than a bean counter. Sometimes you have to look at your budget and think: this is supposed to buy a car but would it be better used in motivating our staff?'
TV titan
Through its DStv satellite service, MultiChoice remains the largest TV operator in Africa, with over 22 million subscribers across 48 countries. Although growth in MultiChoice's South African base stagnated in 2022 due to crippling power outages in the country, revenues and subscriptions from its operations in the rest of Africa continued growing, despite the decade-high levels of inflation that have curtailed household budgets. 'In times of adversity people want to be entertained,' Opiyo says.
However, he admits the economic hardships facing consumers in Africa, as well as other operating challenges such as dollar shortages, still pose a significant problem for the company.
'Most of the payments we make to content providers and for the technology we use are in dollars, but subscribers pay us in the local currency, so when the local currency depreciates, it becomes a big problem for us. The challenge for us is how to deliver content that our customers enjoy at a price they can afford.'
'There's so much competition for the viewer's attention, from social media as well as other platforms'
Tech threat
In the long run, though, the greatest threat to the business is posed by the rapid tech advances in the entertainment industry. Opiyo says: 'People love our content, without a doubt. But they now have options. And that is the main challenge for pay TV generally. There's so much competition for the viewer's attention, from social media as well as other platforms.'
Stiff competition from Google, YouTube and Facebook has become even stiffer with the arrival in the last decade of global streaming giants Netflix, Amazon Prime and Disney Plus. A growing tech-savvy youthful population, combined with greater smartphone and internet penetration, has seen more and more consumers opting for the flexibility of streaming services.
'People are defaulting to local content as opposed to content from outside Africa. We are perfecting that space'
MultiChoice is betting on its three decades of experience in the African market to give it an edge in this segment. Opiyo says: 'We understand Africa. Increasingly we are seeing a lot of people defaulting to local content as opposed to what is from outside our continent. We are perfecting that space and we are seeing a lot of uptake.'
Through Showmax, its own online streaming platform, the company is ramping up investments in local content, including comedy and reality shows, dramas and TV series, and incorporating popular live sporting events such as the English Premier League.
It is a challenging operating environment, but Opiyo remains upbeat about the company's long-term prospects – and his career as well.
CV
2021
Regional FD for Northern Africa, MultiChoice
2019
Head of financial planning and analysis and investor relations for Safaricom, Kenya, then acting CFO for Safaricom Ethiopia
2015
CFO, Uchumi Supermarkets, Kenya
2007
Senior finance manager for tax, then for treasury and tax, then for reporting, Safaricom, Kenya
2006
Tax team leader, Total Kenya
2001
Tax accounting leader, Airtel Kenya
1999
Treasury dealer, African Banking Corporation, Kenya
Linchpin
It's a career that started with a visit to his uncle – an accountant – just before he finished high school. 'I was impressed by the discussions that I would have with my uncle around how everything in an organisation centres on the accountant, who basically knows the organisation end to end,' he recalls. Deciding he wanted to be that person rather than the doctor he'd grown up dreaming of being, he took a degree in accounting.
Although lack of opportunities meant he first pursued other paths after graduation, first as a business journalist and later as a treasury dealer at the African Banking Corporation, he never gave up on a career in corporate accounting. And that is where ACCA came in.
'I wanted a professional course that would expose me to the global scene,' he says. 'ACCA gives you wider anchorage and relevance, aside from the immense network that I have established across the globe.'
'Once I've mastered one challenge, I'm keen to start looking for the next new one'
Quick mover
Since then, Opiyo has built a stellar career in accounting and finance, rising quickly through the ranks of local and multinational organisations in various sectors including telecoms, retail and energy.
'Once I've mastered one challenge, I'm keen to start looking for the next one,' he says, although he admits that leaving Kenyan telco Safaricom to join MultiChoice in 2021 was one of the toughest decisions of his career.

'It was difficult, I debated it a lot. They had just moved me to Ethiopia, a virgin market that was opening up, but I felt the role at MultiChoice would add more to my profile.'
It certainly looks that way. And, despite a busy schedule and expanded responsibilities that require him to travel frequently, Opiyo still finds time to mentor young people and pursue a passion for agriculture by way of a mixed organic farm that produces most of the food his family consumes. All this, it seems, makes for a grounded finance director.
MultiChoice Group in numbers
1995

Company founded
ZAR55.1bn
Revenue in 2022 financial year (US$3.06bn), with a trading profit of ZAR10.3bn (US$570m)
22.1m
Number of subscribers (up 5% year on year), 9.1 million of whom are in South Africa
7,200
Number of employees
73,000+
Hours of local content in library