When Prudence Muchinouta FCCA stepped onto the platform to address the COP26 climate change conference in Glasgow in 2021, it was with huge trepidation. 'Just being on that stage was frightening,' she recalls. 'I was well out of my comfort zone.'
'It was scary, but after I spoke, I felt as if I could fly'
However, she was not deterred. As an ambassador for The Rallying Cry, a leadership initiative at the intersection of climate and gender, being a COP panellist was an opportunity to speak up on the global stage on behalf of other African women who could not be in the room. 'It was scary,' she says. 'But after I spoke, I felt as if I could fly.'
On the front line
Back in Zambia, in her full-time role as CFO at Community Markets for Conservation (COMACO), a non-profit social enterprise working with small-scale farmers (mostly women), Muchinouta has spent the last seven years on the front line of change – although she says it can be easy to lose sight of this behind the day-to-day demands and responsibilities of her role.
'Under my wing I have IT, procurement, stock management, HR and finance,' explains Muchinouta, who heads up a geographically distributed finance team.
'It can be risky for cashiers travelling distances with cash in remote areas'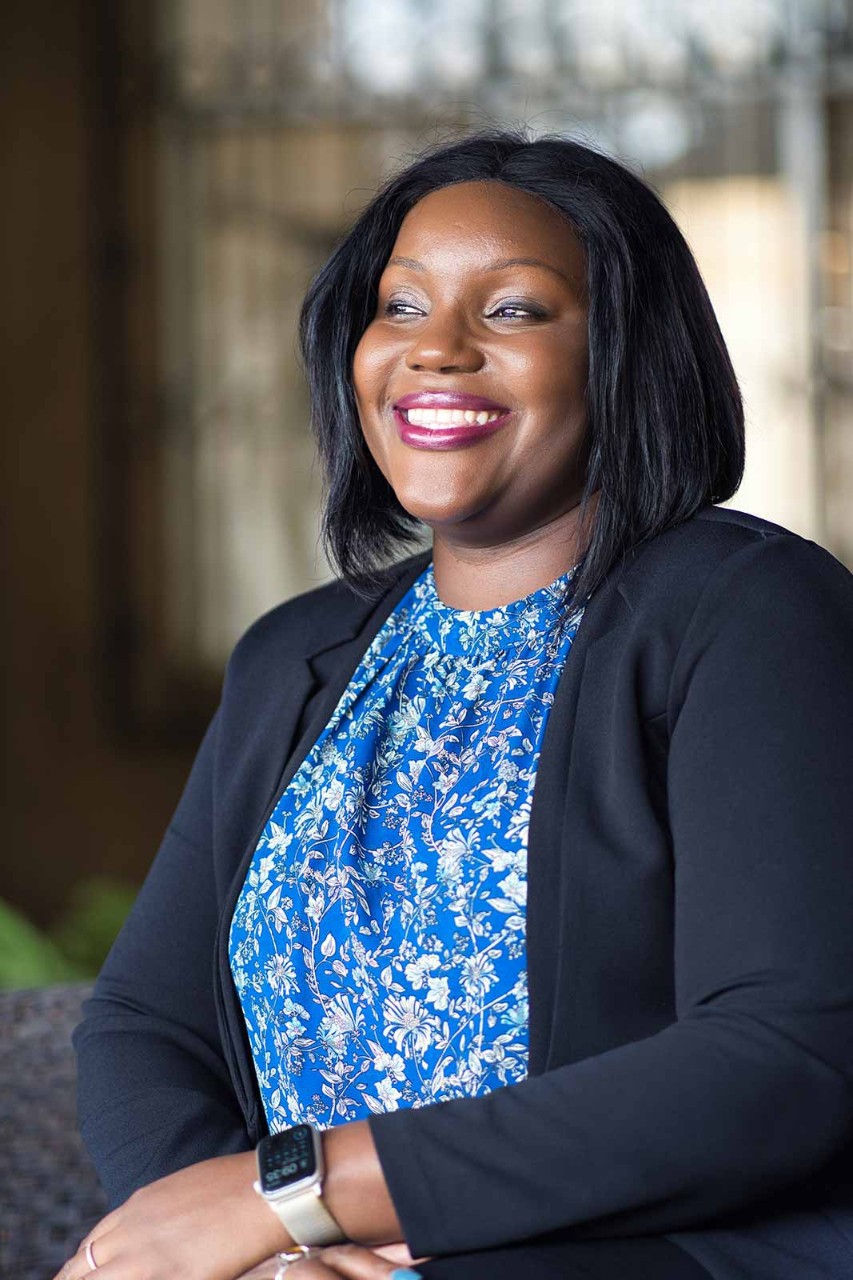 COMACO recognises that poverty and the natural environment are inextricably entwined. From its Lusaka HQ, hubs in Serenje, Chipata and Nyimba, and 10 rural centres, the enterprise supports 112 cooperatives, providing livelihood skills and training, empowering local farmers to adopt sustainable agricultural practices that safeguard soil health, forests and wildlife. In return for adopting these practices, COMACO rewards farmers by, among other things, paying market prices for their crops, which are then turned into products such as peanut butter and honey and sold across Zambia, with the revenue recycled back into communities.
Crucially, the organisation also works with poachers to provide them with training and alternative sources of income in exchange for surrendering their firearms. As a result, nearly 2,000 poachers have been transformed and incidents of poaching have decreased dramatically.
Carbon support
In addition, COMACO helps farmers to generate carbon credits through tree planting projects and so benefit from the booming market. Also known as the 'miracle tree', gliricidia sepium provides important nutrients to the soil, repels pests and, as the trees mature, they also sequester carbon dioxide. Currently, almost 118 million trees planted are thriving and in 2022, COMACO was able to pay around US$3.1m from carbon credit revenues to the communities it serves.
'Seeing the impact COMACO was having on rural communities really attracted me'
CV
2015-

CFO, Community Markets for Conservation, Zambia
2015-16
Acting general manager, Community Markets for Conservation, Zambia
2013
Financial reporting accountant, Steward Bank (formed after TN Bank was acquired by Econet), Zimbabwe
2012
T24 banking system implementer, TN Bank, Zimbabwe
2011
Group internal auditor, TN Holdings, Zimbabwe
2006
Intern (external audit junior), then audit supervisor, Grant Thornton Camelsa, Zimbabwe
The diversity and geographic distribution of COMACO's climate-smart approaches are reflected in its finance function and the challenges it faces. Maintaining the high levels of accountability and financial transparency demanded by its funding model is one of them. During 2022, for example, it made payments to 60,000 rural farmers. 'We apply a lot of cash in our systems,' Muchinouta explains. 'It's expensive and it can be risky for cashiers travelling long distances with cash in remote areas.'
Data visibility
Muchinouta has worked to strengthen business practices and accountability, and to enhance reporting and visibility of data across the COMACO ecosystem. 'Each project receiving grant support requires a separate bank account and accounting assistant to manage cash in the area,' she says. 'At the larger operations with production processes, I've introduced management accounting and each has at least two accountants.' She is also trying to increase use of technologies, such as mobile payment solutions.
Muchinouta's experience in this area was one of the things that made her CV appealing to COMACO – previous banking roles in her home country, Zimbabwe, included introducing a mobile payment solution. For Muchinouta, the role also offered career and personal development opportunities, as well as the chance to interact in the field and not always be confined within four walls. 'Seeing the impact COMACO was having on rural communities really attracted me,' she says.
More than business
Personal time is important to Muchinouta, too, but work-life balance can be elusive: 'I play golf and tennis, and I follow and watch Formula One racing', she says. 'But I am continuously thinking about and looking for ways to articulate the value and measure the social impact of what COMACO does. It is so much more than doing business.'
Such is her dedication that even listening to music has become a guilty pleasure. 'I feel bad sometimes, thinking maybe I should listen instead to a podcast that would help me in my work,' she admits.
'I was determined to find more ways to contribute, be present, step up and be on the front line'
While Muchinouta already had some advocacy experience in supporting women business leaders in agriculture, her experience at COP26 in Glasgow was life changing. 'After speaking at the conference, interacting with different people, hearing different experiences, witnessing different stories, I was determined to find more ways to contribute, be present, step up and be on the front line,' she says. 'The passion I felt reminded me of why I'd joined COMACO in the first place.'
Outside her organisation, Muchinouta's enthusiasm and commitment has not gone unnoticed. In 2022, she won in the environmental, social and governance category of ACCA Africa's CFO Awards, which she says helped to elevate her confidence, profile and ambitions.
'My board chairman often says, "Prudence, you're co-pilot of the organisation," but some longer-term visions of mine can't be executed from the position of CFO.' COP26 was liberating, and now Muchinouta feels primed for take-off. 'At some point I want to move to the next level,' she says. 'I believe that I deserve to sit in the pilot's seat myself.'
Basics
2004

Year COMACO was established in Zambia
253,143 
Number of farmers who have pledged to move to environment-friendly practices
1,931 
Number of poachers who have abandoned the illegal practice
112
Number of cooperatives supported